Do you have a faster-growing website in Europe? Choose a VPS that provides next-level performance and resources. You can rest easy at night knowing that they have a dedicated resource that not only taps potent performance but also provides rock-solid security.
As a result, we have selected the best cheap VPS for you. You can deploy your expanding website or resource-intensive applications. It doesn't matter. It will effortlessly handle everything.
Let's get started.
1.Kamatera
Enterprises graded Kamatera was founded in 1995 and has since become a well-known brand among bloggers, developers, SMBS, and SaaS owners. They offer web server, RDP, forex server, Minecraft server, and streaming server services.
Big Points
Kamatera's server is powered by cutting-edge technology, with 600 Gbps of bandwidth.
Intel Xeon Platinum and Cascade Lake Processor of 2.7GHz power their servers.
They have developed a range of scalable, flexible cloud infrastructure products, including cloud servers, cloud block storage, private cloud network, cloud load balancer, cloud firewall, and fully managed cloud.
Freedom to use Linux and Windows OS as they are official Microsoft partners.
Over 100+ 1-click apps to deploy popular CMS like WordPress, Drupal, and Laravel with a click and a handy dashboard let beginners handle their web properties effortlessly.
Diagonal scaling allows any type of server component increment or decrement.
1-click server cloning and installations are the things developers love.
Cheapest Plan
Their cheapest plan costs you only $4 (3.68 euros) per month and comes with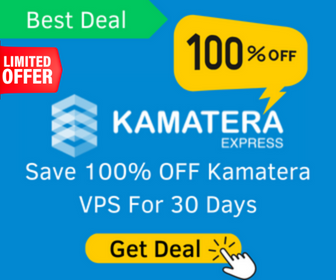 1 GB RAM
1 Core Intel Xeon Platinum Processor of 2.7 GHz
20GB SSD
5000 GB Transfer
They charge monthly and hourly, you can choose one of them. On the plan, you can deploy service images, app images, desktop OS images, and server OS images.
Server Location
Kamatera has established six data centers in major European cities. Among them are
Amsterdam,
Frankfurt,
London,
Milan,
Stockholm
Madrid.
Uptime
They promise 99.9% uptime. However, in our testing, they maintained 100% uptime for 30 days.
Security
The cloud firewall from Kamatera protects against all threats, including DDoS, XSS, and port security. In addition, their disaster recovery management is critical when data is lost.
Backup
They charge $3 per day for automatic backup. It is valid for 14 days. Server snapshots are also available for $0.005/GB/month.
Support
Do you have a problem? Their responsive support team is available 24/7 via chat, phone call, and ticket.
2.IONOS
European IONOS has been in the business since 1988, and their ISO 27001-certified data centers manage their quality service. Unlike standard VPS, IONOS provides a full web hosting package that includes domains, premium SSL, professional email, and a dedicated server.
Big Points
Their servers are powered by the latest generation Intel Xeon E5 processors.
The system is fully virtualized and has a 100% SSD SAN storage system.
30-days free trial
Cheapest Plan
They have the most affordable plans, which start at $2 (1.83 euros) per month. You will receive the following items as part of the plan:
1 Intel Xeon E5 processor
512 MB RAM
10 GB SSD
Unlimited Transfer
This plan is available with both prepaid and postpaid billing.
Server Location
Their 5 data centers provide low-latency coverage across Europe.
Longrono
London
Berlin
Frankfurt
Karlsruhe
Uptime
They guarantee a 99.99% uptime.
Security
They have installed firewall management and DDoS protection to keep the server secure.
Backup
Acronis backups of 100 GB are available for $7 per month.
Support
They offer support through tickets and phone calls at 1877-206-4255. They can help set up firewalls, install and update operating systems, move servers, and set up security.
3.Hostwinds
Inc. 500 featured Seattle-based Hostwinds was born in 2010. They offer managed Linux VPS, unmanaged Linux VPS, managed Windows VPS, unmanaged Windows VPS, white label reseller, block storage, and other web hosting services. The host has also been named an Editors' Choice by PCMag.com and FindMyHost.com.
Big Points
Their server has a 1 Gbps port connectivity.
Their server has a 1 Gbps port connectivity.
You can upload custom ISOs  You can upload custom ISOs
Cheapest Plan
It costs $4.99 per month and is adequate for a growing website.
1 CPU
1 GB RAM
30 GB SSD
1 TB Transfer
Server Location
They provide their service to European customers from their redundant Amsterdam data center.
Uptime
They are so confident that they can guarantee 99.9999% uptime.
Security
Servers are monitored in real time by a service that automatically opens a ticket in the event of a technical issue, at a cost of $2 monthly.
Furthermore, their enterprise firewall protects your VPS from snoopers and online threats by standing between your VPS and the rest of the internet.
Backup
Nightly backups work their magic when there is less traffic online. Its base price is $1 per month, and backup storage is 0.03/GB.
Support
They are available to assist you via the ticket system and chat.
4.Cloudways
Forbes highlighted Cloudways is a popular managed VPS provider among beginners, allowing you to host your application on the world's leading cloud platforms such as Google Cloud, AWS, Linode, Vultr, and Digital Ocean.
Big Points
Cloudflare Enterprise CDN ensures TTFB under 100 ms globally.
Object Cache Pro
AI-based Assistant aids in server optimization
3 day free trial without credit card
Cheapest Plan
You can get the cheapest plan for $10, which includes
1 GB RAM
2.2 GHz Intel Xeon chip
25 GB SSD
1 TB Transfer
You can try the plan for free for three days and then pay as you go.
Server Location
Over 60 global data centers are owned and operated by Cloudways' partners. As a result, there are multiple data centers at the same location. The European locations are as follows:
London
Frankfurt
Amsterdam
Paris
Stockholm
Ireland
Milan
Belgium
Netherlands
Finland
Uptime
They also provide 99.99% uptime, which is the industry standard.
Security
Cloudflare is known as the "Godfather" of any internet-based website. Its cutting-edge technology not only speeds up website load times but also protects against billions of online attacks per day.
Furthermore, Cloudways' expert team monitors your server 24/7 and performs necessary security (dedicated firewalls) and performance updates (regular OS and patch management).
Backup
An off-site server backup ensures data security in the event of an unintentional server deletion at minimal charge.
Support
Expert assistance is available via live chat and a ticket system.
5. Accuwebhosting
Accuweb Hosting, based in the United States, was founded in 2002 and has been named an editor's choice by PCMag.com for four years in a row. The host provides a highly capable host service with enterprise-level technical support.
Big Points
1 GBPS port connectivity
+3 GHz chips with 64 to 256 MB cache
VPS run on RAID.
6 or 10 storage that enables high-speed performance and data redundancy
Each VPS receives at least one dedicated IP address.
Unmanaged and managed VPS with cPanel, Plesk, and DirectAdmin panels are available.
On managed VPS plans, you can set up business email accounts.
7-day money-back guarantee with free website migration
Cheapest Plan
An annual plan is available for $5.99 per month.
1 GB RAM
2 CPU cores
25 GB SSD
250 GB Transfer
1 Dedicated IP Address
Server Location
Accuweb Hosting provides its service to clients from 5 European data centers.
Stockholm
London
Frankfurt
Ireland
Paris
Uptime
They guarantee 99.99% uptime and great dependability.
Security
All of their VPS node servers are monitored for security and DDoS protection around the clock. They provide CSF that hardens the security with cPanel. Furthermore, their expert team conducts regular audits, and if they find anything wrong, they begin fixing it right away.
Backup
Daily backups of up to 20 GB cost $120.
Support
They became more serious quickly. On average, the US support team responds to chat questions in 7 seconds and tickets in 11 minutes. They also respond to phone calls.
6.Time4VPS
Time4VPS is a European-focused VPS provider with a massive server infrastructure and low-cost dedicated servers. You can go for it if you only want to focus on Europe.
Big Points
Excellent Performer HP Proliant DL360 Gen10 Servere
Intel Xeon Gold 6132 Processor 2.6GHz
DDR4-2666 ECC REG RAM
RAID-10 SSD
Dedicated 4 GBPS port speed
Free Windows license for Windows VPS
Cheapest Plan
The introductory plan costs 3.24 euros per month. If you choose an annual plan, you can save 50%.
Server Location
Its only data center is in Lithuania.
Uptime
They guarantee 99.98% uptime on KVM-based VPS.
Security
They maintain multiple copies of your data by using a RAID-enabled storage array. Backup Daily and weekly backups are available for 1 euro per month.
Support
They also have extensive help tutorials where you can go to get answers to your questions. You can, however, contact their support team via live chat 24 hours a day, seven days a week.
7.Contabo
Contabo was founded in 2003 in Germany that is committed to provide German quality what German machine earn reputation over the world.
Big Points
NVMe is available with standard SSDs
Intel and AMD EPYC 7282 processors
Windows VPS
1 Gbit/s port speed
Cheapest Plan
Their VPS plan starts at $5.99 per month. An annual plan saves you money on setup fees. -8GB RAM -4Core CPU-50GB NVMe or 200GB SSD
Server Location
They have 5 data centers in Germany and 1 in the United Kingdom.
Uptime
They guarantee that your property will be stabilized at a rate of 99.996% for the entire year.
Security
By default, the server packages are DDoS-protected. You can also choose their premium server monitoring for $14.99.
Backup
The basic plan includes a free snapshot and a 100 GB FTP backup for $5.76.
Support
Their premium support team is available all year through the support ticket and phone call channels.
8.Linode
Linode is a well-known cloud provider due to its ease of use. It was established in 2003 and is headquartered in New Jersey, United States.
Big Points
AMD EPYC 7000 Series CPUs with 45% more memory bandwidth and 87% higher integer performance.
NVIDIA Quadro RTX 6000 is suitable for website streaming, gaming, video rendering, AI, and concurrent multiple processes.
Optional managed service -40 Gbps network in and 1 Gbps network out
Cheapest Plan
On the platform, you can get a $5 plan that includes
 1 GB RAM
1 Core Processor
25 GB SSD
1 TB Transfer
Server Location
They have data centers in London and Frankfurt for European clients.
Uptime
They guarantee 99.99% uptime. Security All plans include free DDoS protection and a cloud firewall. Backup While selecting a plan, you can enable daily backup for $2/m.
Support
Customer service is only available through a ticket system. They do, however, have a large number of help articles.
9.Vultr
Vultr is known for its fast servers. The host was born in 2014 in the United States. It provides a variety of Linux and Windows VPS options, storage solutions, and network services.
Big Points
Intel Skylake chips
Multi-factor authentication for account security
Multiple preinstalled 1-click apps such as WordPress, Joomla, and others
Cheapest Plan
The entry-level plan costs $5 per month and includes the following benefits:
1 CPU Core
1GB Memory
1TB Bandwidth
25GB SSD
Server Location
They have massive data centers throughout Europe.
London
Madrid
Warsaw
Amsterdam
Stockholm
Frankfurt
Paris
Uptime
They guarantee 99.99% SLA uptime.
Security
DDoS and a 7G firewall protect their servers.
Backup
They offer automatic backup for $1/m and server snapshots for $0.5/gb.
Support
They resolved issues using the ticket system.
10.Digital Ocean
Digital Ocean has been the first cloud love for thousands of web admins because of their simple user interface and easy-to-use control panel. It came in the world on 2011 and headquartered in New York city.
Big Points
Premium droplets with Intel and AMD chips for superior performance
Over 100 one-click apps
3rd Fastest DNS in the World (according to dnsperf.com)
Cheapest Plan
Their basic plan costs $6 per month and includes –
1GB RAM,
25GB SSD
1 CPU Core
1000 GB Transfer
Server Location
Customers in Europe can host their properties at the company's data centers in London, Amsterdam, and Frankfurt.
Uptime
It has a SLA of 99.99%.
DDoS protection will be available soon. A manual firewall can be set up.
Backup
Server snapshots are available for $0.5/GB.
Support
You can only resolve your issues through the ticket channel.
Conclusion
Kamatera is a tough employee. They have powerful chips, faster port speeds, incredible disaster recovery management, and daily backups to keep your sweet dreams alive. You can try it for free for 30 days. WordPress can be installed on their 3.68/month plan.
We are sorry that this post was not useful for you!
Let us improve this post!
Tell us how we can improve this post?