Choosing a better web hosting is one of the most important works in the World because web hosting can make or break you.
But choosing a suitable web hosting is not easy.
Although, every hosting provider establishes to serve their web hosting service.
But each of them is not suitable for everyone as they are not equal in the manner of performance, security and reliability.
So I always found myself to ask which one is better between GreenGeeks and Bluehost?
Both are in the hosting market for over a decade, provide their service to million websites and they are big name in their specific categories.
So I performed various tests like server strength, speed test etc. on the websites that hosted on both hosting providers separately.
And also I have gem data of the last 24-Months review process that is rock solid proof to find winner one.
Now let's dive into the research post where you will find test results and my experience which can save your valuable time and money.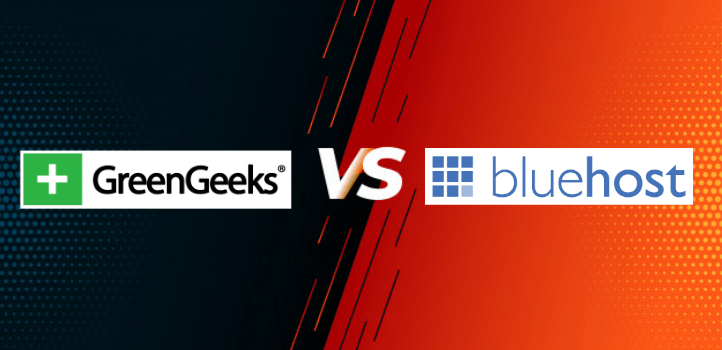 GreenGeeks vs Bluehost – Which one is the winner in 2021 (Our Verdict in Nutshell)
Don't have time, you can read our final verdict. GreenGeeks (started at $2.95/m) is a better option than Bluehost (started at $2.75/m).
GreenGeeks has outclassed Bluehost, in for better reliability, performance and support.
The result is based on personal experience and many tests I've conducted recently.
Why is GreenGeeks better than Bluehost?
GreenGeeks has completely overshadowed Bluehost in 16 tests out of 20 test series whereas Bluehost marked one win only. And three rounds ended at the tie.
Furthermore, in the review process of Trustpilot and G2.com, GreenGeeks is the best choice among the hosting customers.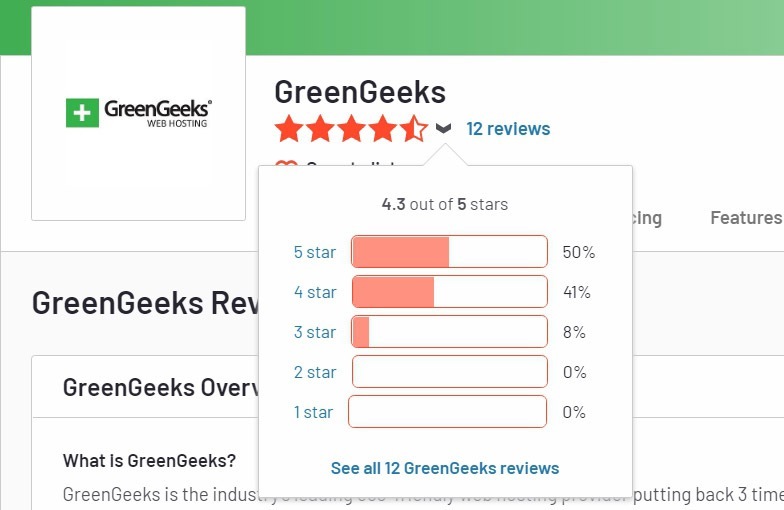 A decade ago, GreenGeeks was a baby but now it's been a leader as green web host which they have proved by performing better and gaining webmasters' trust.
Meanwhile, Bluehost went down from top to bottom.
Measurable performance, outdated software, security breaches and unsatisfied support have made their customer experience and reviews worse.
Sidenote – Trustpilot and G2.com are independent third parties and reliable sources for checking out reviews of popular businesses around the world with over 250+ million total reviews posted here by verified customers.
Popularity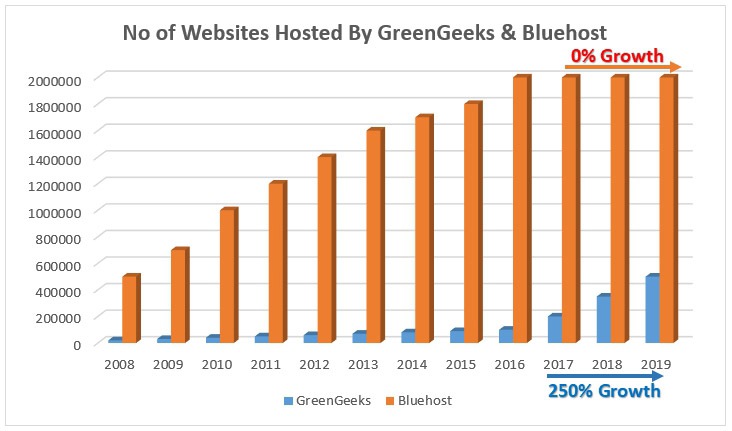 This graph shows GreenGeek's revolutionary growth and Bluehost's declined popularity over the years.
In 2016, GreenGeeks hosted only 100,000 websites but now they host over 500,000 websites in 2020.
They have marked exponentially a 500% growth for the last five years whereas Bluehost's growth has decreased in the last five years.
When Bluehost Start Declining
Bluehost was started by Matt Heaton in 2003. They expanded rapidly until 2013 when they were acquired by EIG.
Sadly after the acquisition, Bluehost's users started complaining and giving bad reviews about their customer support and hosting service.
Those so many complaints and bad reviews declined huge popularity and growth.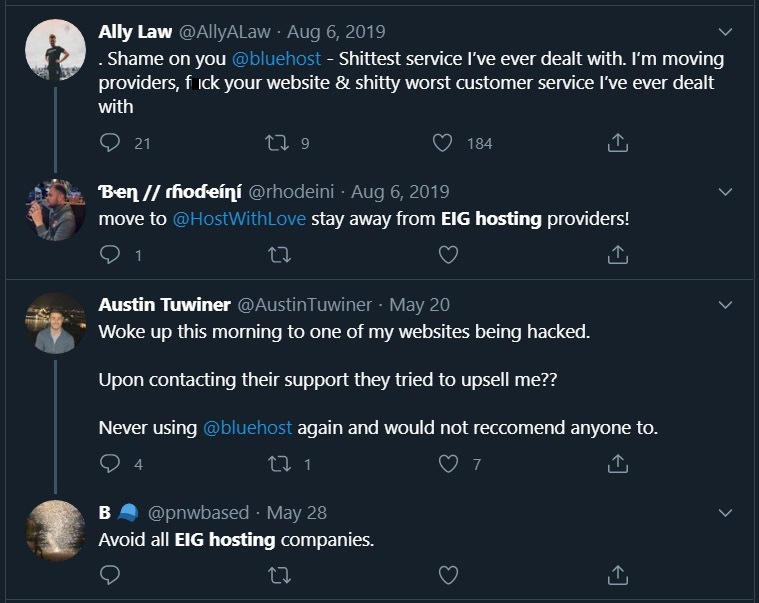 And also check what people have a perception about GreenGeeks at Twitter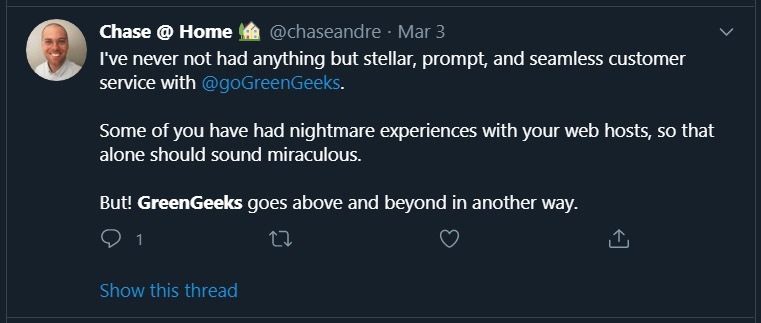 Winner: Always managing a big number of users is not easy to serve smooth hosting service and flexible customer support. That's why Bluehost's fame is regularly diminishing.
At the same time, GreenGeeks is shining with its quality hosting service and its recent growth rate has overtaken Bluehost's popularity.
Round 2: Speed – Which one opens quick?
In 2021, having a slow website is the biggest mistake because it not only ruins user experience but also badly impact ranking in SERP.
A study says 40% of people avoid to visit a website that takes more than 3 seconds to load.
Even a 1-second delay costs you around $2.5 million in lost sales every year, if you website is making $100,000 per day.
So having a fast website brings many pivotal benefits-
1.Play vital role to boost ranking in SERP.
2.Make a better user experience that grows the number of returning visitors.
3.Can see jumps in the size of profit.
Now it's clear that speed is utmost importance. So we took it seriously and did various speed tests on two sites hosted upon both web hosts under the same conditions and from different locations.
In the tests, we use popular GTMetrix and Webpagetest.org.
Have a look at the comparable speed test table of both host providers.
| Location | GreenGeeks | Bluehost |
| --- | --- | --- |
| Vancouver | 1.1 | 2.5 |
| Dallas | 0.8 | 2.8 |
| Mumbai | 2.3 | 3.4 |
| London | 1.9 | 3.4 |
| California | 1 | 3 |
| Los Angeles | 1.4 | 2.9 |
| Frankfurt | 1.6 | 3.9 |
Test Results
Winner: as you can see on the table, GreenGeeks was faster and win the important round.
Round 3: Downtime – Which one doesn't down?
Downtime is the time when a website goes down and its file can't be accessible. It imposes users to flee away from the website. If downtime is longer, Google bot reports and Google down the ranking of the website quickly.
That's why Downtime is the crucial performance factor in the aspects of SEO and UX and can't be ignored while choosing a web host.
Side note- Downtime is antonyms of uptime and this is another angle to measure the performance factor.
On a standard level, Uptime must be a least 99.90%
Now you can check out the result of the last 24 month


| Last 12 Month | GreenGeeks | Bluehost |
| --- | --- | --- |
| July 2020 | 100% | 99.98% |
| June 2020 | 99.78% | 100% |
| May 2020 | 99.95% | 99.89% |
| April 2020 | 99.94% | 99.99% |
| March 2020 | 99.90% | 99.98% |
| February 2020 | 100% | 100% |
| January 2020 | 100% | 100% |
| December 2019 | 99.99% | 100% |
| November 2019 | 99.99% | 100% |
| October 2019 | 99.98% | 99.96% |
| September 2019 | 99.98% | 99.57% |
| August 2019 | 100% | 99.99% |
| Average (Last 24 Months) | 99.98% | 99.83% |
In the 24-month review process, GreenGeeks had recorded just 4 hours (46 outages) while Bluehost suffered almost for 1 day (173 outages).
Winner: GreenGeeks completely outperformed Bluehost in the round. So the important point goes to GreenGeeks.
Round 4: Server Strength Test – Which one is powerful to handle massive spikes in traffic?
| Parameters | GreenGeeks | Bluehost |
| --- | --- | --- |
| Server Response at 8 VUs visits | 166ms | 1s |
| at 30 VUs visits | 196ms | 4.32s |
| at 50 VU visits | 339ms | 4.1s |
| Request made | 2658 | 1428 |
| Peak RPS | 71 reqs/s | 63 reqs/s |
| Error | 0 | 356 |
| Average Response Time | 264.13ms | 920.83ms |
| Fastest Response Time | 98ms | 400ms |
| Slowest Response Time | 339ms | 4.32s |
Whenever a post goes viral, massive traffic comes to a blog and makes a lot of loads on the server.
Actually, this is a real test of any server strength.
A server, which serves web files and data to users smoothly regardless of having hefty loads, has high-quality infrastructure. It's an identity of a high-quality server.
But the other one which fails to perform well, don't go for it.
So now it's time to check out the result of both hosting's server strength tests when 50 visitors are thrown at them at the same time.
GreenGeeks Server Quality Test (Server Location: Ashburn, USA)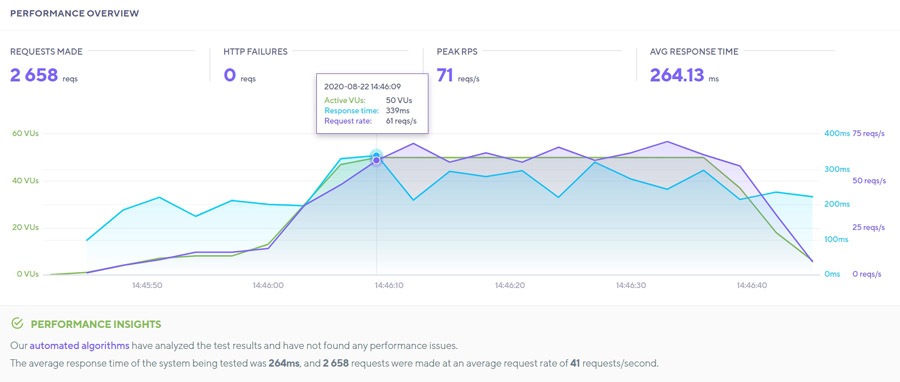 GreenGeeks's performance was top notch as they handled 50 concurrent users comfortably without recording any major spikes in load time.
Their average response time was 264 ms and Google gonna love it. (Google's recommends response time should less than 300 ms).
Bluehost Server Quality Test (Server Location: Ashburn, USA)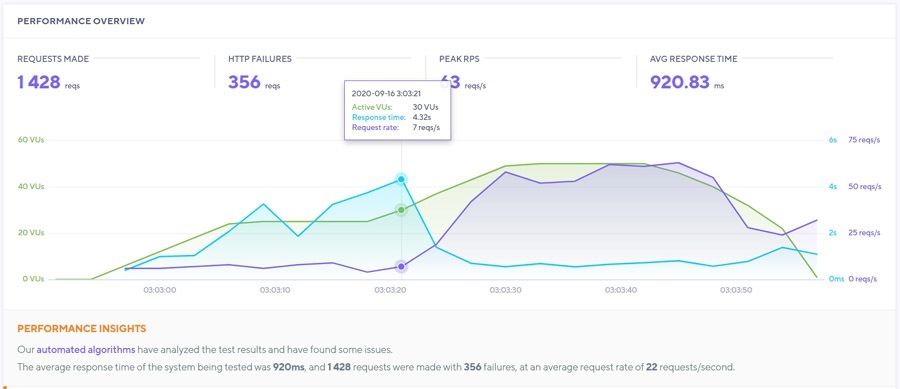 Bluehost disappointed me as their server couldn't handle the load of only 8 concurrent users and return high response time.
The response time almost touched 4.32s when 30 concurrent users are live.
Overall their server performance was highly inconsistent and miserable.
They returned 24% HTTP requests as failures and their response was 920 ms which may make Google displeased.
Which one has the fasted domain nameserver?
DNS is an initial process of loading a web page. So it is the first factor that affects speed of a blog.
But if you're a beginner, you may not aware about the work of DNS.
Let me allow here.
When you type a web address like google.com, hit enter and your ISP goes to the DNS to fetches the IP address associated with that domain. The IP address is where your website's files are located.
In Simple word, DNS works as a phonebook that helps your browser locate your web files and video.
To be clear, enter 216.58.217.206 (IP address of Google.com) in browser and feel the speed. Without DNS process, Google.com opens faster.
But keeping remember IP addresses for us looks mission impossible. That's why we need DNS, especially fast DNS for fast translating.
So having Good DNS has many benefits-
Faster web page loading
Better protection against server attacks like DDoS attacks.
Better UX
Now It's been clear that DNS plays vital role in hosting service and almost every hosting companies manage DNS as part of their service.
When you buy a web host plan, they host your DNS details on their server as well as your blog files.
Thus we tested the DNS speed of both companies and what we got-

Winner: Test results prove GreenGeeks's server is stronger than Bluehost's server as well as GreenGeeks's DNS is also faster.
Round 5: Ease of Use – Which one is better comfortable to use?

Both of web hosts provide cPanel, a popular software helps manage a site easily. But how they offer is completely different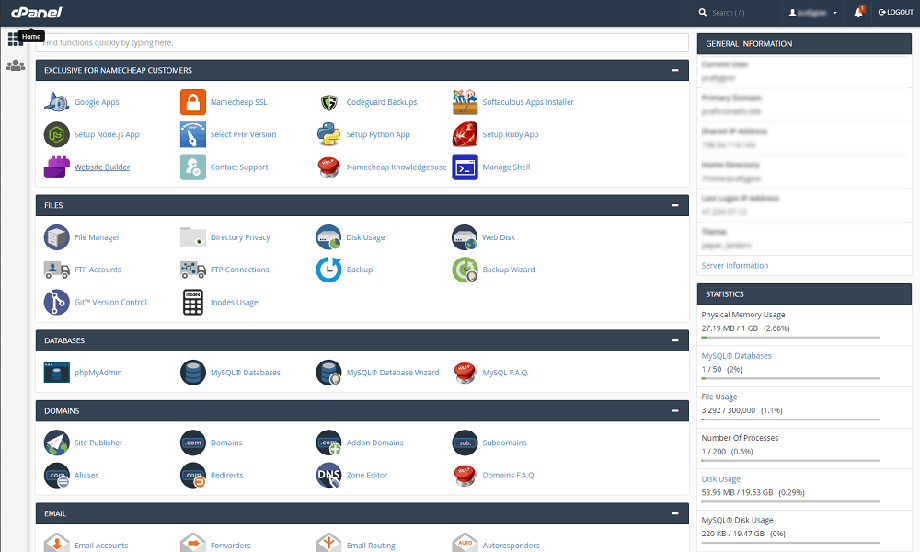 GreenGeeks offers a clean and distraction proof dashboard with no paid tools promotion, where you can clearly see cPanel option and easily click to access it.

On the other end, I don't why Bluehost hides cPanel option and make hard to access it. You have to click Advanced option to go into cPanel.

Moreover, their dashboard looks promotional wall where at every click you will find promotional offers before accessing actual feature.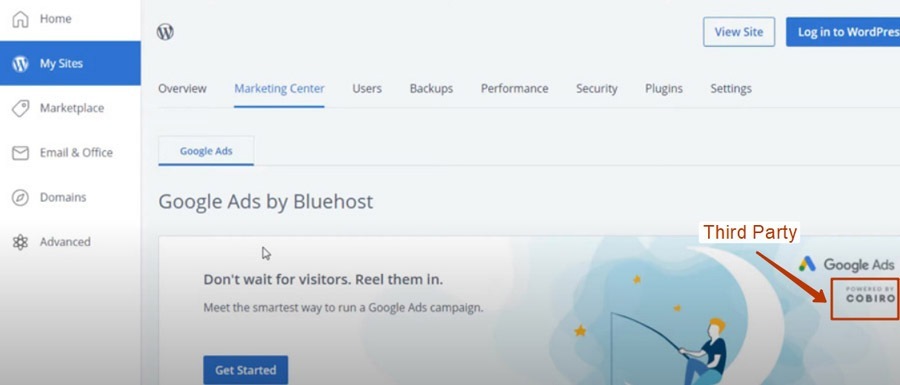 For an instance-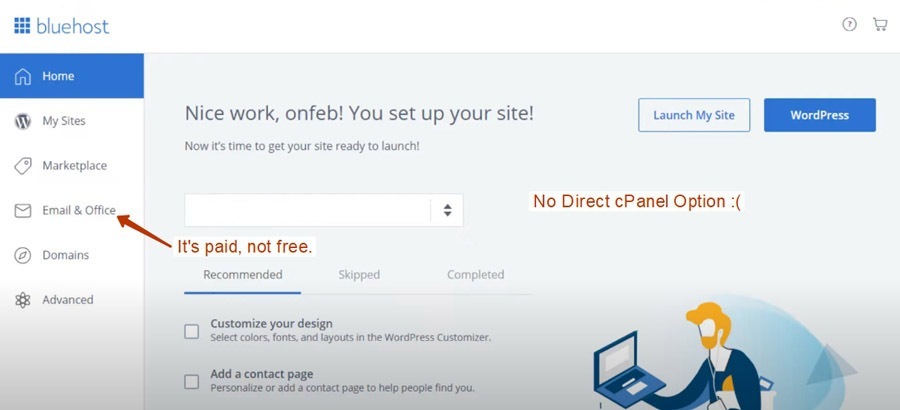 If you're looking to make an email account in Bluehost. You will see Email & Office option and you will click it. But what will you get? nothing but a promotion of G Suite and Microsoft office 365.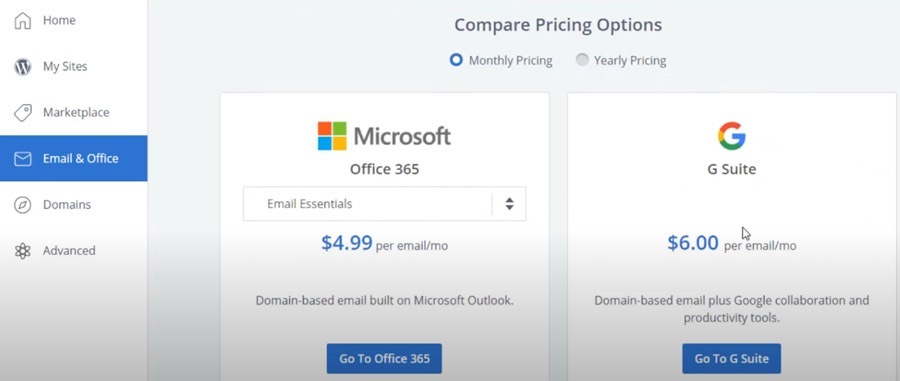 The feature can be set up freely in cPanel. Then why does Bluehost regularly impose to buy paid one?
Google ads by Cobiro, Paid Google Analytics, ConstantContact etc are absolutely useless. You don't need these and can make big hole in your pocket for nothing, if you are a blogger.
However, in cPanels of both web hosts, you will get app installer, FTP accounts, Email accounts, file manager and advance options like cron jobs, IP blocker, SSL, MultiPHP manager, Database and easiness to install WordPress, Joomla, Drupal etc.
But some of the features like manually backup, backup wizard, Sitepad, a popular website builder are offered by GreenGeeks and can't be found in Bluehost.
Winner-cPanels of both companies are comfortable and handy to manage a site, but how do both offer are completely different. You have to educate yourself to use it at Bluehost especially, otherwise you could end up with paid tool. So for the reason of better UX, GreenGeeks wins the round.
Round 6: Hosting Resource – Who one provides more?
Hosting resource is the main thing to be considered, while a beginner customer buys any hosting plan.
Almost 80-90% fees of your payment goes to the hosting resource, that's why every web host provider shows it in pricing table to sell their plans.
RAM Size
| Plans | GreenGeeeks | Bluehost |
| --- | --- | --- |
| Entry Level Plan | 1 GB | Shared |
| Middle-Level Plan | 1.5 GB | Shared |
| Higher Plan | 2 GB | Shared |
I don't need many words to explain here.
Simply more RAM means more power to handle high traffic sustainably as you can see in Server Strength Test above.
Winner: It's crystal clear as a diamond, GreenGeeks is better than Bluehost. GreenGeeks uses container-based technology but Bluehost doesn't. It means traffic-load of fellow websites can impact your website performance. It's indigestible to me.
Storage
| Plans | GreenGeeeks | Bluehost |
| --- | --- | --- |
| Entry Level Plan | unmetered | 50 GB |
| Middle-Level Plan | unmetered | unmetered |
| Higher Plan | unmetered | unmetered |
Setting up a blog needs storage. Unlimited storage gives the freedom to store a lot of files, images and databases.
GreenGeeks offers unmetered storage for all plans and Bluehost provides the same for both high-level plans but not for entry-level plan.
Though 50 GB is enough to host a beginner blog.
Furthermore, both web host providers use SSD for storing. It is faster than the traditional hard disk.
And especially GreenGeeks's SSD is made of RAI-10 SSD array for maximum performance and redundancy which is much better than competitor's SSD.
Winner: In the aspect of quality and quality of storing, GreenGeeks win again.
Bandwidth
| Plans | GreenGeeeks | Bluehost |
| --- | --- | --- |
| Entry Level Plan | unmetered | unmetered |
| Middle-Level Plan | unmetered | unmetered |
| Higher Plan | unmetered | unmetered |
Both web hosts come with unmetered data transfer for all plans. So it is good for huge traffic.
Winner: Points goes to each one. But GreenGeeks overall crowns for the resource round.
Round 7: Site Transfer – Which one can transfer your web property for free
Moving a site from one hosting to another one smoothly is a technical work and a single mistake can break or down your site. So if you're a beginner, it can big hurdle for you.
Luckily GreenGeeks knows the pain as they offer professional migration service for free for all plans while Bluehost charges huge fess ($149) for the service.
Winner: By freely and professionally eliminating the technical hurdle GreenGeeks bashes up Bluehost.
Round 8: Daily Backup – Which one is a savior for accidental data lose
Backup is a real lifesaver. You can sleep soundly at night to know that if something goes wrong, backup will save you for any accidental data loss and website compromised.
For the kind of detrimental situations, GreenGeeks's free nightly backup works like a night watchman who saves our life and property from thieves and looters at the night.
Furthermore, GreenGeeks takes it seriously and at an extremely advanced level, they utilize RAID-10 storage array on all servers to prevent data loss that can occur due to drive failure and regularly run file system checks to ensure the integrity of the file system.
| Plans | GreenGeeeks | Bluehost |
| --- | --- | --- |
| Entry Level Plan | Free | Paid |
| Middle-Level Plan | Free | Paid |
| Higher Plan | Free | Free |
On the other end, Bluehost is not interested to save your web property. As they don't offer free daily backups for two lower plans, that addon is included for free with the higher plans.

You have to pay around $36 annually for saving your web property with both lower plans.
And Why has Bluehost removed manually backup and backup wizard option from cPanel?

Both features are free and widely offered by most of web hosts.
Winner: Bluehost's approach fully disappointed me, but in contrast, GreenGeeks is in fully active mode to save every bit of our data. So GreenGeeks proudly win here.
Round 9: Free Domain, Subdomains & Parked Domains
In GreenGeeks, you are allowed to create unlimited subdomains and park your unlimited domain as you need as well as they also offer a free domain name for first 12 months for all plans.
Plans
GreenGeeks
Bluehost
Free Domain
Subdomain
Free Domain
Subdomain
Entry Level Plan
Free
unmetered
Free

25

Middle-Level Plan
Free
unmetered
Free
100
Higher Plan
Free
unmetered
Free
100
But Bluehost put restrictions on their entry plan. You can create only 25 subdomains and park 5 domains merely.
However, they provide a free domain name for all plans and unlimited subdomains and parked domains for both higher plans.
Winner: GreenGeeks gives more freedom for all plans in the sense of resource, but Bluehost doesn't. So GreenGeeks goes up.
Round 10: Email Accounts & Storage
Plans
GreenGeeks
Bluehost
Email A/C
Storage
Email A/C
Storage
Entry Level Plan
unmetered
unmetered

5

100MB

Middle-Level Plan
unmetered
unmetered
unmetered
unmetered
Higher Plan
unmetered
unmetered
unmetered
unmetered
Already we know, GreenGeeks is so cool with hosting resources.
So again, they set no limit on the number of email accounts and storage, you can make as much as you want for all plans.
Interestingly, Bluehost plays a psychological game here. They limit the entry-level plan to 5 email accounts with 100 MB of storage and the rest of the plans offer unlimited resources.
But both higher plans come with Microsoft 365 Mailbox for 30 days only. After the period, it will auto-renew for $5/month and can cut the amount from your hosting fund. So be careful.
And I don't think any blogger needs it.
A traditional email box is enough and you can freely set up Gmail or Microsoft Mail to receive emails from a traditional mailbox.
Winner: Instead of focusing on the availability of own resources, Bluehost is busy in the marketing of third-party paid tools, while GreenGeeks is confident with its own strength and offers limitless.
Round 11: FTP & SFTP Accounts
| Plans | GreenGeeeks | Bluehost |
| --- | --- | --- |
| Entry Level Plan | unlimited | unlimited |
| Middle-Level Plan | unlimited | unlimited |
| Higher Plan | unlimited | unlimited |
One SFTP account and unlimited FTP accounts are allowed in GreenGeeks for all plans as well as Bluehost offer the same.
Winner: Each point goes to everyone.
Round 12: SSL & HTTP/2
| Plans | GreenGeeeks | Bluehost |
| --- | --- | --- |
| Entry Level Plan | Free | Free |
| Middle-Level Plan | Free | Free |
| Higher Plan | Free | Free |
Not only SSL enhance ranking in SERP but also it secure your website and improve UX. So now it's a must have tool.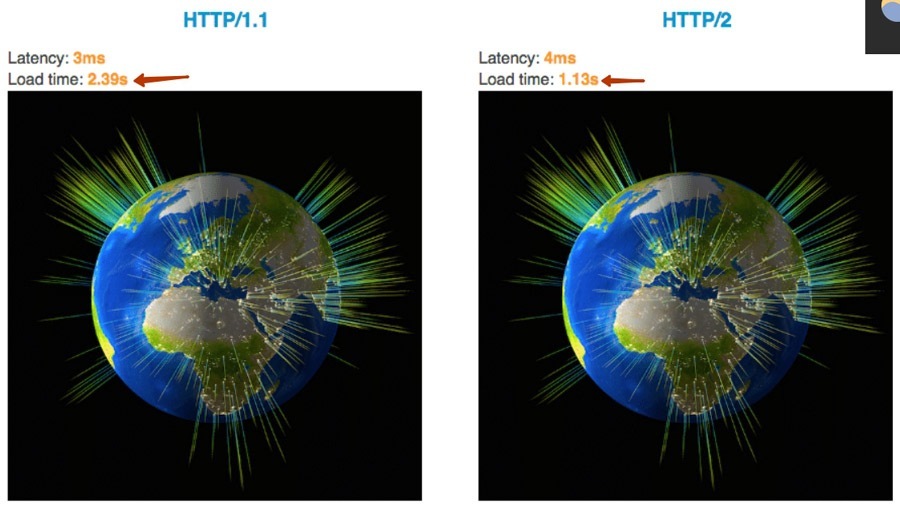 HTTP/2 is the new version of HTTP. It is robust, powerful and faster than older one.
The website which use HTTP/2 will be faster and strong against cyber-attacks and slow internet.
Moreover, You'll be pleased to know that Google will start to crawl the website which has enabled HTTP/2 and can provide benefits in ranking.
It seems GreenGeeks knows it well in advance and they already offer Lite Speed Server which is world's first server software that supports HTTP/2 and by default it comes with SSL.
Hence, you don't need to worry much, if you're at GreenGeeks.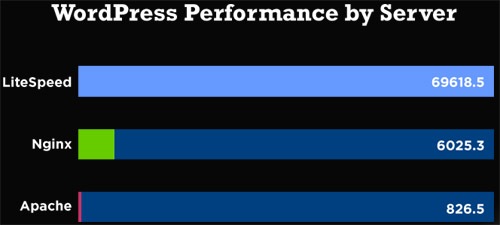 At the second end, Bluehost uses nginx, an old server technology which is far behind the Lite Speed in term of performance.
However, they enable HTTP/2 for their server and provide option to install free SSL manually.
Winner: A latest technology always beats older one and GreenGeeks's server is stronger & faster. But Bluehost provide SSL & HTTP/2. So the round ends at a tie.
Round 13: SSH & Git
| Plans | GreenGeeeks | Bluehost |
| --- | --- | --- |
| Entry Level Plan | Yes | No Git |
| Middle-Level Plan | Yes | No Git |
| Higher Plan | Yes | No Git |
These are the advanced technologies, in which SSH allows advanced access to your project to manage easily and Git is the best tool to track changes in any ongoing project remotely while working in a team.
GreenGeeks has developed its own SSH system which is faster and more secure to handle your big files. And you can also set up a git repository to enable version control over your projects.
Whereas sadly Bluehost doesn't offer Git for shared hosting, although they allow SSH.
Winner: Undoubtedly GreenGeeks get the point.
Round 14: Security – Which one has a greater defense against hacking?
GreenGeeks's own real-time security scanning system automatically blocks malware, malicious scripts and brute force attacks while they deduct any threat on a website.
And their container-based technology isolates your hosting account from other customers' accounts which allows maximum security and hosting resources.
Furthermore, their spam protection system always keeps database clean from any kind of spamming, so that your web property can load fast.
And also hardware & power redundancy, pro-active server monitoring and nightly data backup power GreenGeeks's servers to cope up against data loss and achieve maximum uptime.
Being honest, I had many doubts about how does Bluehost secure websites as they don't disclose their security protocols.
And seriously what I got reply from their customer representative?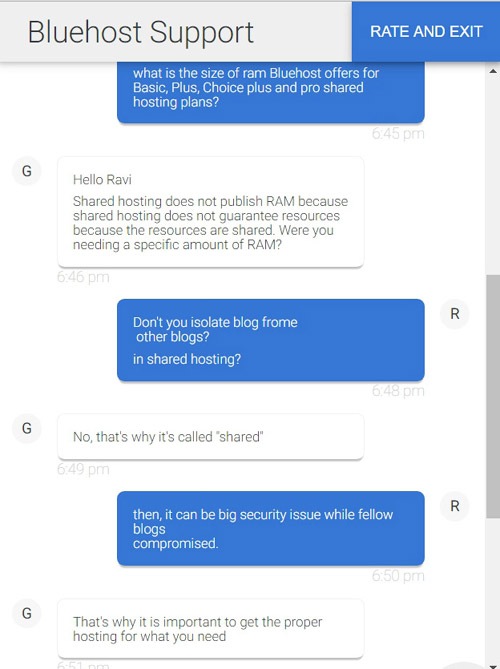 "Bluehost don't use isolation technology for shared hosting plans".
It spontaneously invites security breaches and hosting resource stealing.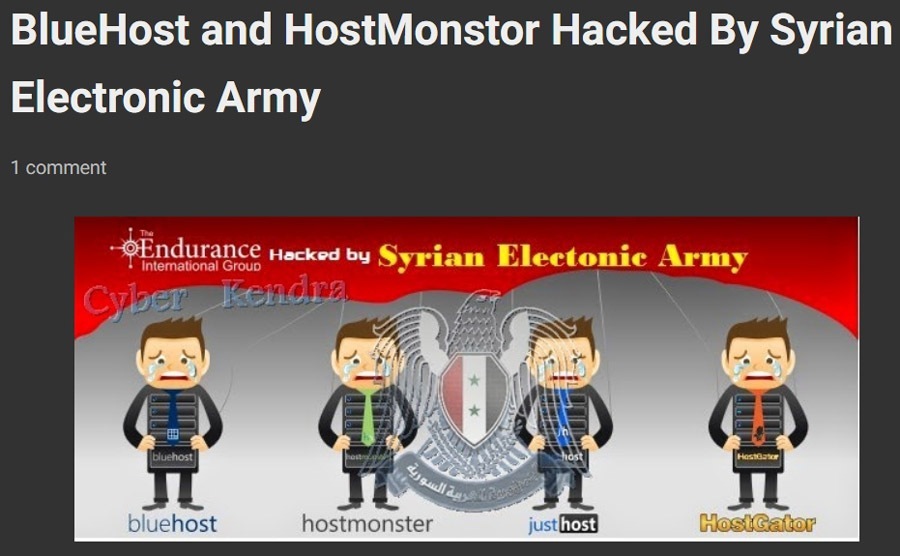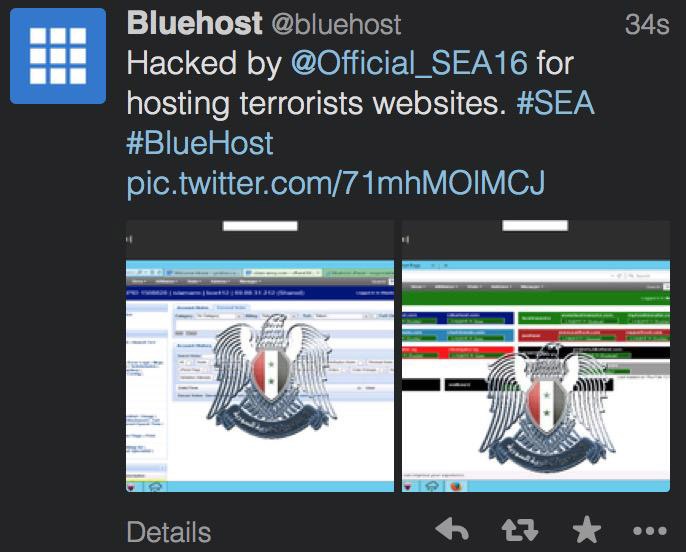 That's why, there are many social chats about Bluehost sites being hacked.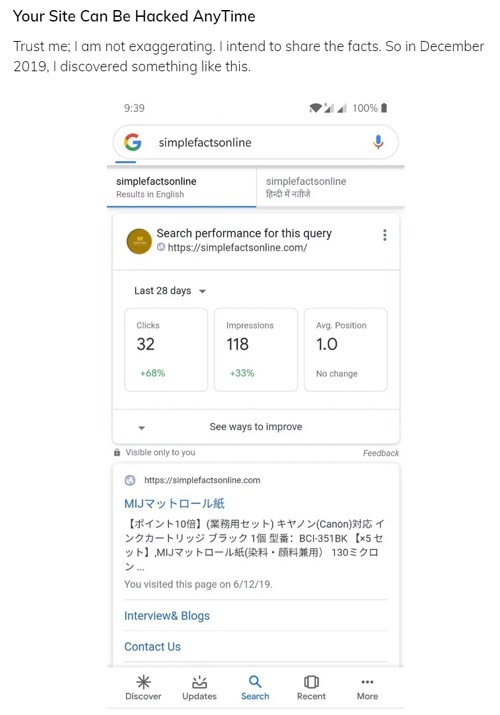 Even though, if you're serious about security at Bluehost, you have to pay about $30 per year for SiteLock, a third party security solution.
Winner: In the technology era, Bluehost is like a bird without feather that pretends to have ability fly high on the sky. it's unavoidable issue, they must care it. So the vital round goes to GreenGeeks.
Round 15: Server Location
| | GreenGeeeks | Bluehost |
| --- | --- | --- |
| Location | 4 | 1 |
The nearest data center makes fast loading of web pages and improves performance. That's why I always prefer to check the locations of data centers, before buying a hosting plan from any web host.
GreenGeeks has expanded its service to 4 data centers located in Chicago (US), Phoenix (US), Montreal (CA) and Amsterdam (NL).
And it's big but a healthy step for the earth as they use renewable energy to fuel up these servers.
In contrast, Bluehost doesn't disclose much about its servers as they don't even mention it on their website. After digging and asking their support, I got to know that their servers is in Utah.
So strange, why do they hide it?
It gives me big hint, why Bluehost's websites load slowly across the globe, except Utah.
Winner: 4 locations for GreenGeeks and 1 for Bluehost. Clearly, GreenGeeks win the round.
Round 16: Customer Support
| Channels | GreenGeeeks | Bluehost |
| --- | --- | --- |
| Live Chat (Wait Time) | 2-5s | 2-5m |
| Telephone | Yes | Yes |
| Email Tickets | Fast | Ordinary |
Slow speed, downtime, security issue, SSL error, server connectivity failures and database errors are common issues that occur while we host a website.
You can deal with these issues calmly, if customer support of your web host provider is faster and reliable. Otherwise, you could have to squeeze your head.
That's a big reason, customer support is the most considerable thing while choosing any hosting companies.
So now it's time to check the flexibility and reliability of both customer support.
I connected with customer support of GreenGeeks and they took merely 2 seconds to connect and reply.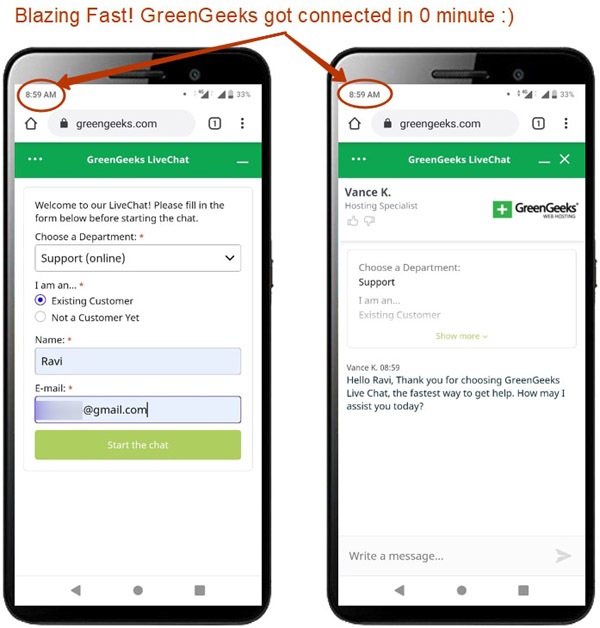 Then their elegant and precise answer let me feel good.
Their customer support team is also available for 24×7 dedicatedly as I found in many tests conducted for a various times in a week.
Though, If you don't like to type much, you can call 1877-326-7483 to seek their support over phone calls and read their immense knowledge base and tutorials to help yourself.
On another side, Bluehost took almost 2 minutes to connect and they didn't directly connect live chat.
If you shoot your question, they first of all will show you some relevant articles, then you have to click on live chat located bottom to get connected to their support.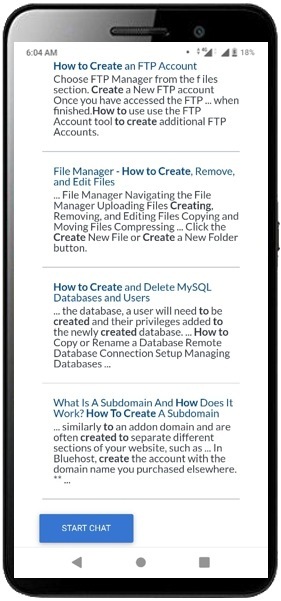 Overall the process delays much to get help over live chat. As I know no other web hosts follow the weird time-consuming process.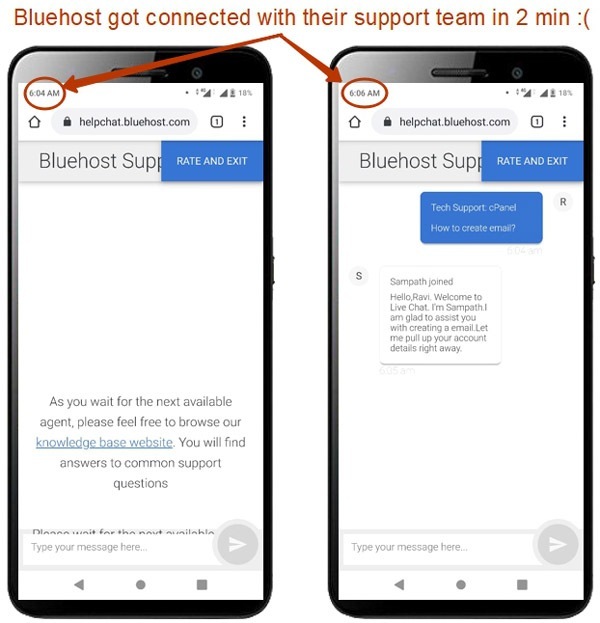 Just think, If you need emergency help, what would happen then?
Although they also provide support over phone call (1801-765-9400) and a big knowledge base to solve hosting queries.
Winner: Differentiation of Both of pictures declare the real winner.
Round 17: Free CDN
| | GreenGeeeks | Bluehost |
| --- | --- | --- |
| CDN | Free | Free |
Always having a CDN service unlocks global traffic to your blog. Then you can enjoy multiple growth and revenue.
A CDN has many data centers around every corner of the world, they put a copy of content upon all data centers and deliver content to users through their closet data center. That's how they do faster delivery of content, cut down the load on origin server drastically and bandwidth.
It is a great thing that GreenGeeks offers a CDN powered by Cloudflare, the universe's biggest infrastructure internet company.
And the Best Part? It's completely free.
It's a straight meaning that by using Cloudflare's advanced caching system, you can reduce a much load on origin server and a lot of costly bandwidth too which will be a deeper green signal for your wallet.
And also Cloudflare is known as a safeguard giant that blocks every day millions of online threats like DDoS, brute force attacks etc. So it's a win-win situation for you while you'll decide to use it.
Likewise GeenGeeks, Bluehost provides Cloudflare service for free too, but CDN basic for all plans.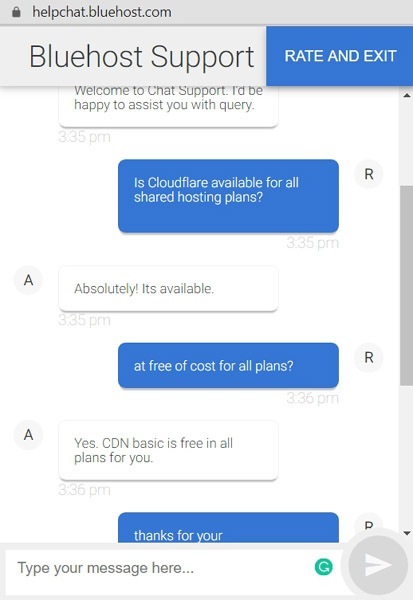 Winner: Bluehost comes with less features than GreenGeeks. However, they still offer free CDN, so the round ends a tie.
Round 18: WordPress- Which one is well optimized for WordPress Site?
Most of the website owners use WordPress as favorite CMS because it is very handy and has a lot of inbuilt features such as pre-configured technology, regular security updates, easy to design & manage, millions of plugins & themes, a huge support community.
That's why WordPress is better robust, performer and powerful than other CMSs.
Let's check the main WordPress features you get with both hosting providers.
| Feature | GreenGeeeks | Bluehost |
| --- | --- | --- |
| Easy Install | Yes | Yes |
| Automatic System Update | Yes | No |
| Automatic Plugin Update | Yes | Yes |
| Caching System | Yes(Object Cache) | Yes(Static Cache) |
| Free CDN | Yes | Paid |
GreenGeeks hosts your WordPress sites on the LiteSpeed webserver.
it's the latest server technology which comes with LS cache support that cache not only the front end of the site but also PHP & database operations that drastically decreases the load on the origin server and enable WP site to load super fast.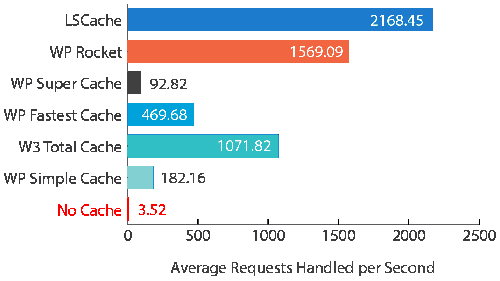 But sadly Bluehost uses Nginx, an old server software easily beaten by LiteSpeed in the aspect of performance, security and reliability in many case studies.

Winner: GreenGeeks overshadows Bluehost by technology and performance.
Round 19: Environment Friendly – Which one save our planet?
| | GreenGeeeks | Bluehost |
| --- | --- | --- |
| Eco-Friendly | Yes | No |
Do you know?
Our website pollutes our beloved earth?
Yes, it creates pollution as much as the airline industry emits.
Hosting companies need energies for 24×365 to run up data centers and most of the energies are generated from fossil fuel which adds a huge amount of harmful CO2 & SO2 to our environment.
So you don't want your blog to harm the earth. There is a solution that is GreenGeeks.
It is the world's prominent eco-friendly web host provider which use renewable energy to run up their servers and already replace more than 615,000 kWh a year.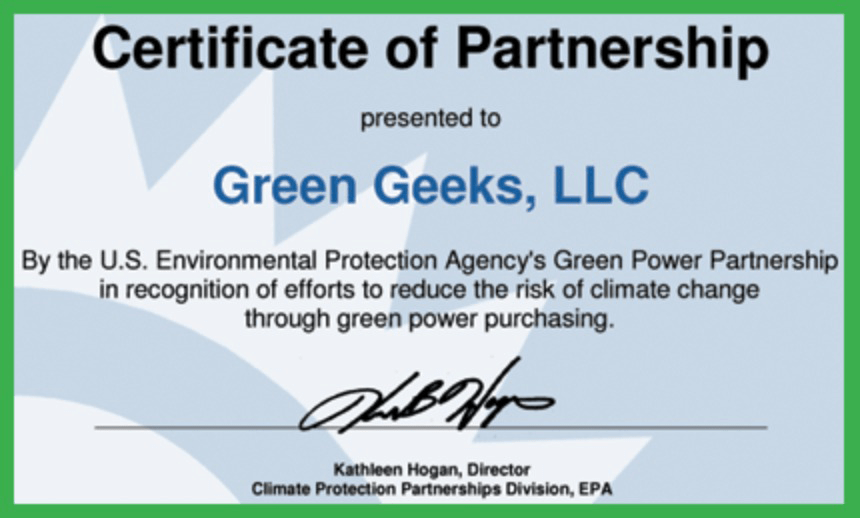 And also it's been recognized by the United States Environment Protection Agency since 2009 as a Green Power Partner.
Regardless, Bluehost talks out neither about renewal energies nor saving the planet.
Winner: Earth is everything. So you have to care it. GreenGeeks knows their responsibility to care environment and the step inspires 100 thousand host providers to serve their service without harming our world.
Round 20: Plan & Pricing
Prices directly impact your wallet. it's very personal. So Some people don't mind paying a bit extra if they get more quality and others prefer cheaper alternatives with less quality.
I advise you don't go cheaper, otherwise it will cost your time and hard work.
Generally, GreenGeeks's pricing is marginally higher, but you will get better service, performance and support.
Now let's check out the details comparison of plan feature and pricing of both web hosts.
GreenGeeks
Bluehost
Plans
Lite
Pro
Premium
Basic
Plus
Pro
Price
$2.95
$5.95
$11.95
$2.75
$4.95
$13.95
Visitors/month
Unmetered
Unmetered
unmetered
25000
Unmetered
unmetered
Disk Space
Unmetered
Unmetered
unmetered
50 GB
unmetered
unmetered
Website Allowed
1
Unmetered
unmetered
1
Unmetered
unmetered
Data Transfer
Unmetered
Unmetered
unmetered
unmetered
Unmetered
Unmetered
Sub Domains
Unmetered
Unmetered
unmetered
25
unmetered
unmetered
Parked Domains
Unmetered
Unmetered
unmetered
5
unmetered
unmetered
Free Domain
Yes
Yes
Yess
Yes
Yes
Yes
30 Day Money Back Guarantee
Yes
Yes
Yes
Yes
Yes
Yes
Email A/c
Unmetered
Unmetered
unmetered
5
Unmetered
unmetered
Server Location
4
4
4
1
1
1
Free CDN
Yes
Yes
Yes
Yes
Yes
Yes
Free Backup
Daily
Daily
Daily
No
No
Yes
Backup on Demand
Yes
Yes
Yes
No
No
Yes
OS
Linux
Linux
Linux
Linux
Linux
Linux
Free Site Transfer
Yes
Yes
Yes
No
No
No
Caching System
Level 3
Object
Caching
Level 3
Object
Caching
Level 3
Object
Caching
Level 1
Static
Caching
Level 1
Static
Caching
Level 1
Static
Caching
SFTP & SSH
Yes
Yes
Yes
Yes
Yes
Yes
24*7 Support
Yes
Yes
Yes
Yes
Yes
Yes
Support Channel
Live Chat
Email
Phone
Live Chat
Email
Phone
Live Chat
Email
Phone
Live Chat
Email
Phone
Live Chat
Email
Phone
Live Chat
Email
Phone
Eco-Friendly
Yes
Yes
Yes
No
No
No
Winner: Undoubtedly GreenGeeks is a better alternative to Bluehost. While we put pricing aside, GreenGeeks stands as a winner, but Bluehost marks a close win for their cheaper prices.
GreenGeeks Vs Bluehost – Finally which one wins
In the 20 rounds, GreenGeeks has scored 17-2 and comfortably defeats its opponent Bluehost for performance, security and reliability.
I would recommend GreenGeeks if you:
Need the best speed & uptime for best UX and high ranking in SERP.
Prefer having flexible & friendly support to get help ASAP.
Need unmetered data-transfer to handle unlimited visitors.
Need unmetered storage to upload HD images & longer videos.
Want a strong savior as an auto nightly backup to save you from accidental loss.
Need level 3 object caching for faster load.
Want spam protection to clean up spam and unlock the highest performance of your host.
Want to save the earth to host your blog on a green host.
Want a free domain for one year to save $13.95.
Need a free professional to transfer site to avoid data loss and any downtime
Want a free CDN for faster global appearance and extra security layer.
Want the latest server software (LiteSpeed) for higher performance and strength.
Want to have numerous server locations.
Want a marginal cheaper deal.
Want higher storage and bandwidth to handle a lot of visitors
Have free time to get help from the support team.
Want a free domain and save some dollars.
Are willing to pay extra for daily backup for both lower plans, except higher one.
Don't want the best performance.
Want free CDN.
What Did I Choose?
GreenGeeks!
I am one of them who don't mind to pay extra for getting better performance, security and support.
According to my experience and various tests, I believe GreenGeeks is better than Bluehost and I am very happy to use their green host service.
I hope you find the practical experiment article useful and helped you decide what your best option is. If you still have queries, feel free to comment below and I'll try to help you.
More Compare.– GreenGeeks Vs Hostinger: 20 Test to Decide "Who's Best" in 2022
GreenGeeks vs Bluehost: FAQ
Is GreenGeeks good for WordPress hosting?
Yes, unlimited RAID-10 SSD storage, more RAM, unlimited bandwidth, Cloudflare CDN, inbuilt Real-Time Scanner, nightly backup power GreenGeeks's server to achieve optimum performance.
Is GreenGeeks fast?
Yes, GreenGeeks's global average load speed is 1.4s which is already faster than 90% websites.
Does GreenGeeks offer shared hosting?
Yes, GreenGeeks offers three shared hosting plans.
Is GreenGeeks or Bluehost faster?
GreenGeeks's global average load time is 1.4s while it was 3.12s for Bluehost.
How does GreenGeeks protect your website from hackers?
GreenGeeks has an inbuilt real-time security scanning system, container-based technology, Cloudflare protection, hardware & power redundancy and nightly data backup to reduce data loss. These can effortlessly block high-level attacks.