To be honest, I take too much time making (even simple) decisions.
Even what dish to eat, what gym to join, what dance club to join or which cricket bat to buy, I always spend a lot of time to make decisions for these.
But while deciding what hosting should I go for, I took this next level. I spent many days to check customer support, hosting features, pricing, storage limit, and bandwidth.
All the time I found myself asking the same question GreenGeeks or Hostinger, which is the best?
And seriously it wasn't an easy task as both hosting providers have been served over a decade and are leaders in their particular categories
But how?, will know below.
I've done extensive research about GreenGeeks and Hostinger to save you from sleepless nights trying to figure out what's the best web host provider for you.
In the research, I have used the last 24 month data of the websites that are hosted on both hosting providers separately and did various tests. I've summarized my experience and learnings here.
Now let's dive into the research.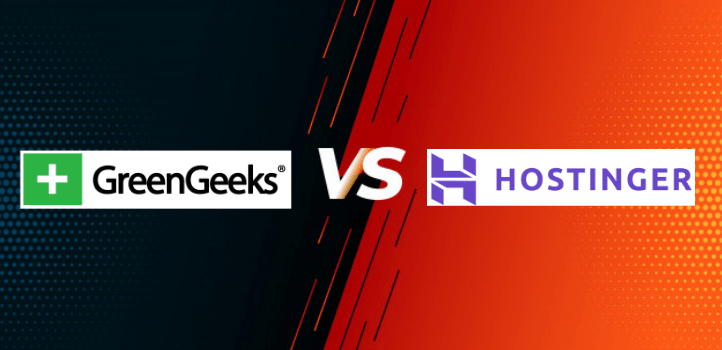 GreenGeeks Vs Hostinger – Which one is the winner in 2020 – (Our Verdict in Nutshell)
This is our final verdict. GreenGeeks (started at $2.95/m) is a better option than Hostinger (started at $0.99/m).
In the aspect of better performance, security and support, GreenGeeks has been completely outperformed Hostinger. The conclusion is based on various tests we've conducted and personal experience. (You will read about the tests in the post.)
Why is GreenGeeks better than Hostinger?
GreenGeeks beats Hostinger in 17 tests out of 20 test series while Hostinger was able to win 2 tests only. And one round was a tie.
Being an environment-friendly web host, GreenGeeks superbly performed better and stand as a winner in our experiments. It was commendable.
Meanwhile, we find cheaper pricing is the only reason to choose Hostinger, not better performance.
Round 1: Popularity – Which is most beloved among people
GreenGeeks was founded in 2008 in California by Trey Garnder who had worked for the world's 8 prominent hosting providers like iPage, iPowerWeb, Hostpapa, Lunarpages.
While working in these companies, he realized the Internet consumes a lot of energy which really adds heat to global warming.
He decided to do anything and as a result, GreenGeeks was born as an eco-friendly hosting provider that powers more than 500,000 websites.
Now it's been a Green Power Partner of the United States Environmental Protection Agency.
Whereas Hostinger was started as 000Wehost.com, a free hosting service with no ad in 2007 in Lithuania.
Shortly, it became the top leader of free hosting providers around the corners.
Then in 2011, Hostiger, a new hosting brand was born.
By May 2014, they crossed a base of 10 million users
And by January 2017, the goal of users exceeded 29 million worldwide.
In a decade, 29 M users!
Wow, outstanding progress.
Now let's check their popularity in Google Trends, we find it.

Hostinger clearly beats GreenGeeks.
But popularity doesn't mean quality because managing a lot of users have never been easy. It hurts quality, performance and reliability.
So I checked what real users of both companies said at TrustPiolet, a third party and a reliable source for checking out reviews of popular business around the world with over 97+ million total reviews posted there.


As you can see below, GreenGeeks is rated 4.7 out of 5, whereas Hostinger is marginally down with 4.4/5.
Winner – If we keep popularity aside, GreenGeeks win the round for their quality service. But on popularity standard, Hostinger comes first.
Round 2: Speed – Which One Loads Fast?
You're never going to like a slow website, aren't you?
It not only ruins user experience but also it is a disaster for SEO purposes because Speed is the biggest ranking factor of Google.
And a study says 40% of people abandon a website that takes more than 3 seconds to load.
Even a 1-second page delay costs you around $2.5 million in lost sales every year, if your website is making $100,000 per day.
So I took it very seriously and did several speed tests using the same site in both hostings, under equal conditions and from different locations. I used GTMetrix and Webpagetest.org.
Now let's check out which one is faster, GreenGeeks or Hostinger around the world?
| Location | GreenGeeks | Hostinger |
| --- | --- | --- |
| Vancouver | 1.1 | 3.4 |
| Dallas | 0.8 | 3.2 |
| Mumbai | 2.3 | 4.3 |
| London | 1.9 | 3.3 |
| California | 1 | 2.2 |
| Los Angeles | 1.4 | 2.7 |
| Frankfurt | 1.6 | 2.4 |
Test Results
Winner: As you can see in the table above, GreenGeeks outperformed Hostinger. So the utmost round goes to GreenGeeks.
Round 3: Uptime – Which One Ups Longer?
Likewise hosting speed, Uptime is the most critical performance factor in the manner of SEO and UX.
Google doesn't like interruptions(downtime). It deprives to serve top-notch user experience.
It must be at least 99.90%.
Now let's see compared data of last 24 Month


| Last 12 Month | GreenGeeks | Hostinger |
| --- | --- | --- |
| July 2020 | 100% | 99.99% |
| June 2020 | 99.78% | 99.99% |
| May 2020 | 99.95% | 99.98% |
| April 2020 | 99.94% | 99.99% |
| March 2020 | 99.90% | 99.97% |
| February 2020 | 100% | 100% |
| January 2020 | 100% | 99.95% |
| December 2019 | 99.99% | 99.98% |
| November 2019 | 99.99% | 99.99% |
| October 2019 | 99.98% | 99.65% |
| September 2019 | 99.98% | 100% |
| August 2019 | 100% | 100% |
| Average (Last 24 Months) | 99.98% | 99.95% |
In the 24-month review process, GreenGeeks had downed only 4 hours (46 outages) whereas Hostinger suffered a total of 8 hours of downtime (108 outages).
Winner: Last 24-month GreenGeeks was alive more than Hostinger. So for the important aspect, GreenGeeks wins.
Round 4: Server Strength Test – Which One is better for websites with unpredicted high traffic?
| Parameters | GreenGeeks | Hostinger |
| --- | --- | --- |
| Server Response at 8 VUs visits | 166ms | 625ms |
| at 30 VUs visits | 196ms | 765ms |
| at 50 VU visits | 339ms | 14.73s |
| Request made | 2658 | 585 |
| Peak RPS | 71 reqs/s | 34 reqs/s |
| Error | 0 | 223 |
| Average Response Time | 264.13ms | 3.8s |
| Fastest Response Time | 98ms | 145ms |
| Slowest Response Time | 339ms | 14.73s |
A High quality sever can serve data and file of your website to your visitor smoothly, even when it gets high traffic unpredictably.
But the ordinary one fails.
So I decided to test the strength and quality of both servers when 50 visitors are thrown at them at the same time.
GreenGeeks Server Quality Test (Server Location: Ashburn, USA)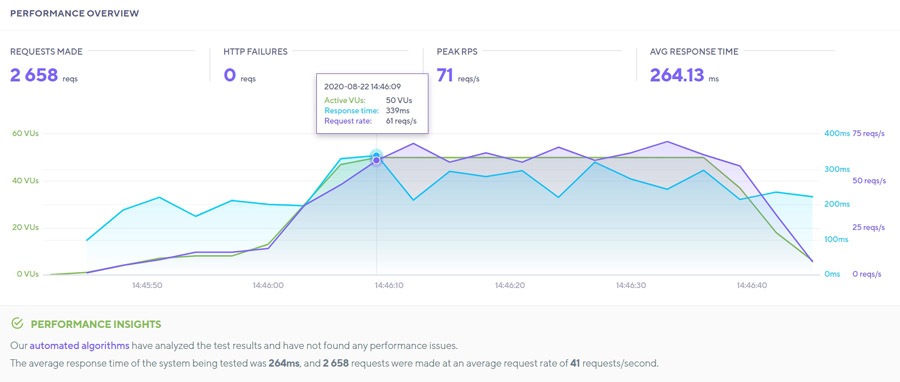 GreenGeeks's performance was super-duper as it handled 50 virtual users calmly without any major spikes in load time. Its' average response time was 264 ms which comply with Google's response speed rule (no more than 300ms).
Hostinger Server Quality Test (Server Location: Ashburn, USA)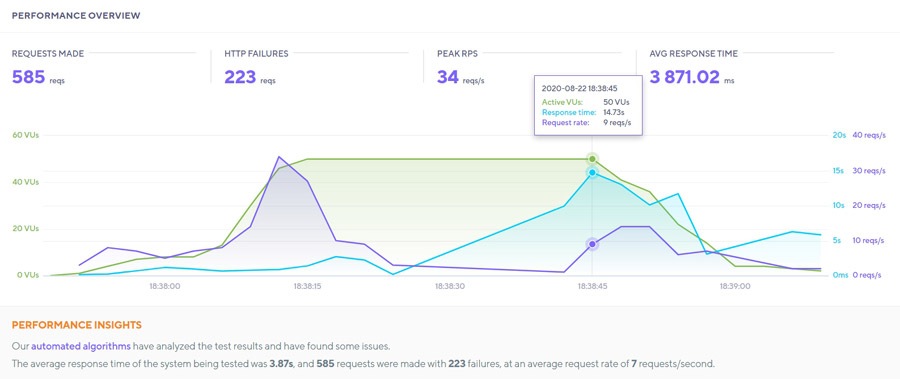 Hostinger performed poorly. It's response time drastically increased as the traffic increased. Even at a lower level of traffic (8 visitors), the response time was very high.
As traffic increased to 50 users, the response time almost touched 14.73s. From the beginning of the test, the server's performance was very inconsistent and couldn't handle all the HTTP requests as many HTTP failures were reported.
The test tool K6.io clearly reported that is its highest competency. It means they impose a strict limitation on their server's performance.
Which One Has the Fasted Domain Nameserver?
Changing or updating DNS is the beginning task for hosting a blog. You may not aware of DNS effects speed of blog, if you are a beginner, aren't you?
Let me explain.
When you type a web address like google.com, your ISP (Internet Service Provider) goes to the DNS (domain name server) to fetches the IP addresses associated with that domain. This IP address is where your website's files are located.
So simply, DNS is like a phonebook that helps your browser locate your website files.
If you want to avoid DNS, simply put 216.58.217.206 (IP address of Google.com) in browser and you can feel comparatively fast load of google.com without DNS activity.
But memorizing IP addresses for humans looks mission impossible. That's why we need DNS, especially fast DNS for fast translating.
Almost every hosting company manage DNS as part of their service. Once you buy their web hosting, they host your DNS details on their server as well as your blog files.
Benefits of a Good DNS
-Fast Website Speed
-Better security against DDoS attacks.
So we tested the DNS speed of both companies and what we got-

The test clearly states that GreenGeeks is faster than Hostinger in terms of DNS speed. Even the difference is minor. But when considering all speed tests, we find GreenGeeks as a winner.
Round 5: Ease of Use – Which one is better comfortable to use?
GreenGeeks offers cPanel which is the most popular control panel to manage a website.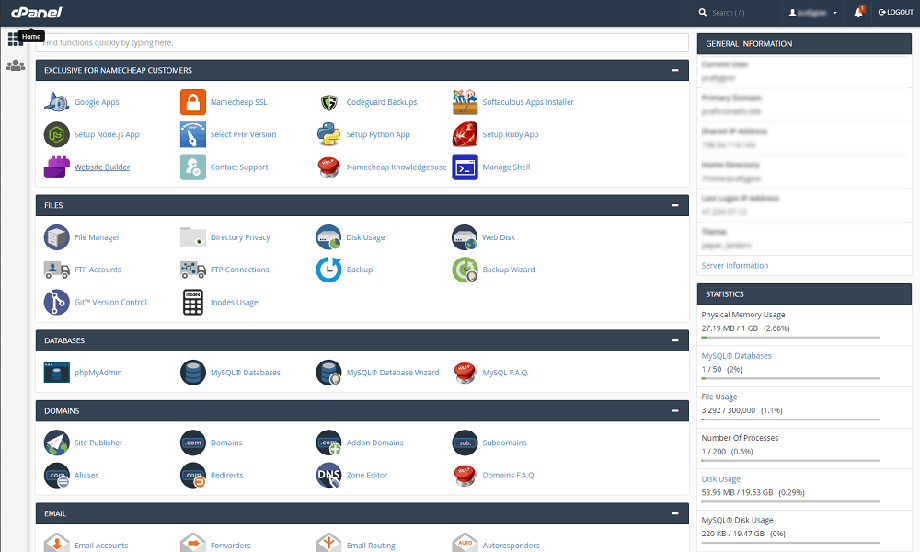 In a cPanel, you can find the options of files, web accelerator, database, domains, e-mails, security, matrix, software and advance options like Track DNS, Error Pages etc.
So in a few seconds, you can set up your first WordPress Blog using cPanel. (Either you can use other CMS like Joomla, Drupal and more.
Whereas Hostinger doesn't provide cPanel but it offers a modern customized control panel.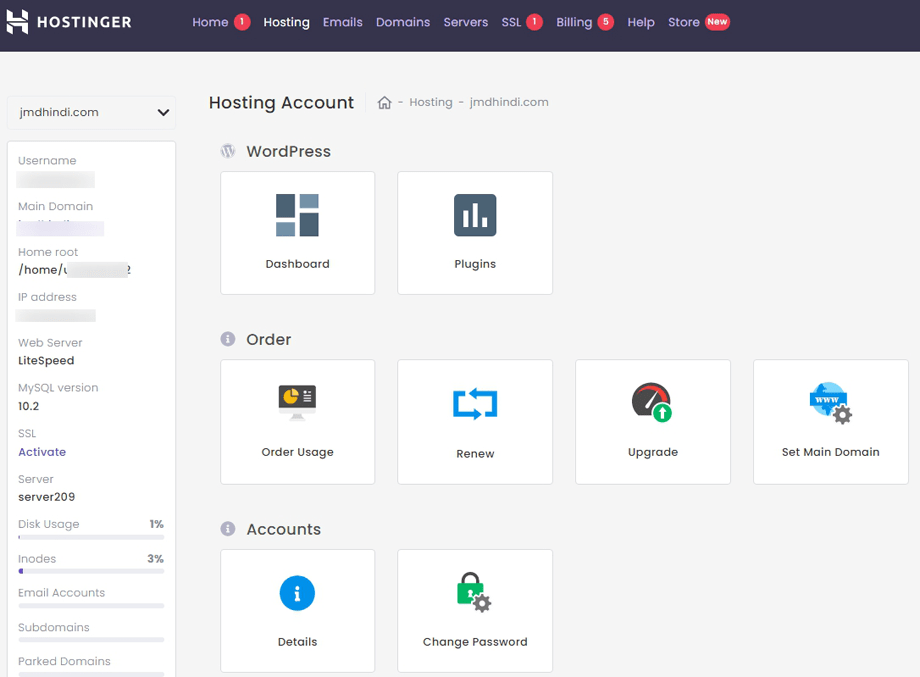 It is like a lite version of traditional cPanel with no advance options, called hPanel.
If you're using traditional cPanel for a long time, you may not be comfortable with it.
Even though, It is suitable for beginners who don't want to put his hand into advance setting to achieve optimum performance.
Bye the way you can manage your billings, hosting, domains, emails and SSL from the one panel.
Winner: GreenGeeks clearly win this one.
Round 6: Hosting Resource – Who one provides more?
When you buy a web hosting plan, an 80-90% amount of the fee goes to hosting resources.
It's like the main framework which web providers show to sell and beginners mainly consider these to buy hosting plans.
RAM Size:
| Plans | GreenGeeeks | Hostinger |
| --- | --- | --- |
| Entry Level Plan | 1 GB | 256 MB |
| Middle-Level Plan | 1.5 GB | 512 MB |
| Higher Plan | 2 GB | 1 GB |
I don't need many words to explain here. Simply more RAM means more power to handle high traffic sustainably as you can see in Server Strength Test above.
Winner: It's crystal clear, GreenGeeks is 200-300% better than Hostinger.
Storage:
| Plans | GreenGeeeks | Hostinger |
| --- | --- | --- |
| Entry Level Plan | unmetered | 10 GB |
| Middle Level Plan | unmetered | 20GB |
| Higher Plan | unmetered | 100 GB |
Unlimited storage capacity gives you the freedom to setup from light to heavy projects. It's a quite interesting feature of GreenGeeks whereas Hostinger imposes you to stick with light one.
By the way, both providers use SSD instead of traditional hard drives. These are faster than hard drives. Especially GreenGeeks's SSD is made of RAID-10 SSD storage arrays for maximum performance and redundancy which is far far better than Hostiger's SSD.
Winner – GreenGeeks dominates again against Hostinger.
Bandwidth:
| Plans | GreenGeeeks | Hostinger |
| --- | --- | --- |
| Entry Level Plan | unmetered | 100 GB |
| Middle Level Plan | unmetered | unmetered |
| Higher Plan | unmetered | unmetered |
If you get 1000-1500 hit daily, it consumes around 1 GB amount of bandwidth. So Hostinger's entry-level plan is only suitable for low traffic.
Besides, other plans are full of unlimited bandwidth
Winner: GreenGeeks marks a close win.
Round 7: Site Transfer – Which one can transfer your web freely?
If you want to transfer your site from an existing web host to another one, you may find hardships, if you're a beginner because it's totally technical work.
And it seems that GreenGeeks knows it well and they offer site migration at free of cost for all plans. While Hostinger doesn't provide the service, even not for paid.
Winner: Site migration is a big hurdle for any beginner and GreenGeeks win the round offering the service freely.
Round 8: Daily Backup – Which one can restore your lost web files
No one knows what would happen tomorrow. So there is no guarantee to your web property.
It may get hacked or could be down mistakenly by some coding error.
But luckily GreenGeeks offers free nightly backup. It is a true lifesaver.
This way, you can sleep soundly, knowing that ìf something goes wrong, your daily data is backed up regularly. And ask the support team, they will restore your blog in the blink of eyes.
GreenGeeks doesn't stop here, they utilize RAID-10 storage array on all servers to prevent data loss due to drive failure and regularly run file system checks to ensure the integrity of the file system.
Plans
GreenGeeeks
Hostinger
Entry Level Plan
Free

Paid

Middle Level Plan
Free

Paid

(Weekly Free)
Higher Plan
Free
Free

It seems Hostinger has no interest much to save your hard-work. They provide paid daily backup service (at $0.95 per month extra) for both lower plans, that add on is included free in the higher plan. It's quite unpleasant that manually backup is also paid.
Winner: Blackmailing attitude of Hostinger for backups is not acceptable for me. They impose pressure on you to buy a premium backup service. So definitely GreenGeeks wears crown here.
Round 9: Free Domain, Subdomains & Parked Domains
GreenGeeks offers a free domain for 1 year and you are allowed to create unlimited subdomains as you need. You can also park your unlimited domains with all plans.
Plans
GreenGeeks
Hostinger
Free Domain
Subdomain
Free Domain
Subdomain
Entry Level Plan
Free
unmetered

Paid

2

Middle Level Plan
Free
unmetered
Free
100
Higher Plan
Free
unmetered
Free
100
Likewise backup service, Hostinger is not cool with domain also as they don't offer a free domain for entry-level plan, but for both higher-level plans only. And they also impose limitations on creating subdomains.
You can create only 2 subdomains for entry-level plan and 100 subdomains for rest plans. The same rule applies for parked domains.
Winner: Undoubtedly GreenGeeks offers pretty much than Hostinger, so the point goes to GreenGeeks.
Round 10: Email Accounts & Storage
Plans
GreenGeeks
Hostinger
Email A/C
Storage
Email A/C
Storage
Entry Level Plan
unmetered
unmetered

1

15 GB

Middle Level Plan
unmetered
unmetered
unmetered

15 GB

Higher Plan
unmetered
unmetered
unmetered

15 GB
GreenGeeks comes with unlimited email accounts with unlimited storage for each plan. You can smoothly manage your email account using the following email clients – SquirrelMail, RoundCube and Horde.
Whereas Hostinger allows 1 email account for beginner plan and unlimited email accounts for rest plans with storage limitation of 15 GB.
Winner: Again GreenGeeks win the match.
Round 11: FTP & SFTP Accounts
| Plans | GreenGeeeks | Hostinger |
| --- | --- | --- |
| Entry Level Plan | unlimited | 1 |
| Middle Level Plan | unlimited | unlimited |
| Higher Plan | unlimited | unlimited |
Except entry level plan, Hostinger offers unlimited FTP & SFTP account to upload or access file to the server securely. As like that, GreenGeeks comes with the same option but for all plans.
Winner: GreenGeeks takes a minor advantage and wins the round.
Round 12: SSL & HTTP/2
| Plans | GreenGeeeks | Hostinger |
| --- | --- | --- |
| Entry Level Plan | Free | Free |
| Middle Level Plan | Free | Free |
| Higher Plan | Free | Free |
Now SSL is a big ranking factor in SERP. It also enhances security. And HTTP/2 is the new feature of the internet to deliver website files faster over slow internet.
Both of hosting companies use the most advanced server software Litespeed which enables HTTP/2 and free SSL.
Winner: Both providers offer the same, so the point goes to each one.
Round 13: SSH & Git
| Plans | GreenGeeeks | Hostinger |
| --- | --- | --- |
| Entry Level Plan | Yes | No |
| Middle Level Plan | Yes | Yes |
| Higher Plan | Yes | Yes |
The advanced features are for developers who want to track changes in their projects remotely while working in teams.
GreenGeeks and Hostinger have developed their own SSH access system, so you can get admin access to your account to transfer, delete and manage your big files easily.
On top of that, you can set up a Git repository to enable version control over your projects. But sadly Hostinger doesn't allow SSH for entry-level plan whereas GreenGeeks offers for all plans.
Winner: The point also goes to GreenGeeks.
Round 14: Security – Which one has a greater defense against hacking?
GreenGeeks has developed its own real-time security scanning system which blocks brute force attacks, malware and viruses automatically in real-time while they deduct any threat on any website.
Moreover, their container-based technology keeps your hosting account isolated from other customers which allow maximum security and scalability of your hosting account.
Their spam protection system keeps the website safe from any kind of spamming and keeps clean the database regularly, so any website can use its maximum resource and load fast.
And hardware & power redundancy, pro-active server monitoring and nightly data backup powers GreenGeeks' Server to cope up against data loss and achieve maximum uptime.
Hostinger uses third party server security "BitNinja.io" to secure their customer websites and servers from DDoS, brute force, web attacks and botnets.
However, if you concern more about security, you need to pay $9.95 for Cloudflare Protection.
Winner: Nowadays, Security is the bigger issue. We can't ignore it at any cost and we find GreenGeeks is firmly safer.
Round 15: Server Location
| | GreenGeeeks | Hostinger |
| --- | --- | --- |
| Location | 4 | 3 |
This is my favorite factor while I am choosing any web hosting because it directly impacts speed and indirectly SEO Ranking.
GreenGeeks knows it well, so they offer four server locations around the world to achieve the highest latency and performance.
They have servers in Chicago (US), Phoenix (US), Montreal (CA) and Amsterdam (NL) and use renewable energy to fuel up these servers.
Whereas Hostinger's servers located in the USA, Asia and UK as they have mentioned.
Is that enough for speed?
Winner: Greengeeks' number of data centers and renewable energy clearly beats Hostinger's average server department.
Round 16: Customer Support
Channels
GreenGeeeks
Hostinger
Live Chat (Wait Time)
2-5s

2-5m (only for

Reg. user)

Telephone
Yes

No

Email Tickets
Fast
Ordinary
According to research, customer support is most considerable among users who buy web hosting.
Because while we host a website, need to deal with slow speed, security issue, downtime, SSL error, server connectivity etc.
Therefore, every web owner needs a reliable and flexible customer support team to get the problem resolved quickly without any loss.
Thus without wasting any time, I connected to the Customer Support Team of GreenGeeks and one staff of their team amazed me to respond in just 2 seconds.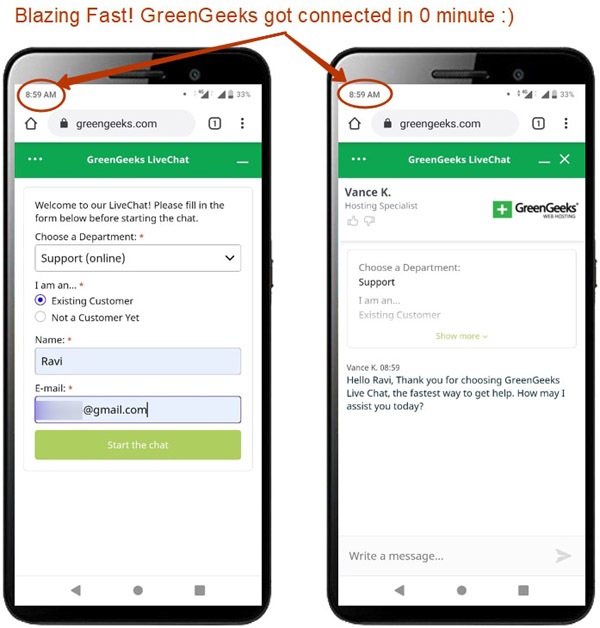 Then his precise and concise answer let me feel good.
GreenGeeks has a 24×7 dedicated support team. So I tested their dedication many times in a week.
You'll be surprised, the results were the same.
Moreover, GreenGeeks provides support service over phone calls. You can call 1877-326-7483 to get queries solved ASAP and access their extensive knowledge base and tutorials to help yourself.
On the other side, at Hostinger, I was disappointed to know there is no Live Chat option for non-registered users. After logged in, I saw an icon look like a live chat option.

So I hit and shot question.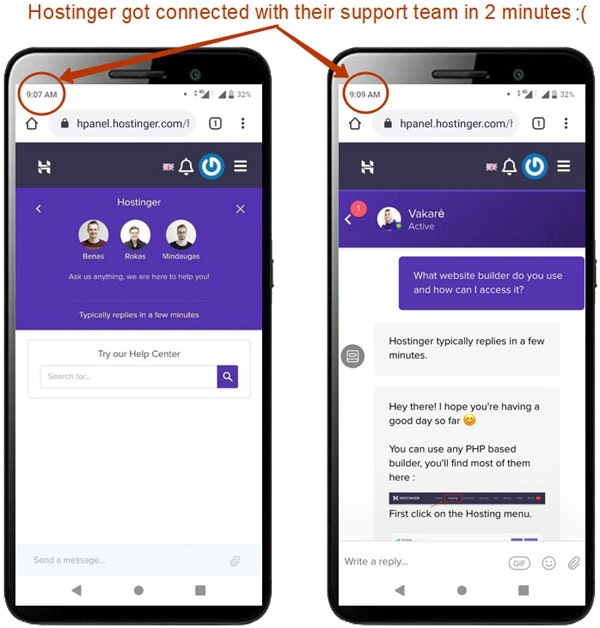 After 2 minutes, I got a reply from a representative of their customer support team. They helped me with their straight forward answers. It was a quite time-consuming experience.
Hostinger also offers the support service for 24×7 but they don't provide support over phone calls.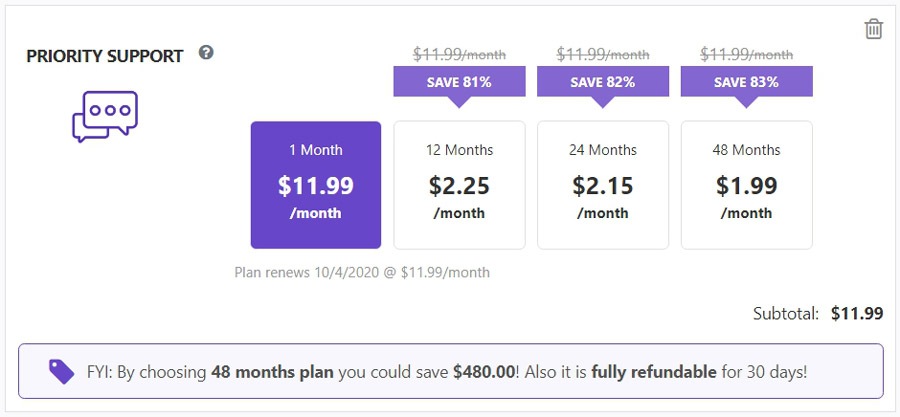 Even though, if you need priority support, you have to pay at least $2.25/m for annual plan.
And Likewise GreenGeeks, Hostinger has a descriptive knowledge base and tutorial.
Winner: Screenshots tell the whole story. GreenGeeks respectively win the utmost important round.
Round 17: Free CDN
| | GreenGeeeks | Hostinger |
| --- | --- | --- |
| CDN | Free | Paid |
If you're running a blog that has a global audience, then you must have CDN.
A CDN delivers website content to a user from its closest server around the world. So the website loads faster and cuts down the overload on the origin server.
That's great news!
GreenGeeks offers a CDN powered by Cloudflare, a World's Biggest Infrastructure Internet Company.
The best part? It's absolutely free!
Cloudflare dramatically improves website performance through global CDN and web optimization tools which save a lot of costly bandwidth.
It's apparently good for your wallet.
And it also protects your web property from all types of online threats like DDoS attacks.
Hostinger also offers the same but not free.

But Why?
Since a long time, I have been using Cloudflare's Free Plan for my all blogs
And I never need to upgrade it in the aspects of performance and security.
Cloudflare offers truly unlimited bandwidth, DNS Service, Security, Caching, SSL in it's $0 per month plan.
So I firmly believe these features are much needful than any need for beginner blogs.
Winner: The round favors GreenGeeks.
Round 18: WordPress – Which one is well optimized for WordPress Site?
WordPress is the most popular CMS which has a lot of handy features such as pre-configured technology, easy to design & manage, regular security updates, millions of plugins & themes, a huge support community.
So these vital factors make WordPress a better performer and more secure than other CMSs.
Now let's check the main WordPress features you'll get with both hosting providers
| Feature | GreenGeeeks | Hostinger |
| --- | --- | --- |
| Easy Install | Yes | Yes |
| Automatic System Update | Yes | No |
| Automatic Plugin Update | Yes | Yes |
| Caching System | Yes(Object Cache) | Yes(Static Cache) |
| Free CDN | Yes | Paid |
GreenGeeks hosts your WordPress websites on the LiteSpeed webserver (latest server technology) which comes with LS Cache support which enables your WordPress website to load super quick.
They also utilize SSD, the latest version of PHP, HTTP/2 and allow free CDN to access data from several data centers across the globe.
Hostinger also offers LiteSpeed Web Server, but with the restricted features, such as paid CDN and no auto system updates.
Winner: GreenGeeks's expertise level approach for WordPress performance is much ahead against Hostinger's ordinary approach.
Round 19: Environment Friendly – Which one save our earth?
| | GreenGeeeks | Hostinger |
| --- | --- | --- |
| Eco-Friendly | Yes | No |
GreenGeeks claims to be 300% green.
But how?
GreenGeeks will purchase 3 times the wind energy credits to run their servers eco-efficiently.
They already replace more than 615,000 kWh a year.
So Now GreeGeeks has been recognized by the United States Environment Protection Agency since 2009 as a Green Power Partner.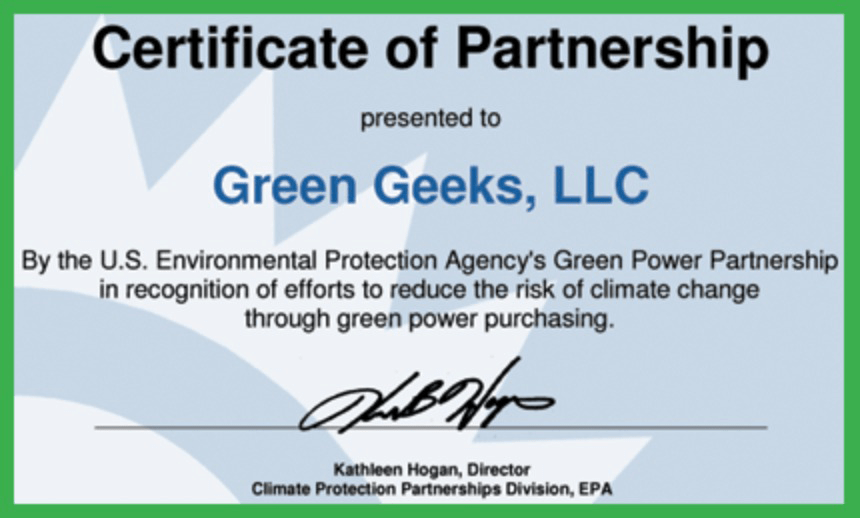 Regardless, Hostiger never talks out using environment-friendly energy to keep running their data centers and never disclose any future plan for the kind of energy.
Winner: GreenGeeks strives to save the earth by helping reduce global warming which belongs to everyone's life. The step is commendable and must be promoted widely.
Round 20: Plan & Pricing
Pricing is very personal. I never mind paying extra for a better web host which can not only provide more quality, security and performance but also help me get queries resolved quickly.
I personally find GreenGeeks's Service is better than Hostinger. However, their pricing is slightly higher but you will get more perks that are suitable for the pricing range.
So why do you think?
Let's check out the detailed comparison of plan features and pricing of both web hosts.
GreenGeeks
Hostinger
Plans
Lite
Pro
Premium
Single
Premium
Business
Price
$2.95
$5.95
$11.95
$0.99
$2.89
$3.99
Visitors/month
Unmetered
Unmetered
unmetered
25000
Unmetered
unmetered
Disk Space
Unmetered
Unmetered
unmetered
10 GB
20 GB
100 GB
Website Allowed
1
Unmetered
unmetered
1
Unmetered
unmetered
Data Transfer
Unmetered
Unmetered
unmetered
100 GB
Unmetered
Unmetered
Sub Domains
Unmetered
Unmetered
unmetered
2
100
100
Parked Domains
Unmetered
Unmetered
unmetered
2
100
100
Free Domain
Yes
Yes
Yess
No
Yes
Yes
30 Day Money Back Guarantee
Yes
Yes
Yes
Yes
Yes
Yes
Email A/c
Unmetered
Unmetered
unmetered
1
Unmetered
unmetered
Server Location
4
4
4
3
3
3
Free CDN
Yes
Yes
Yes
Paid
Paid
Paid
Free Backup
Daily
Daily
Daily
No
No
Yes
Backup on Demand
Yes
Yes
Yes
No
No
Yes
OS
Linux
Linux
Linux
Linux
Linux
Linux
Free Site Transfer
Yes
Yes
Yes
No
No
No
Caching System
Level 3
Object
Caching
Level 3
Object
Caching
Level 3
Object
Caching
Level 1
Static
Caching
Level 1
Static
Caching
Level 1
Static
Caching
SFTP & SSH
Yes
Yes
Yes
No SSH
Yes
Yes
24*7 Support
Yes
Yes
Yes
Yes
Yes
Yes
Support Channel
Live Chat
Email
Phone
Live Chat
Email
Phone
Live Chat
Email
Phone
Live Chat
Email
Live Chat
Email
Live Chat
Email
Eco-Friendly
Yes
Yes
Yes
No
No
No
Check Latest
GreenGeeks
Price
Check Latest
GreenGeeks
Price
Check Latest
GreenGeeks
Price
Check Latest
Hostinger
Price
Check Latest
Hostinger
Price
Check Latest
Hostinger
Price
Sidenote: On many auspicious occasions or special day of every month, these web host providers offer a huge discount on their plans. You can grab it and save a lot of money. Just check out their plan pages now. And always choose a longer plan, it will cheaper than the cost of a short term plan.
Winner: Undoubtedly Hostinger is cheaper, but while we put pricing aside, GreenGeeks apparently provides extra performance & secure service and stands as a winner for overall extra features and benefits. However, the round goes to Hostinger for lower pricing.
GreenGeeks vs Hostinger – Finally which one wins
GreenGeeks marked a massive win with a score of 17-2 against Hostinger for super speed, reliable uptime, sophisticated security system and support.
I would recommend GreenGeeks if you:
Need the best performance (speed & uptime) for best user experience and high ranking in Google
Need loads of storage to upload HD image & high sized videos.
Prefer having responsive, fast and friendly support to get queries solved quickly.
Need unlimited data-transfer to handle unlimited visitors.
Want to have more backup options to save your web property from accidental loss.
Need level 3 object caching for super-quick speed and reducing load on the origin server.
Want a free domain name for one year to save $13.95.
Don't want your blog harm the earth and want to choose a green web host.
Need a free professional site transfer to avoid any downtime and data loss.
Want a free CDN for faster loading across the globe.
Want a cheaper price.
Have leisure time to get help from the support team.
Don't need the best performance.
Are willing to pay for domain for the entry-level plan.
What Did I Choose?
Earlier I said, I never mind to pay extra for having better performance, security and support. That's why I have chosen GreenGeeks and I am very happy to use their services.
I hope you find this experimental guide useful and helped you decide what your best option is.
If you have still question, feel free to ask in the comment section. I will be pleased to answer them.
More Compare.: GreenGeeks Vs Bluehost: 20 Test to Decide "Who's Best" in 2022
GreenGeeks vs Hostinger: FAQ
Is GreenGeeks better than Hostinger?
In a set of 20 tests, GreenGeeks won 17 tests while Hostinger managed to win 2 tests only. So prominently GreenGeeks is better than Hostinger in the aspect of performance, security and reliability.
Do GreenGeeks and Hostinger offer a Free Trial?
GreenGeeks and Hostinger offer a No-Questions-Asked 30 Day Full Money Back Guarantee.
Is GreenGeeks or Hostinger better for WordPress?
GreenGeeks comes with unlimited RAID-10 SSD storage, More Powerful RAM, Free Cloudflare CDN, inbuilt Real-Time Scanner which you can't get in Hostinger Plan. So GreenGeeks is a better choice.
Which Hosting is better for ranking higher in Google?
We found GreenGeseks's server is more powerful than Hostinger and can work faster on massive loads in our test. So GreenGeeks can prevail high ranking in Google.
Is GreenGeeks or Hostiger faster?
GreenGeeks's global average load speed is 1.4s whereas it is 3s for Hostinger.
How to freely switch from Hostinger to GreenGeeks?
GreenGeeks offers free professional site transfer. You can freely switch up.
How does GreenGeeks protect your website from hackers?
GreenGeeks has an inbuilt real-time security scanning system, container-based technology, Cloudflare protection, hardware & power redundancy and nightly data backup to reduce data loss. These can effortlessly block high-level attacks.
What Payment Methods do GreenGeeks and Hostinger accept?
GreenGeeks accepts Visa, Mastercard, Discover, American Express & Paypal And Hostinger accepts Visa, Mastercard, Discover, Maestro, Diner's, JCB, Paypal, BitPay, CoinPayments.