Do you want to start a blog?
Great!
It's your best digital decision to spread your knowledge in a digital way to the world
And you can make passive income while you sleep or play a game.
In the internet era, blogging is the most demanding among brands.
Because it attracts super-targeted customers and It can work as a 24×7 cash machine for you.
So if you decide to be a part of the blogging atmosphere, let's dive into the article
because after reading this guide, you will start your blog today and make a path for your success.
Starting a blog is not hard but you need some guidance to take the right actions. So that you can make easily your blog in 2022.
Here are the simple eight steps to start your blog without making any single mistake and you will also get some bonus to earn more and scale your blog as a brand.
Now let's get started.
Step 1: Choose a Niche For Your Blog
Step 2: Choose a Right Domain
Step 3: Choose a Stable & Easier Platform
Step 4: Find a Superfast Web Hosting Company
Step 5: Set Up Your WordPress Blog
Step 6: Choose a First Impression Fulfilled Theme
Step 7: Some Essential Plugins
Step 8: Write and Publish Your First Blog Post
Free Bonus: Some Popular Ways to Make Money From Your Blog
Before you take your first step toward online success,
You must know 2022 is a golden time to start blogging because, by the day, blogging becomes competitive.
You will have more opportunities than people who start later than you. So we can say the success rate is higher than ever.
There are many big opportunities, you will get while you start your blog. Here are some prestige opportunities, you can own-
1.Own a Brand – Right know there are many blogs that are brands like backlinko.com, shoutmeloud.com.
People trust and feel comfortable buying the products that are promoted by these blogs.
So blogging brings very low-cost opportunities to build your own brand.
2.Internet Celebrity – Blogging can not only make your web property as a brand
but also it will expand your reach to million to billion people over the world where you can provide the right knowledge and become an appreciated expert.
People will recognize you, they gonna love you and follow on social media sites.
3.Financial Freedom – Right now blogging is the most popular online business, because of financial freedom, apart from both of the above reasons.
If you do regular blogging dedicatedly, I can guarantee you won't need to think about how money do you have.
You can buy your dream car, house, bike, travel to a favorite country and grab a luxurious life.
Below you can find the income screenshot of popular Shoutmeloud. Figures are huge because of blogging.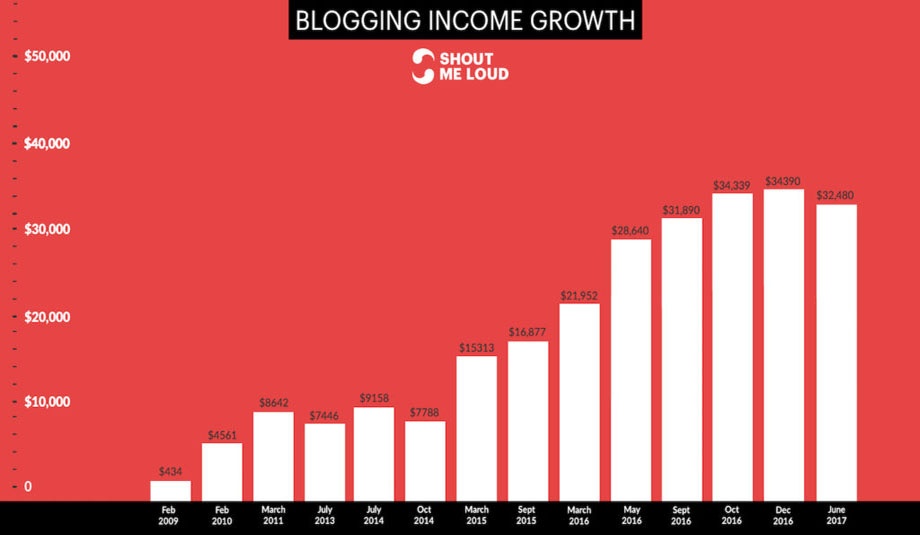 4.Recurring Income – Have you ever think? If you bring a customer to the vendor, you get a commission.
But when you won't bring the customer, won't get money. Other side blogging can send money to your bank account while you won't add customers.
You will receive a commission on rebilling of service. It's called recurring income.
A visitor comes to your blog, clicks on the link of promoted product or service, redirects to the product website and ends up with a sale.
You get a commission. But when the buyer renews the service to get an update of the product or use it. You will also get a commission at a rate of 15%-40%.
Semrush, an SEO tool, provides a 40% straight commission on rebelling. So it's the most loved product among bloggers.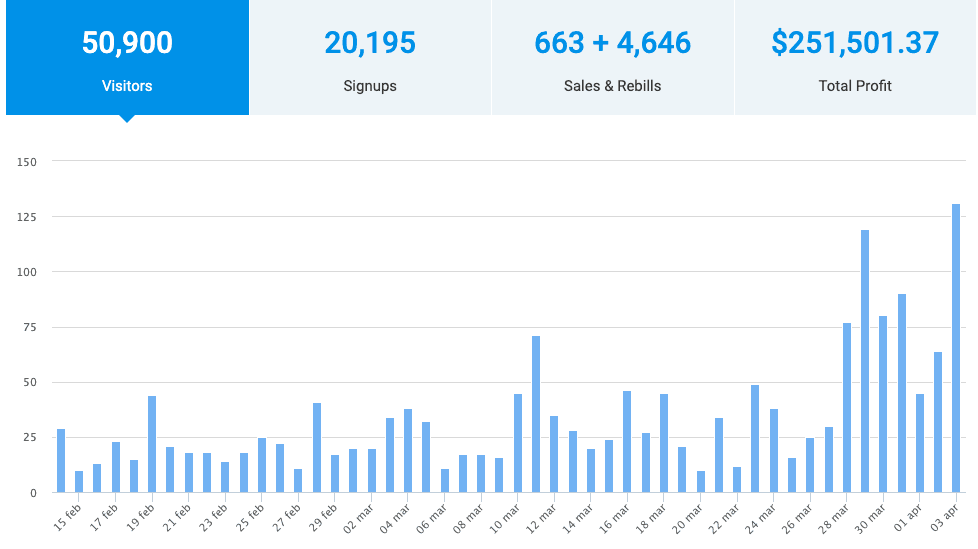 The kind of income system firmly stables online income and keeps bloggers away from unpredicted ups and downs.
Hope you get the exact idea why blogging is most demanding and you should start right now.
Let's go to your first step.
Step 1: Choose A Good Niche For Your Blog (Half Success comes from it)

This is the first step right! But almost 99% of bloggers fail here to choose the right niche and hands up after 6 months.
On which topic you can write willingly and passionately, that called Niche in blogging.
First of all, you need to decide a niche. It may relate to health, finance, fashion and relation. But to be clear health, finance etc are a broad market. You need to choose a section.
For example, Shoe is a broad topic and sports shoe, water shoe etc are niches.
By working on a particular niche, you can easily attract the targeted audience and make money passively.
(Still confuse check the www.runningshoesguru.com, the blog is clearly about running shoes and a prestige guiding diary in the niche. Hope you got an exact idea.)
So be cautious while you are choosing a niche. You may consider following tips to find a perfect niche
1.Choose a niche on which you have proper knowledge and experience. You can answer all the niche-based questions on your blog.
2.Passion always push power punch against hardships. Blogging is not exceptional. You must have passion for your niche. It will half done your work.
3.Are people searching for your niche?
Google your main keyword. If you see the top-20 results are relevant. It's good.
To be clear, you can use Ubbersuggest tool to find the searching volume of the main keyword. If the volume is in a thousand. You can go with it.
In 2016, I started a social story blog but got failed very soon because no one was searching about it. That was my big silly mistake.
4.Check monetization methods like affiliate marketing or ads network. In the end, we are doing blogging to make money honestly.
Just google your same niche blog (topic+blog). Check out their monetization methods.

If you want to make a full list of monetization methods, you must check many similar blogs. Similar Web Chrome extension will easy the task.
Step 2: Choose A Right Domain For Your Blog (Blog's Identity)

Domain Structure-
1.HTTPS:// – Hypertext Transfer Protocol
2.Example – Domain Name
3.com -Top Level Domain
The domain will be the first identity of your online work. People can reach your blog by using your blog's domain.
It also reflects your blog's niche. So it's the utmost importance to think wisely about domain name while you are going to buy it. You can consider the following tips-
1.Your Domain should be short. It helps people to keep it in memory easily. Try to limit at 2-3 phrases.
2.Try to include your niche word in a domain. It is better understandable for search engines and visitors. Overall it can boost your ranking in SERP and identity among people.
For example, petsworld.in
3.Don't include hyphen and number. Simple makes it easy writable.
4.Avoid brand words. It's not only legally wrong but also you can't compete with the actual brand domain in the SERP.
5.You must try to buy .com TLD. It has the highest recognition over any TLD.
If you can't find an appropriate domain with .com TLD, .net, .co.au [country code] are the best alternatives.
Finding the best suitable domain name is not always an easy task, you can use the Domain Name Generator.
Step 3: Choose a Stable & Easier Platform

By having over 83 million active users, WordPress is a no-1 blogging platform.
It occupies a 52% share of the internet market.
In simple words, WordPress is a content management system that makes no need for any code. Anyone non-techy guy can install it and run his blog smoothly.
Being the biggest platform, it has thousands of plugins and themes. And of course! many helpful resources over the internet. While you stuck, you can get your solution within in few seconds on google. It will always keep away from the head squeezing situation.
So I don't think any other platforms would better option except of WordPress. Let's head to the next step.
Step 4: Choose a Superfast Hosting Provider For Your Blog

Now you need to buy a web hosting plan from a reliable web hosting company. But I know you don't know what is web hosting, if you gonna start your first blog?
Wait…. Let me tell you more details about it.
Web Hosting –A web hosting is a place where blog's picture, files folders, video etc are stored and keep alive your blog. So anybody can access it 24×7.
Simply web hosting is like the hard disk of your computer which stores every media and file securely.
I guess, now you have a big question in your mind, What is the best web hosting company?
There are tons of web hosting companies out there. But all of these are worthless.
If you seriously want success in a short span of time, I recommend to go with Sitegroud.
Why?
Siteground is the best option for all beginners who don't want to face blog down, slow speed, 503 and 404 error. Its support team is very reliable and quick in the manner of helping and solving every query.
In the begging, I used many hosting companies. But I was disappointed with their poor performance and especially slow server speed.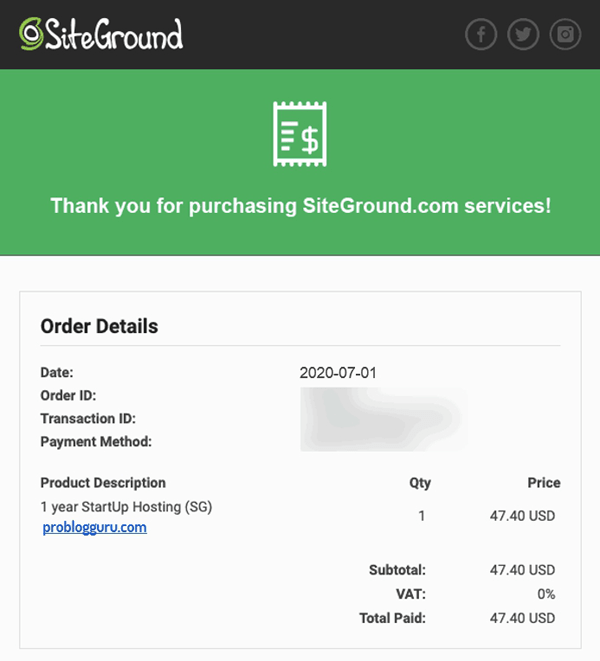 So I decided to take the test of Siteground, which was recommended by my blogging friend and I feel proud of the decision because, after Siteground, my blog's speed drastically increased.
See the proof. The first time, I couldn't believe what I saw.

That was a very awful experience of an ordinary hosting company. It badly hits my blog's overall performance.

Blazing Fast! You can see after using Siteground, loading time is decreased by 90%.
but wait…. don't take my words here, check out the latest real reviews of experts in their respective fields.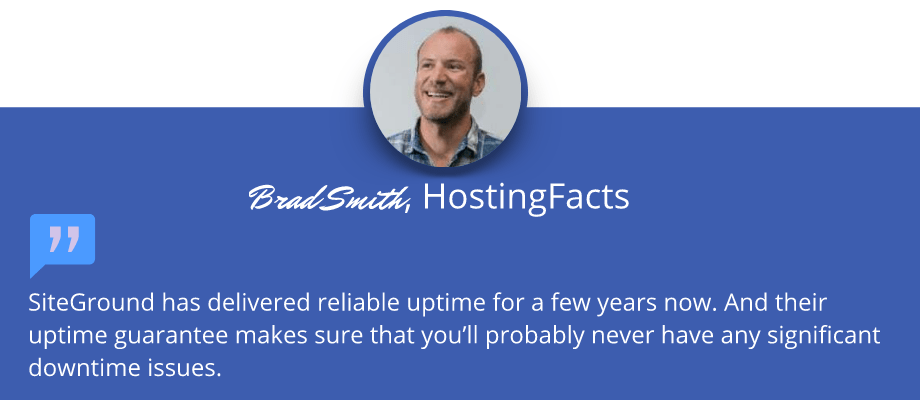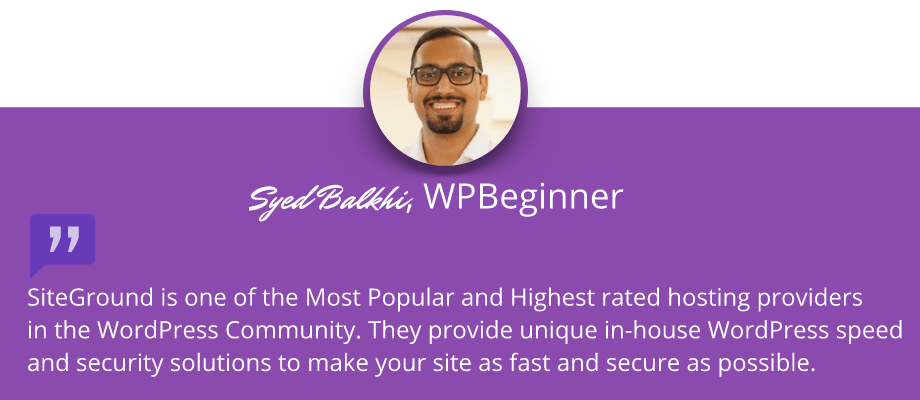 So are you excited to start your online business?
Let's move on. In the para, I'll guide you, how to buy domain and web hosting plan from Siteground.
If you have thought to buy a hosting plan from other companies, you can buy it. But still, I highly recommended to purchase hosting from Siteground because it is very affordable, reliable and easy to handle for beginners who don't want throttle hosting issues and want substantial growth quickly.
Now follow the following steps to buy domain and hosting-
1.Click On The Special Link to start your first blog.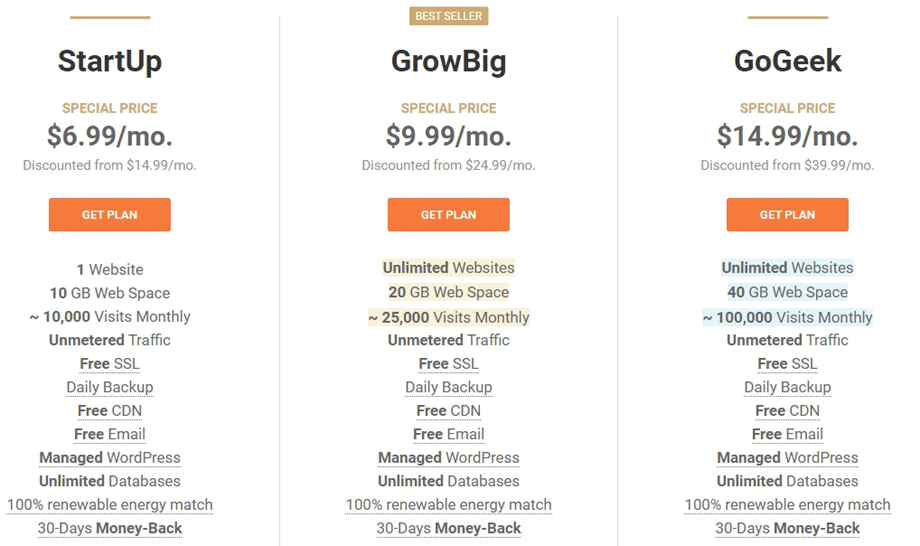 I recommend you to choose StartUp plan because it is most affordable and full of all essential resources for a new blog.
2.Select Your Desired Domain
It is very easy to pick a favorite domain. Just like, if you want to start a beauty blog, beautyguide.com would a good option. But here you need to take care of many points to find the perfect domain, check Domain section. You will get many ideas.
3.Fill Essential Information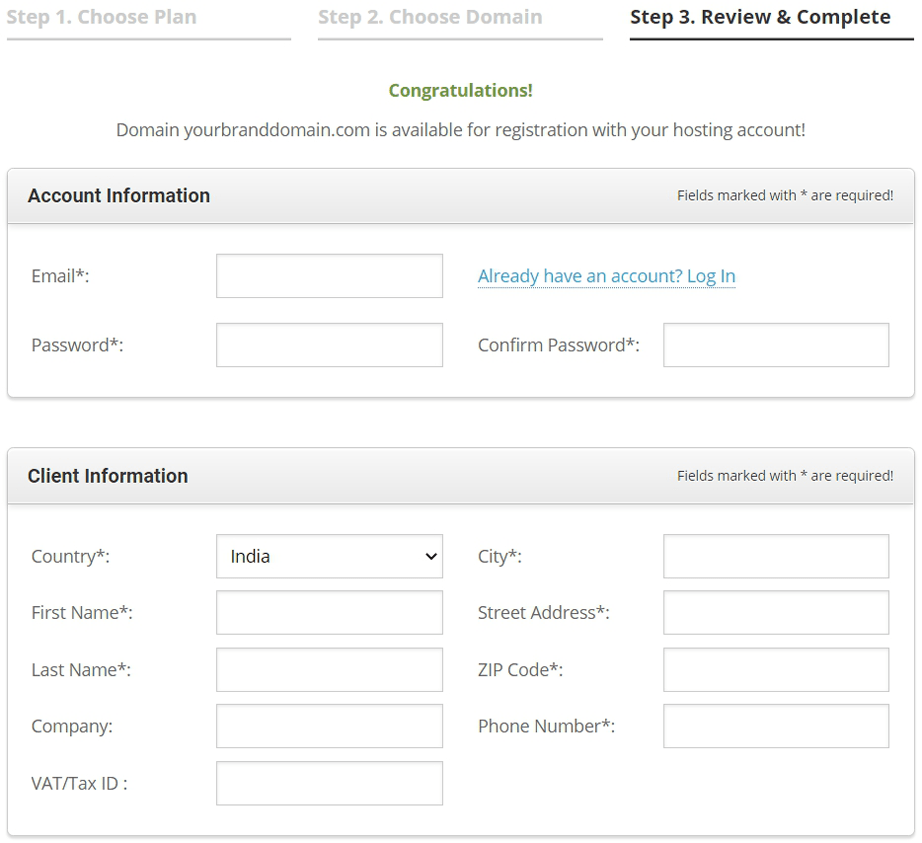 Just fill out the correct information.
4.Enter Your Credit/Debit Card Info

It is required to fill credit or debit card information.
5.Read & Confirm The Terms & Conditions

Check both options and click on pay now. Siteground hardly takes 1 minute to proceed and confirm your purchase.
Wait now….. then go to Gmail to check Siteground's confirmation mail.
Congratulation, you have successfully taken a big step by purchasing the domain and hosting.
Now we have to set up a blog. See you in the next step.
Step 5: Setup Your WordPress Blog

Set up a WordPress blog is not like making a vaccine for the Coronavirus.
It likes to install applications on your phone and complete signup process.
First of all, you need to login Siteground Account, after purchasing a hosting plan from it.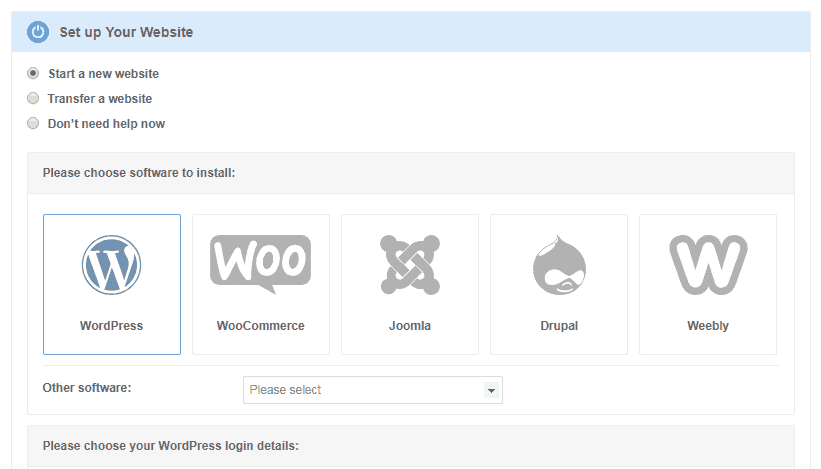 You have to select the option of Start a new website and option of website software. Obviously, you must choose WordPress because it makes the way easy to handle a blog for a non-techy guy.
Click on WordPress to install to your website. After that, you need to fill login details which are essential. So I recommend you to choose an easy remember-able password for you. You may note down it. But don't make a weak password. Always use special characters and numbers.

After filling the details, you have to click on the Complete Setup button to proceed with the process.

Generally, it will take a few minutes to set up your first WordPress website.
Voila! Your blog is ready. You can access it at yourdomain.com/wp-admin. Enter your credentials and hit enter.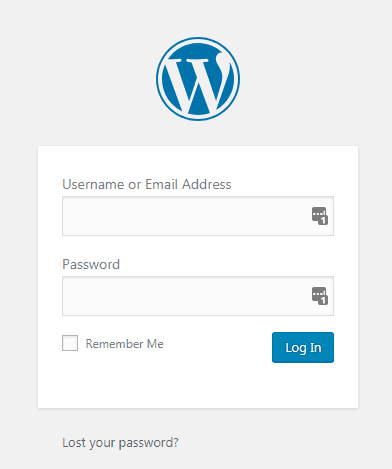 You will be redirected to your blog dashboard.
Step 6: Choose a First Impression Fulfilled Theme

The theme is like your dress.
You care about your dress to maintain the first impression before going out of your home.
Just like you need a well-designed and speedy theme to attract readers. Readers will spend more time, Ultimately it will boost your ranking and traffic.
Well, you can find bunches of free themes in WordPress inventory. But these are not speedy optimized or SEO optimized. So seriously, these themes ruin not only your blog but also your time.
Sometimes, these themes cause hacking, because it doesn't get regular updates. You may lose your blog and hard work one day.
Using free and nulled theme is like architecting your own Destruction
So I won't recommend to use a free theme.
If you seriously want to start your blog as a business. You must invest in the right premium theme like a pro. You need to understand the power of an investment.
Presently I have the world's lightest GeneratePress Theme as a recommendation. It's only a 53kb file, can you believe it?
I didn't believe the first time. But when I used, I realized-
1.It is responsive and mobile-friendly which fulfills Google's Mobile Index first condition.
2.Its' lightweight size makes it faster on mobile along with desktop and fast loading is Google's prominent ranking factor.
3.It gets regular updates which always makes it compatible with the latest version of WordPress and avoids the risk of hacking.
4.Its' wide range documentation and energetic support team help me, whenever stuck.
5.Easy to design and be unique.
That's why many pro bloggers like and use the theme and me also.
You can always consider all the above five points, while you buy any premium theme.
Recommended More Premium Themes [I personally use for other blogs]
Genesis – It is the second-fastest theme and easy to customize the theme. But best for mobile devices because it quickly manages blog size according to the different sizes of mobile while loading. Apart from it, it is SEO ready theme, You can use it without having any SEO plugin if you desire.
Schema – After genesis, I decided to give a try to Schema. It was a soft experience. I found it best suitable for beginners who don't want to dig deeper to customize. Moreover, it is the first bencher among the fastest theme and ultra SEO friendly.
If you have picked any desired theme, it's time to install the WordPress theme.
1.First of all, login to your WordPress blog. Head to Appearance -> Themes

In the section, you can see a bunch of free themes. But you have to hit Add New button.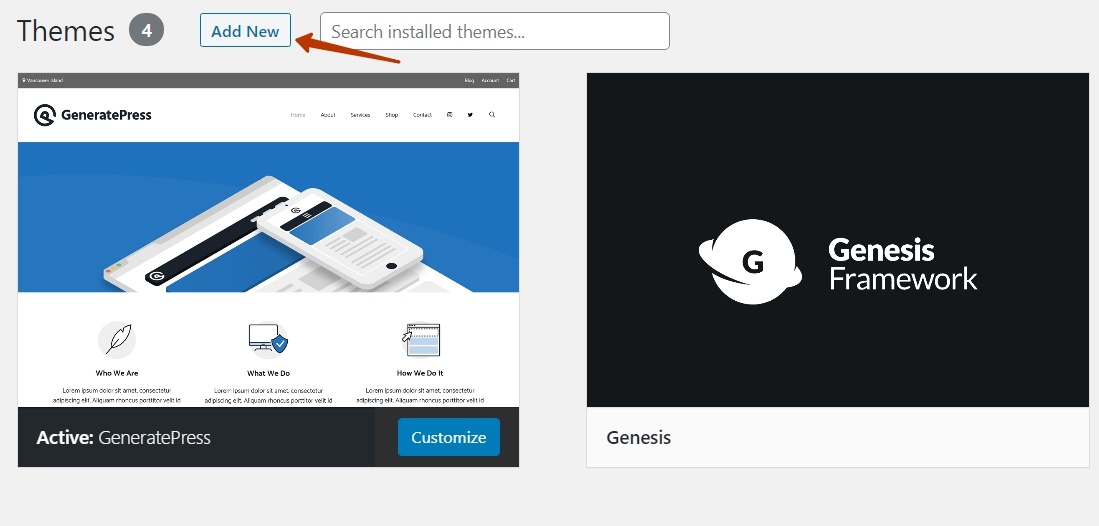 2.Click on Upload Theme, select your premium theme in your pc to upload and activate it. Seems easy, doesn't it.

If you want some changes like font color, theme color, you can click on appearance -> customizes. Now you can customize your theme by seeing live changes.
After making your stunning designed blog, You need to install essential plugins for proper function-ability like SEO, speed optimization, spam control etc.
In the next section, I will guide you.
Step 7: Some Essential Plugins For WordPress
1.Rank Math SEO – SEO is the soul of any blog which drive traffic on the blog. To manage it perfectly, we need a modern and advance plugin. Luckily, we got Rank Math SEO plugin which is fully free but most advanced SEO plugin in which you can handle all aspects of SEO easily.
2.WP Rocket/ Litespeed Cache Plugin – In Google SERP, faster websites rank top over the slow websites. So it is essential to make fast your blog. I recommended you to use WP Rocket or Litespeed Cache Plugin. Both of best plugins out there have an avast number of Speed, Caching & Optimization features.
3.Akismet Anti-Spam – Spamming is the main garbage of internet. It ruins blog's reputation and user experience. Akismet Anti-Spam will help you to cope up against vital spamming. It is one of the most popular plugins in WordPress Plugin Store.
4.UpdraftPlus – Backup/Restore – Storing something online is completely different from offline storing. It's quite risky. Thus, we should always take a backup of our web property to avoid losing any data. UpdraftPlus is a free and most beloved backup plugin.
5.Flying Images by WP Speed Matters – Images impact blog speed a lot. Every webmaster recommends an optimize image before upload it to the blog. But we also need online optimization and serve in Webp version [Google has developed the lightweight image version] for faster loading of the blog. Flying Images Plugin will do everything like these and it also offers CDN for free which can reduce your server load and speed up your blog.
6.Shariff Wrapper – After google, social media is a big free traffic source. Shariff Wrapper is the lightest social plugin without any JS which helps you drive social traffic to your blog.
7.WP Optimize – By the time, in the WordPress database, many scrap data, unsaved posts, spam comment etc occupy costly space and impact overall performance. You can use it WP optimize to clean up your blog.
Advice – I have recommended almost free plugins but some plugin you need to buy. But there are many nulled versions of premium plugins available which make easier to hack by a hacker. In the way, you can lose your all blog data in a day. Make a business mindset, treat your blog as a business, and invest like a pro.
So always download plugins and themes from WordPress Directory and their official website.
If you want to know how to install plugins, let me allow you to help you.
1.Go to your blog's WordPress Dashboard
2.Click on Plugins -> Add New

3.Upload and install it.
4.After installing, activate the plugin.
Let move on to the next step.
Step 8: Write Your First Fabulous Post
it's time to write your first post. But before starting anything, you should thank yourself for setting up your professional blog. Now let me help you write your first post.
Go to dashboard -> Post -> Add New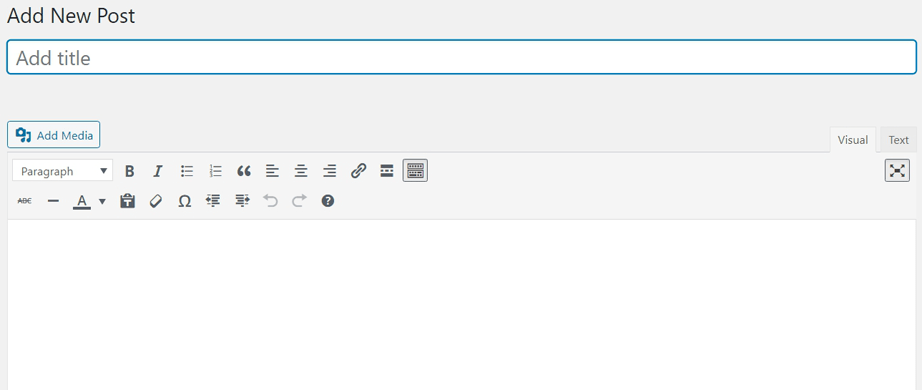 Post editor will open. It's very simple to write post and publish like MS Word.
Now let me help you write your first stunning post-
1.Do a proper keyword research around your niche, so you can cover all topics that will make your post completed. Long-tail keywords would be an easier way to get rank and traffic from SERP initially.
2.Try to write your attractive title by including power keywords, modifiers and numbers.
3.Include related images, it gives good user experience score. But always avoid downloading an image from google. It may be copyright material. Use royalty-free stunning images from pixabay.com, pexels.com, etc.
4.Keep an eye on one page SEO which is important for SEO purposes, while you're finishing your post.
5.Include the main keywords in the meta description and try to make it simple but a curiosity increaser.
Bonus: Some Popular Ways To Make Money From Blog
Ultimately blogging's final object is making money. Luckily there are a bunch of ways to make money. But I would share with you the best way to make money from blog-
1.Affiliate Marketing – You can make money by promoting other's products at your blog. On every sale, you'll get definite commission and bonus. The way is most stable and reliable, so it's no-1 earning method.
2.Display Ads – Adsense and Media.net are major players in displays ads market. It's pretty simple for beginner bloggers to monetize their blogs. Just apply to the network, after approval, they will show ads on your blog. You can earn by clicks and impressions.
3.Product or Service – You got the product. The blog is the right way to promote your product among millions of audiences. You can also offer your service like this.
4.Course – Nowadays, many people tend to learn digitally. So it is a golden era for digital courses. By blogging, you can easily persuade the desired learner to buy your course.
These are the most proven ways to earn money from blogging. But you have to treat your blog as a business, invest in it like a pro and always keep in mind, blogging is a game of patience and regularity. So keep moving.
FAQ
How much does it cost to Start a Blog?
It will cost you around $6.99 per month for Siteground hosting plan, if you try a special discount link. I recommended you to buy a hosting plan for one year at least.
How do you start a blog for beginners?
Buy Domain and Hosting Plan and follow above the guide.
How do bloggers get paid?
We already discussed it. Affiliate Marketing and Adsense are the most popular methods to get paid from the blog.
Why do most blogs fail?
Blog demands investment, patience and SEO. If anyone fails to fulfill any one of these. It leads to failure.
Is it worth blogging in 2022?
Yes! The picture tells a thousand times more than my text.
How to get traffic for blog?
There are hundreds of ways to drive traffic to a blog. From Google, Facebook, Quora etc, you can get valuable traffic.
How often should I post in my blog?
It depends on you, but always maintains regularity when comes to post on the blog. It will beneficial for Search Engines and readers.
How long until blog makes money?
Generally, it takes 3-4 months to generate money from the blog. But I inform you that it depends on many factors.
How do you start a blog for free?
You can use blogger platform to start a blog freely. But keep in mind, free platforms restrict the freedom to use many desired tools. You have to understand the power of an investment. There is a bigger possibility that a professional blog will successful than a free blog.
Winding Up
Congrats! You have successfully launched your professional blog in 2022.
But this is not the end. Actually, it is the starting of your blogging journey. You have to learn SEO, Content Writing, Affiliate Marketing and many more things.
For being a successful blogger, you have to create a habit of regularly reading the topics related to blogging. So that you can learn and implement new things to your blog. It will close you to be successful.
Hope you like the post and it may help you start your business as a blog today.
I recommended you to join our blogging community where you can clear your every doubt by one to one. Because I too active in my group where I can personally answer your question.