Would you like to delete your Kamatera account? Well, we've got the simplest solution for you. You can do it with ease.
However, the web company is one of the fastest growing cloud platforms with 18 global data centers, disaster-mode security, backups, and affordable pricing.
If you have a problem, you can contact their responsive support team through various channels such as live chat, tickets, and phone calls.
Even if you can't figure out how to deploy a server, you can find my guide and a WordPress installation.
Now let's plunge into the post.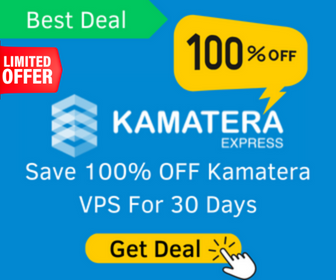 How To Delete Kamatera Account
1.Login to the Kamatera Console
2. Navigate to the Support Section on the left side.
3.Click the "Create New Ticket" button.
4. A ticket box will appear.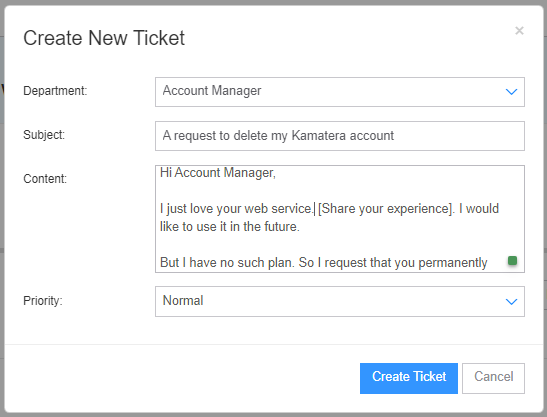 5.Select Account Manager Department.
6.Add subject line "A request to delete my Kamatera account"
7.Write your message in the content box.
"Hi Account Manager,
I just love your web service [Share your experience]. I would like to use it in the future.
But I have no such plan. So I request you permanently delete my account.
Thanks in advance
Ravi[Your Name]"
8.Select normal priority.
9.Click to create a ticket button.
Your account manager will review your ticket and proceed accordingly. You also mail at support@kamatera.com to submit the same request.
A Brief Overview of Kamatera
Kamatera, a provider of enterprise-grade infrastructure, is a popular choice for start-ups, SMBs, SaaS, and web admins.
They offer a variety of operating systems, including Windows 2008, 2012, 2016, 2019, Windows Desktop 8.1, 10, CentOS Linux 7 Desktop, CentOS Linux 5, 6, 7, 8, Debian GNU, Ubuntu Desktop, and Ubuntu Server 12.04, 14.04, 16.04, 18.04, and 20.04.
You can install OS at your nearest data centre, which is one of 18 with faster 10 GBPS connectivity.
You can manage your web property endlessly by installing cPanel or the free CyberPanel.
You can do whatever diagonal scaling you need with their simple dashboard. That is how you can keep your costs under control and save money.
They have a cloud firewall with disaster recovery management to protect you from disaster threats such as DDoS, brute force, and XSS.
Daily backups eliminate the rest of the possibility of data loss, and their steadfast 24/7 support team is available to assist you via live chat, tickets, and phone calls.
FAQ
How do I easily delete my Kamatera account?
Mailing the Kamatera support team is the easiest way to get your account deleted.
Is Kamatera reliable?
Yes, they have enterprise-grade infrastructure and guarantee 99.95% uptime.
Where is Kamatera located?
With 18 global data centers, Kamatera is incorporated in Israel.
Is Kamatera a VPS?
Yes, along with it, they have various products for SMBs, start-ups, and SaaS.