Kamatera vs Vultr?
Kamatera was able to win 9 of the 12 battles, while Vutlr only took the lead in two battles, and one round ended in a tie.
Kamatera demonstrated strong performance by delivering faster TTFB (22 ms), 100% uptime, high reliability in stress tests, and solid security against DDoS, XSS, and malware.
Furthermore, their pricing is lower, and their processor speed is faster.
Vultr is not far behind Kamatera in terms of speed, despite having massive data centres that failed miserably in the stress test.
The support does not appear to be beginner friendly. There is no pleasant sign in uptime, TTFB, support, or managed service.
You are now thrust into the battle.
Battle-1 TTFB
When a user attempts to connect to your web property, the first factor that comes into play is TTFB, which is the time it takes to send the first byte.
It begins with the HTTP request and ends with the sending of the first byte, including a DNS lookup and SSL activation. It usually indicates how the user experience is going. We discovered granular data from the top 10 locations.
| Location | Kamatera | Vultr |
| --- | --- | --- |
| Frankfurt | 276ms | 310ms |
| Amsterdam | 238ms | 290ms |
| London | 216ms | 289ms |
| New York | 22ms | 54ms |
| Dallas | 133ms | 168ms |
| San Francisco | 222ms | 248ms |
| Singapore | 732ms | 687ms |
| Sydney | 645ms | 909ms |
| Tokyo | 484ms | 480ms |
| Bangalore | 721ms | 806ms |
Test Results
Winner – Kamatera won by noise.
Battle-2 Speed
After the Core Web Vitals update, speed on mobile devices has become a new ranking factor. Making things faster isn't enough; it also includes the entire user experience, including CLS and FID. Under 2.5s LCP, 0.1 CLS, and 100 ms FID are required, according to the update.
We deployed two WordPress websites on New York servers to determine the CWV score of both cloud platforms.
We chose Kamatera ($4) and Vultr ($5) entry-level plans for the test.
Kamatera $4 Server Specification
Intel Xeon Platinum 2.5GHz with 49MB Cache
RAM -1 GB
SSD Disk – 20GB
Bandwidth – 5TB
CyberPanel 2.3
Ubuntu 20.04
Vultr $5 Server Specification
Intel Core Processor 2.4GHz with 16MB Cache
RAM – 1 GB
SSD Disk- 25GB
Bandwidth – 1TB
Cyberpanel 2.3
Ubuntu 20.04
We loaded the sites on GTmetrix and PageSpeedInsight tool and got a little mixed result.
| Location | Kamatera | Vultr |
| --- | --- | --- |
| Vancouver | 908ms | 858ms |
| London | 851ms | 1s |
| San Antonio | 548ms | 998ms |
Test Results
Winner – Vultr wins in Vancouver but loses in London and San Antonio. Kamatera triumphed 2-1.
Battle-3 Uptime
Making your website available around the clock is just as important as speed. It is another factor in determining how stable your current host is.
In general, an average host performs well under average load, but when the site experiences viral traffic, it becomes stuck and displays a low server resource error (503 and 500).
During the 30-day uptime test, Kamatera and Vultr remained stable. However, Vultr went down for about 4 minutes before 30 days, casting a small doubt on Vultr's stability.
Winner- Kamatera takes the win with a slight advantage.
Battle-4 Stress Test
True strength emerges as the server experiences an unprecedented surge in traffic. A server's ability to deliver files, media, and data while under heavy load is a quality indicator.
We sent 10K concurrent users to both websites for a minute to see how stressed they were.
Kamatera passed the test, but the Vultr server crashed after only 2103 clients per second. The test failed in 00:12 seconds, and the server was unavailable for 10 minutes.
Parameters
Kamatera
Vultr
Response Time
Average
876ms
9207ms
Min
11ms
1327ms
Max
7104ms
10302ms
Response Counts
Success
328571
90
Timeout
0
325
Error Rate
0%
78.3%
Bandwidth
Sent
36.15MB
270.91KB
Received
17.26GB
4.68MB
Test Result
Winner – As the stronger competitor, Kamatera is the clear winner.
Battle-5 Ease of Use
Both platforms offer a user-friendly dashboard from which you can install 100+ 1-click apps, multiple operating systems, reinstall, backup your server, and view resource usage.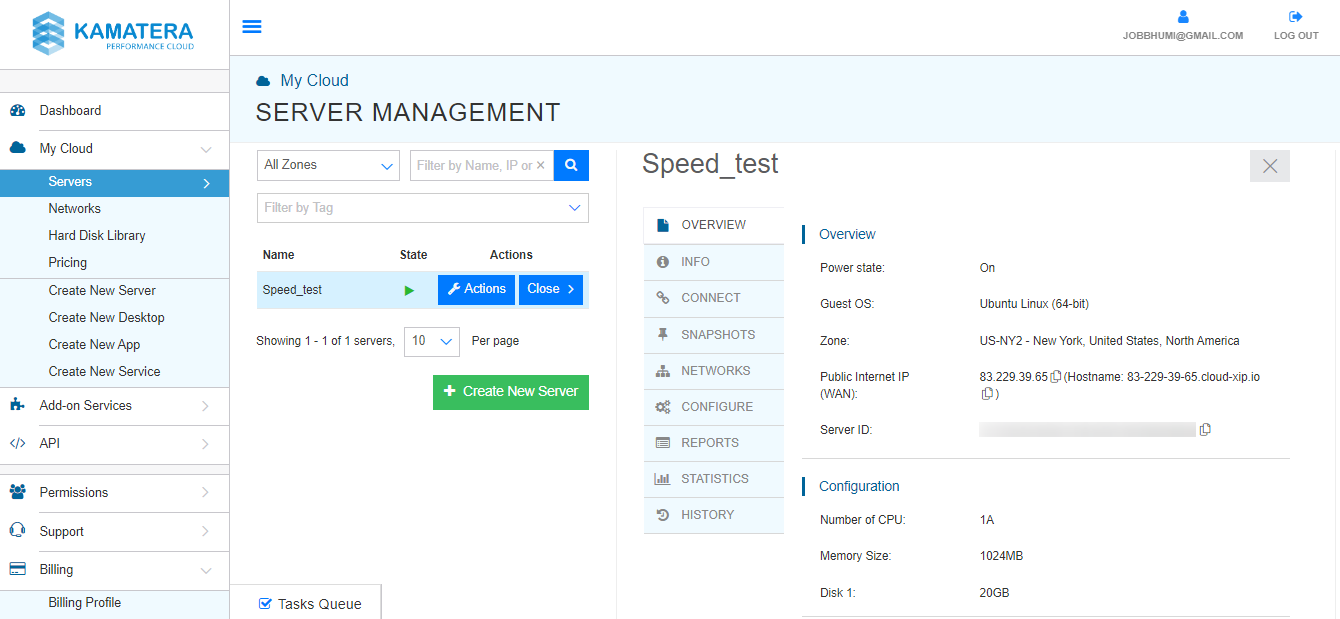 With a single click, you can upgrade your plan by enlarging each resource.
On both hosts, a beginner can launch their first WordPress or Joomla website and manage it with a free Cyberpanel.
Winner – Both are extremely adaptable. It's a draw.
Battle-6 Hosting Resource

Kamatera's entry-level plan costs $4 per month and includes a 2.7 GHz+ Intel Xeon processor, 1GB RAM, 20 GB of SSD storage, and 5000 GB of transfer.
Vultr's entry-level plan costs $5 and includes a 2.4GHz + Intel Core chip, 1 GB RAM, a 25 GB SSD, and 1 TB of bandwidth.
Winner– With a faster chip and greater bandwidth, Kamatera takes the lead over Vultr, despite the fact that Vultr's disc is larger.
Battle-7 Daily Backup
Vultr charges $1 for automatic backups. They keep the last two copies of your website. Older backups are deleted at regular intervals, which can be daily, weekly, or monthly.
Kamatera charges $3 per month for backup. Copies are kept for 14 days. Additionally, both cloud platforms offer snapshots for $0.005/GB/month.
Winner – However, as the plan grows in size, the daily backup pricing increases. Vultr, on the other hand, is reasonably priced for daily backups. Vultr wins the round.
Battle-8 Managed Service
Vultr has no such strategy. Moreover, Kamatera charges $50 for this service.
You can hire their professional team to manage your servers to ensure peak performance and unrivaled dependability while saving yourself from a stressful experience.
It will assist you in maintaining your peace of mind and investing your full energy into your business in order to receive an unexpected ROI.
Winner – Kamatera steals the round.
Battle-9 Security
Vultr provides DDoS protection, but you must manually configure a firewall for port security.
Kamatera's cloud firewall protects against all threats, including DDoS, XSS, and port security.
Winner – Security automation aids Kamatera in winning the round.
Battle-10 Server Location
Kamatera has established 18 data centres in major cities around the world. Chicago, New York, Dallas, Santa Clara, Miami, Toronto, Amsterdam, Frankfurt, London, Milan, Stockholm, Madrid, Hong Kong, Petach Tikva, Haifa, Rosh, and Tel Aviv are among them.
Vultr operates 29 data centres across the globe, including Bangalore, Delhi, Mumbai, Singapore, Tokyo, Seoul, Sydney, Melbourne, Johannesburg, Stockholm, Warsaw, Frankfurt, Amsterdam, London, Paris, Madrid, Sao Paulo, Honolulu, Mexico City, Miami, Atlanta, Dallas, New York, Chicago, Toronto, Seattle, Silicon Valley, and Los Angeles.
Winner – Kamatera serves a significant internet market. Vultr has a larger area to target people. Vultr takes command.
Battle-11 Customer Support
Vultr offers support via a single channel, the ticket system. They do, however, respond as the problem arises. You will also have access to comprehensive tutorials.
Kamatera provides 24/7 responsive support via live chat, phone call, and ticket. They also have a large knowledge base for you.
Winner – Multiple support channels give Kamatera users maximum flexibility. So Kamatera has the upper hand here.
Battle-12 Pricing
Both hosts are inexpensive. Kamatera is slightly more affordable, with plans starting at $4. The plan includes 1 GB of RAM, a 20 GB SSD, and 5000 GB of transfer.
The entry-level Vultr plan costs $5 per month and includes 1GB of RAM, a 25 GB SSD, and 1 TB of bandwidth. It has more storage but less transfer than the competitor's hatchling plan.
The most expensive plan from Kamatera costs $1098 per month. The powerful plan includes a 32-core CPU, 128GB of RAM, a 4TB SSD, and a 5TB transfer.
The largest plan at Vultr is $640/m, which includes 96 GB of RAM, a 24 core CPU, a 320 GB SSD, and 15 TB of transfer.
Winner – Because Kamatera is slightly more affordable, they win and do not charge while the instance is off, but Vutlr continues to charge.
Conclusion
Both are well-known names in the cloud computing industry. You'd love to use both if you're an expert at playing cloud servers.
If you are a beginner, however, go with Kamatera, which offers more resources, lower prices, more flexible support, a faster server, better uptime, and solid security.
Kamatera also offers a 30-day free trial. You can give it a shot.
FAQ
Which one is superior, Kamatera or Vultr?
Kamatera is superior from the standpoint of a beginner with a limited budget. They have also outperformed Vultr.
How do I use Kamatera to host WordPress?
Kamatera provides a 1-click WordPress app that can be used to install WordPress.
Is there a Kamatera coupon code?
Yes, they have some fantastic codes for huge savings.
Is there a free trial period for Kamatera?
At Kamatera, you can take a free 30-day test.
More Comparison:
He is a professional WordPress speed optimizer and web hosting enthusiast with 3 years of experience in optimizing over 100 websites. As a speed optimization expert on Fiverr.com, he has honed his skills in the field and has since shared his strategies with over 1 lakh users annually via his blog, YouTube and social media platforms.