The FX market is where currencies are traded, and there is no central marketplace. Instead, trading is conducted electronically over the counters, which means that all transactions occur via computer networks worldwide.
The decentralized market is open 24 hours a day. The major currencies are traded worldwide in Frankfurt, Hong Kong, London, New York, Singapore, Paris, Tokyo, Sydney, and Zurich.
It is the only genuinely continuous and non-stop trading market in the world. Due to 24 availability, price quotes constantly change, whether you're in bed or the bathroom.
So picking the desired price deal will be nearly impossible, even if you run your PC for 24 hours.
You need a rock-solid Forex VPS that will automate all processes, run around the clock, and pick the most favorable deal.
Indeed a hand-free deal!
But finding the most suitable VPS costs time and money. Then Forex VPS trial is the ultimate solution for you.
We have brought a list of the best Forex VPS companies that offer free trials with a credit card or without CC.
Best 5 Free Forex VPS Trials
⏰ In Hurry? Check Out the Best Free VPS Trial Offers →
1.Kamatera – An ultra-fast and reliable Forex VPS with enterprise-grade infrastructure is available for free 30 days.
2.FXVM – A ready-made forex VPS powered by renowed equnix server with a 7 days trial
3.TradingFXVPS -Similar to FXVM but with unmetered bandwith and free for 7 days
What is Forex VPS
In simple terms, VPS refers to a VIP space in a data center where other available web apps neither sneak nor consume it. So it ensures 100% resources to use with top security and maximum performance.
When a VPS peculiarly is designed for forex trading, it's called forex VPS. Such VPS comes with a forex software adaptive environment. Just plug your favorite forex software, connect to a forex broker, and start forex trading.
Benefits of Having Forex VPS
Fully Automated Trading- A forex VPS lets you automate the whole trading process. Just deploy your forex robot, which will do everything as your representative.
The kind of automation is recommended for spot trading, where you have to be proactive to get a lucrative deal on Pip. But you can leverage it effortlessly with a forex VPS.
Low Latency- How fast you connect with a forex broker server impacts your profit. In simple meaning, low latency can drive the best deal, while high latency can book loss. So here, forex VPS changes the whole game because these are made for low latency.
Global Connectivity- With your lappy, you can deal in your own country only, whereas, with the forex VPS, you can trade around every corner of the world quickly and reliably. The VPS companies partner with top network routings that enable GB data transfer in seconds.
Security- On the internet, security is one of the profound concerns. Most VPS comes with a 7G firewall, pro-active monitoring, real-time malware scanning, and nightly backups that make a solid defense.
What is Forex VPS Trial
While a host offers their forex VPS service for free or with the lowest charges to users for testing in a certain period, it is called a Forex VPS trial. Such offers often require a credit card, but some need no payment and no credit card. We have added it below.
Benefits of using Free Forex VPS Trial
Trading at no cost – Don't drop your wish to trade, even though you do not have enough cash to pay the bills of VPS. Instead, grab a free trial offer and do profitable deals at no VPS cost.
Opportunity to find the best one – Every producer or shopkeeper claims that they got the best products. It may be best for some, but not for everyone.
So here, a free trial provides an opportunity to figure it out. Is it suitable for you or not?
Of course, with no hard-earned money.
Who can opt for Free Forex VPS Trial?
Learner – If yoú're just around to start, it would be pretty rational to learn without bearing any extra expenses. After learning at a significant level, you can invest in solid VPS and start trading at a whole fletching level.
Upgrade – Don't be happy with existing VPS?; try free trials, test VPSs, analyze their performances, and decide what can be better than the older one.
Tight Budget- Tight budget can slow you, can't stop you. But in the market, many hosts offer free trials with uncapped calibers, and you can enjoy the top-notch performance without any penny.
Now the list starts here; pick your favorite one and start earning from forex trading. Good luck.
1.Kamatera (Meta Trader 4/5)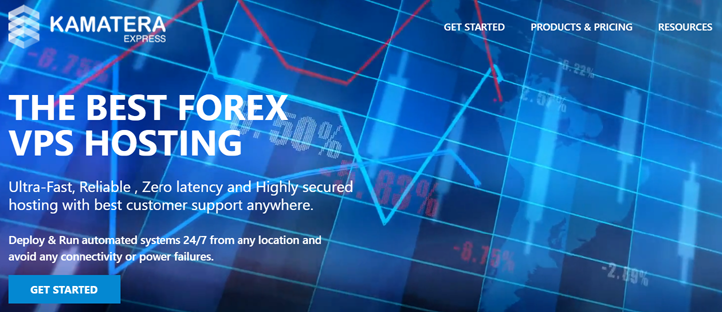 Kamatera is the best choice for an Ultra-fast and reliable Forex VPS with zero latency and highly secured with flexible human customer support anywhere.
Their servers are powered by the latest and fastest generation of Intel Xeon Gold processors that enable up to 300% more power than previous generations.
The internet backbone "network speed" between your server and the internet can pump to 40 Gbit/s. RAM can be stretched to 512GB and CPU up to 104 cores.
All the data is stored in SSDs with no I/O bottlenecks and enlarged up to 4000GB. Total freedom with speedy infrastructure.
No matter if you are a beginner or an expert.
You'll love to deploy your first VPS over their 13 data centers across 4 continents with Windows & Linux OS in just a few clicks with a handy cloud management console. You can scale it quickly as per your need later.
No technicalities are needed.
They have allotted separated resources per server on the security level without sharing RAM, CPU, and Bandwidth with cloud firewall, private networks, and disaster recovery management.
That makes solid defense against unbridled online threats and vulnerabilities like DDoS, SQL injection, brute force, etc. And, of course, private resources play a vital role in achieving top-edge performance.
Moving further, Kamatera has added load balancers that transfer the load of the current server to the next available server if the first one fails or gets unprecedented traffic spikes.
It makes it impossible to turn down the running applications. If something unfortunate occurs, don't worry. Backups will save you.
Moreover, they have been using failure-proof technology for servers with unlimited Bandwidth. That's why they guarantee 99.95% uptime.
If you have some queries or are stuck in any problem, they love to hear from you. Especially they appoint a designated account manager for forex VPS-related query solutions. You can connect with them over mail.
They also offer 24/7 support over phone calls, ticket-system, and in-human live chat to combat any issue asap.
So now, if you want to test it, they offer you a 30-day free trial without any charges and free $100 credits.
What Users Think on Twitter & TrustPilot?
Why choose Kamatera?
Highly experienced since 1999 and Hardware-Software Rich Hosting Environment
Authorized Microsoft Partner makes the faster procedure of MS licensing, installation, registration, and software updates.
Fastest Intel Xeon Gold Processor up to 300% more performance
Freedom with Guaranteed Allocated Resources, Unlimited Bandwidth, 104 CPU cores, and 512 GB RAM
Easy to manage, clone, and scale with the precise cloud management console
A Designated Account Manager
'Pay as you go' payment model
24×7 Highly responsive in-human Support on phone and chat
Free 30 Days without any charges
2. FXVM (Forex Robot)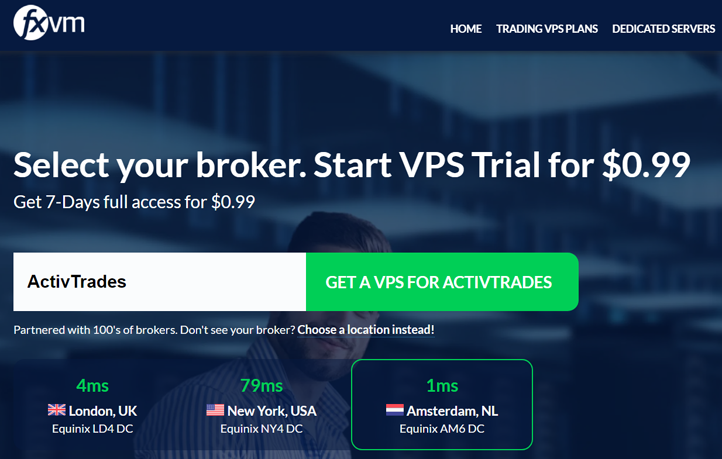 FXVM is a go-to trading platform. Just select your favorite broker with the nearest data center, as they have partnered with over 30 forex traders in a few clicks.
After that, you can log in to your ready-to MT4 trading account. They already pre-install MT4, Chrome, and other essential applications for your convenience.
Sounds good, no hand in improper software setup.
Their servers are powered by Equinix, Global Switch, Level3, and Internap. These are the big players among data center providers globally.
That's why FXVM has a fabulous presence in major financial hubs –
New York
London
Amsterdam
Frankfurt
Zurich
Tokyo
Hong Kong
Singapore
And excellent connectivity that ensures the lowest latency and faster transactions.
They also offer 100% uptime with automatic backups, and servers are specially optimized for MT4, MT5, Forex Robot, and NinjaTrader. So you can be ahead in the race and gain more pips for the same price.
One of the best things is that every VPS comes with a dedicated IP address that adds a vast reputation and will be convenient to connect to forex brokers.

Why Choose FXVM?
Equinix Data Centers specializes in trading
Ready to Go Trading Platform
Optimized for MT4/MT5 & Ninja Trader
Multiple Server OS Like Window 2012, 2016, 2019, 2022 with SSD
Dedicated IP Address
Uncapped Bandwidth
Monthly Basis Payment Model
24×7 in Human Support over Chat & Email
7 Day Trial for $0.99
3.TradingFXVPS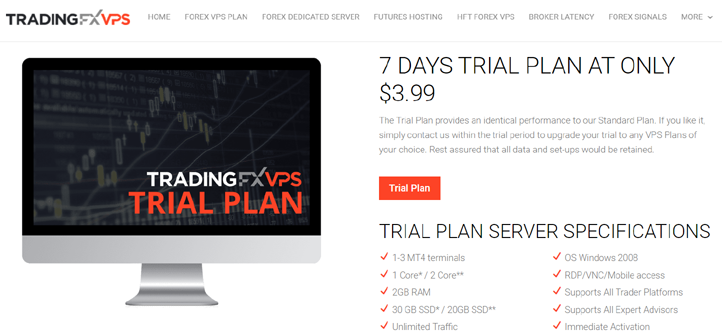 TradingFXVPS is made solely for non-stop forex trading as they offer managed dedicated forex VPS hosting with zero downtime.
Their Equinix servers use NVME, which is 5 times faster than standard SSD, and Intel I9 with 3.5GHz can be boosted to 5GHz.
You can also upgrade to GPU to get monster performance. Data centers are established in the significant financial stations to cut down the latency to 0.5ms.
Indeed with such a kind of infrastructure, you can trade like Elon Musk's rocket.
Your VPS will be protected by cloud antivirus, malware protection, and VPS checkpoint that save your best-configured state to roll back properly.
With unmetered Bandwidth, you can use TradeStation, jForex, cTrader, NinjaTrader, and Meta Trader 4 and 5.
Why Choose TrandingFXVPS?
Hyper Speed Intel I9 (3.5GHz to 5GHz)
GPU To Boost 20X performance than CPU
NVME Storage
2021/2016/2019/10 Window OS
Microsoft Hyper V Virtualization
Data Centers in New York, London, Frankfurt, Amsterdam
Flexible 24X7 Support over Chat, Email, and Phone
7 Day Trial for $3.99
4.NewYorkCityServers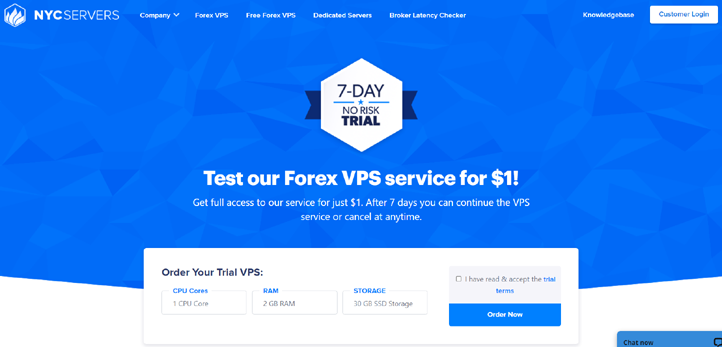 Are you mainly looking for USA-based trading? NewYorkCityServers will be apt for you with 100% uptime SLA, fastest connection speed, and dedicated Support. It is also located in London.
Their robust servers have lite-speed Intel E3 generation processors, SSD storage, and extensive RAM.
You can install MT4/5, cTrader, NinjaTrader, Python, and R to start trading. Even you can make it automatic by installing expert advisors, robots, and cBot.
NYCServers bring it to the next level to add an auto alert and auto start features that will report every action of EA, bots, and trading status in your mailbox.
You don't need to open and stick to the trading screen the whole time. You can have fun with absolute hands-free trading, and auto start will enhance it.
Moreover, daily backups will get your back, and DDos protection will save you from online threats. 24×7 in human Support over chat and email will be at your disposal.
Why Choose NYCServers?
USA Specialized Forex VPS Service
Bigger Size RAM
Auto Start and Alert System
Unlimited Bandwidth
100% SLA Guarantee
24*7 Technical Support
Faster Intel E3 Generation
Monthly Billings
7 Day Trial for $1
5. FXSVPS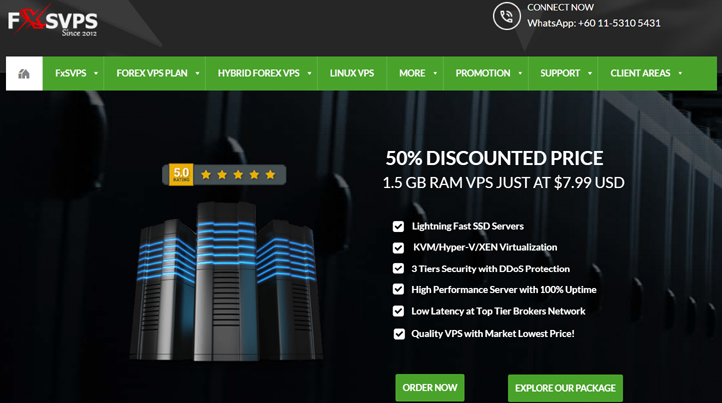 For Cheaper Pricing than Industry-standard and serving 20K clients since 2012, FXSVPS can be a good option for low-budget traders.
Servers are running in high-quality tier 3 data centers in New York, London, Amsterdam, and Germany.
All the VPS comes with high technology clusters like KVM, XEN & VMware. So they offer 99.99% reliable uptime with lower latency.
Specialized forex VPS is being set up with pre-installed MT4 and essential software on a dedicated IP address.
And all the VPS can serve data at 1GBPS speed with DDos protection, making trading quicker with apt protection.
Meanwhile, you can seek Support over the phone, chat, mail, and even Skype if facing any issues. However, you can get a dedicated support manager if you go for a middle-level plan.
Why Choose FXVPS?
High Technology Cluster
Low Pricing starts from $1.3/m
Great Speed over 1GBPS
High-quality Tier 3 Server
Unmetered Bandwidth
7 Day Trial for $3.5
Conclusion
We have listed the best available options above. You can choose it as per your preferences.
All are reliable and highly performant but with some variations. You can try these and find out the best fit for you.
I recommend you to try Kamatera because
Most seasoned web hosting brand
Owing Hardware and Software Rich Infrastructure
Authorized Microsoft Partner
Powerful Intel Xeon Gold Processors
Unlimited Bandwidth with other abundance of resources
A Designated Account Manager
Whole Day & Night Human Support
Free 30 Days Trial, longer than others
Now testing time; Good Luck.
FAQ
How can I get a free forex VPS trial without using a credit card?
Free trials are available from several forex VPS providers, including FXVM and TradingFXVPS.
What is the cost of running a forex VPS?
You can start a forex VPS for $4 per month with Kamatera.
Can I get a forex VPS for free?
You can use a free forex VPS for a limited time. You should go with Kamatera.
He is a professional WordPress speed optimizer and web hosting enthusiast with 3 years of experience in optimizing over 100 websites. As a speed optimization expert on Fiverr.com, he has honed his skills in the field and has since shared his strategies with over 1 lakh users annually via his blog, YouTube and social media platforms.
Disclosure:
Our Content is reader-supported. This means if you click on some of our links and make a purchase, we may earn a commission at no extra cost to you. Read
our affiliate disclosure.