Kamatera Vs Digital Ocean?
In our 12 tests, Kamatera scored higher in 11 tests and 1 test was tied. Kamatera delivered faster TTFB (22ms), performed better in a longer stress test with unmatchable uptime (100%), and provided safety against DDoS, brute force attack and Trojan, while Digital ocean was with fewer resources, no security, reluctant support and downtimes (12 minutes).
You can dive for more details.
Kamatera vs DigitalOcean
Round -1 TTFB – Which Responses First?
When a user tries to access your website, the time the server takes to process and send the first byte is called server response time (TTFB).
TTFB includes HTTP request time, DNS lookup, SSL activation, processing time and first-byte sending time.
After that, FCP and LCP occur. So TTFB is the first indicator that tells you how your website will load faster or slower.
It's a kind of boat engine. We tested both engines from 10 major locations.
| Location | Kamatera | DO |
| --- | --- | --- |
| Frankfurt | 276ms | 398ms |
| Amsterdam | 238ms | 383ms |
| London | 216ms | 364ms |
| New York | 22ms | 131ms |
| Dallas | 133ms | 282ms |
| San Francisco | 222ms | 411ms |
| Singapore | 732ms | 884ms |
| Sydney | 645ms | 743ms |
| Tokyo | 484ms | 709ms |
| Bangalore | 721ms | 895ms |
Test Results
Winner – Comparatively, Kamatera has responded quicker than Digital Ocean.
Round -2 : Speed – Which one is faster?
After the Core Web Vitals update, speed is now a powerful ranking factor. Without it, your website can't survive. It is now like oxygen.
Bear in mind, Core web vitals is not only a speed factor, it cares about how your website layout behaves(CLS) and how much server delay after the first input (FID).
Overall the three factors impact UX and Google get the three-factor scores from Users' chrome.
According to the update, now above the fold content(LCP) should load under 2.5s. Under 0.1, CLS and under 100ms FID are admissible.
For testing CWV performance of both cloud hosts, we set up two WordPress websites on New York Servers. Kamatera's entry plan was apt, but Digital Ocean's entry-level plan ($4) does not allow us to install WordPress, so we chose the $6 plan.
Kamatera $4 Server Specification
Intel Xeon Platinum 2.5GHz with 49MB Cache
RAM -1 GB
SSD Disk – 20GB
Bandwidth – 5TB
CyberPanel 2.3
Ubuntu 20.04
Digital Ocean $6 Server Specification
DO-Regular Processor 2GHz with 4MB Cache
RAM-1 GB
SSD Disk -25GB
Bandwidth 1TB
Cyberpanel 2.3
Ubuntu 20.04
We used the famous GTmetrix and PageSpeedInsight tool in the test and got distinct results.
| Location | Kamatera | DO |
| --- | --- | --- |
| Vancouver | 908ms | 1.1s |
| London | 851ms | 1.1s |
| San Antonio | 548ms | 1.1s |
Test Results
Winner – However, Digital ocean clears CWV, but they lose the speed battle against Kamatera.
Round 3: Uptime – Who lives longer
Not only speed but uptime is also another great factor in determining the performance and stability of a host.
Whether you are enjoying summer holidays at beaches or romantic movement with your partner, your website should be up all the time. If it goes offline often. Then It not only ruin your happy movement but also your revenue.
One thing should be noted some hosts run smoothly on average traffic, but when traffic soars, they start to crumble.

Winner – In Our test, Kamatera rocked with 100% uptime while Digital Ocean went down two times (12 minutes) and they scored 99.945% for a month.
Round 4 : Strength – Which one loves challenges most
Any host can perform in the beginning. But what about while traffic spikes up?
Actually, how powerful is a host? It turns out through an unprecedented load. A host that smoothly delivers files, data and media despite an unusual burden is potent.
We tested their stress capacity. We sent 10k concurrent users to both sites for a minute. Kamatera rocked, but Digital Ocean measurably got shocked.
Even the test got aborted because after getting 2273 clients/second, they couldn't handle the load anymore and got down for 8 minutes.
Parameters
Kamatera
Digital Ocean
Response Time
Average
876ms
10150ms
Min
11ms
7223ms
Max
7104ms
10243ms
Response Counts
Success
328571
20
Timeout
0
558
Error Rate
0%
96.5%
Bandwidth
Sent
36.15MB
307.44KB
Received
17.26GB
1.07MB
Test Result
Winner – It is crystal clear that Kamatera is a strong winner.
Round 5 : Ease of Use
Both provide a clean dashboard to manage your servers, enable backups, view usage of RAM, CPU, Bandwidth, Disk IOPS and snapshots.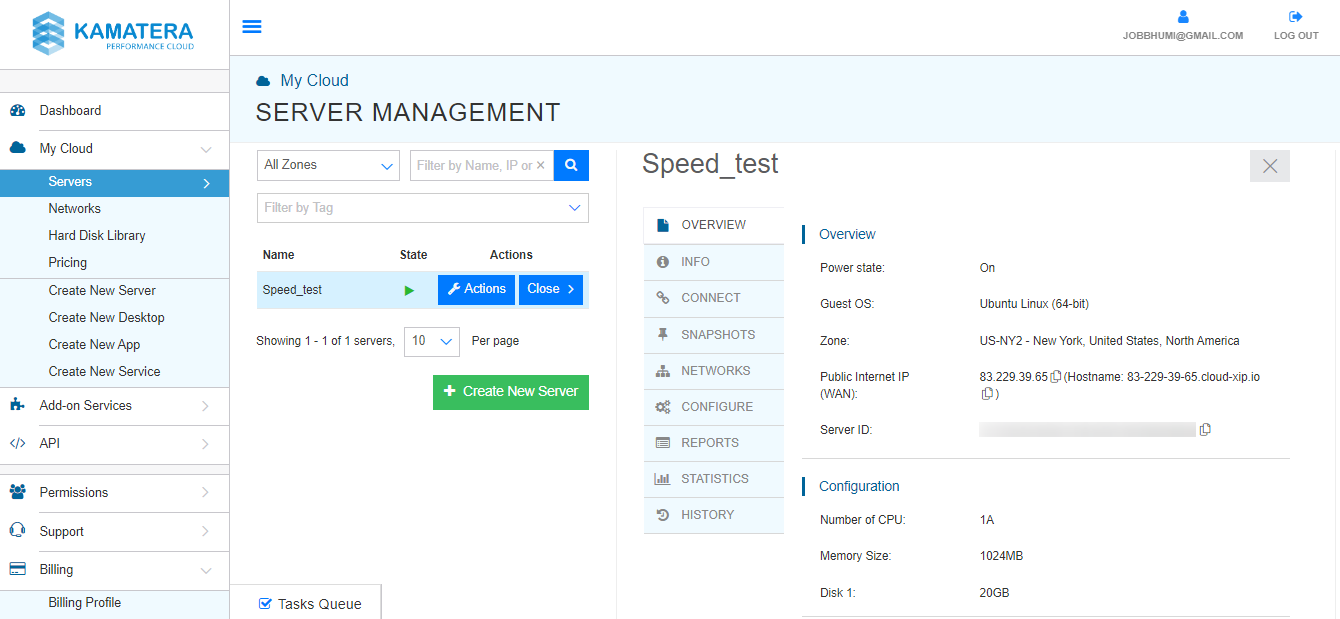 Both offer major 1-click apps like WordPress, Joomla, Nginx, Cyberpanel and Litespeed.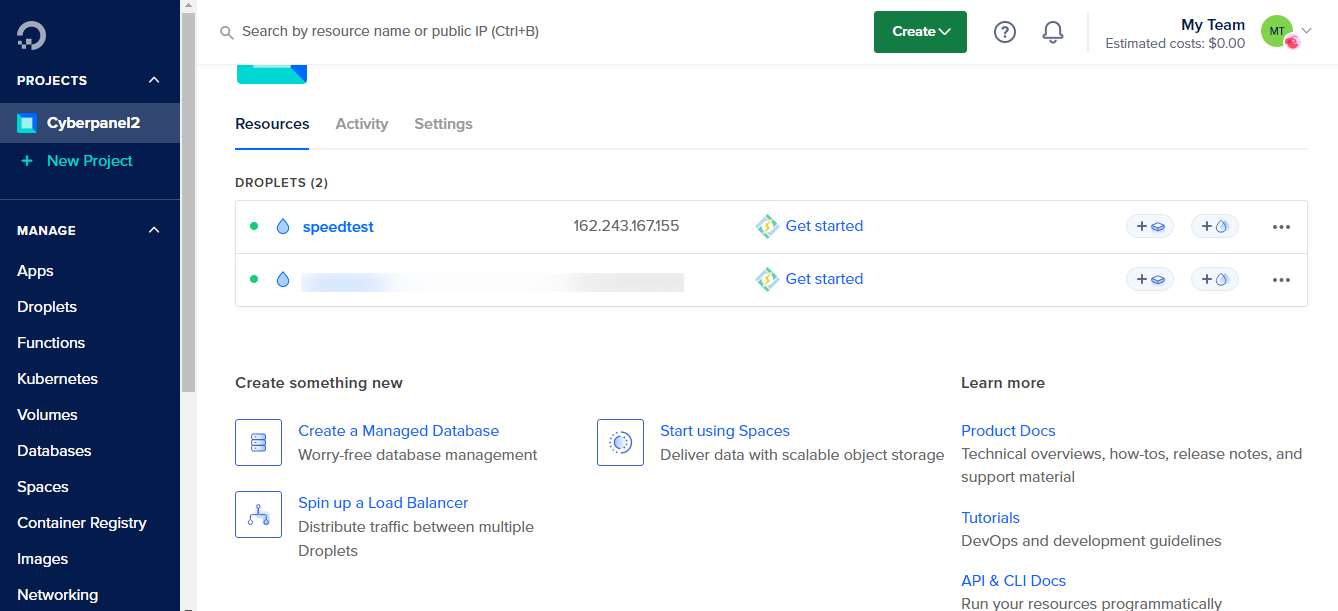 So beginners can readily sail their journey on both platforms.
Winner – It's a tie.
Round 6 :Hosting Resource
Pricing is the same for their entry-level plans. But the number of resources is so different.
Kamatera provides a 2.7GHz+ Intel Xeon processor, 1 GB RAM, 20 GB SSD storage and huge 5000 GB bandwidth,

while Digital Ocean comes with 1 2GHz Do Regular processor, 512 MB RAM and 500 GB transfer.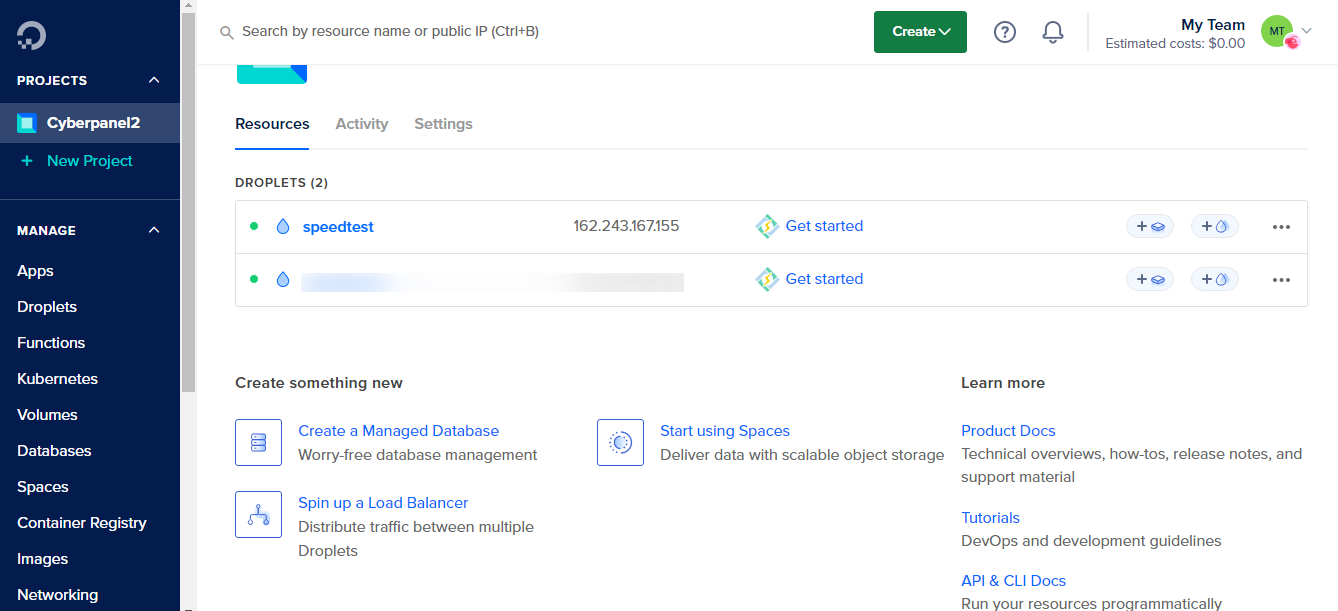 Another major difference is that you can't install 1-click apps on Digital ocean's entry-level plan, you have to opt for a $6 plan. At Kamatera's $4 plan, you can install popular apps with various OS with a click.
Winner – With enormous resources and flexibility, Kamatera thrives.
Round 7: Daily Backup
Kamatera allows daily backup for $3. The price gradually goes up while you will upgrade your plan. You can take 4 snapshots per server at $0.05/GB/month and clone your server.
At Digital Ocean, daily backup is not available, but weekly backup with 4 weeks retention at the charge of 20% of the droplet price.
Winner – Daily backup is safer than weekly backup. Kamatera takes a big plus point.
Round 8 : Managed Service
DO has no plan for managed service, but Kamatera has for $50. That's huge.
Anyone can hire their professional support team to manage servers to unlock top performance, consistent reliability and save huge caretaking time.
Especially professional website owners should opt for it to utilize their whole energy and time on main business work. The investment is going to give you more ROI in the coming days.
Winner – Undoubtedly, Kamatera is.
Round 9 : Security
Many clients confronted DDoS attacks when they started to grow due to the absence of DDoS protection at DO. However, you can manually set up the firewall. It will only protect ports of SSH, HTTP and HTTPS connection.
Kamatera's cloud firewall offers protection from DDoS, brute force, spyware, trojans, and SQL injection, along with various port protection.
Winner – More safety title goes to Kamatera.
Round 10: Server Location
DO has 8 data centres which are located in New York, San Francisco, Amsterdam, Singapore, London, Frankfurt, Toronto and Banglore.
Kamatera owns 17 data centres which literally cover the whole globe. These are Hong Kong, Toronto, Chicago, Miami, New York, Santa Clara, Texas, Amsterdam, Frankfurt, London Madrid, Milan, Rosh Haayin, Haifa, Petach Tikva, Rosh Haayin 2 and Tel Aviv.
Winner – More data centres mean more coverage and faster latency. Kamatera blazes.
Round 11: Support
Digital Ocean has prepackaged answer emails to your queries in the name of customer support. The pre-templated answer just gives an overview and will not solve your issues. You have to hire a freelance server expert to fix any server issues.
However, in the digital ocean community, you can find many tutorials and solve questions that can help you.
Kamatera provides flexible support over live chat, phone calls and email. You can also seek assistance from their extensive knowledge base. Their expert replies are concise and precise.
Winner – From a beginner's perspective, customer support is inevitable, and Kamatera delivers it reliably.
Round 12: Pricing
Both are friendly with pocket. Their entry-level plans start at the cost of $4. But Kamatera's entry-level has higher resources.
Specially 1 GB RAM and 5TB bandwidth, whereas DO provides 512 RAM and 1 TB data transfer.
Kamatera's biggest plan is available at $1098/month. The mighty plan consists of 32 core CPU, 128GB RAM, 4TB SSD and 5TB transfer.
At DO, the $96/m plan is the biggest one and that includes 16 GB RAM, 8 core CPU, 320 GB SSD and 6 TB transfer.
Winner – With pricing affordability and more resources, Kamatera wins and waives the charge while instance, gets off but DO charges.
Conclusion
You can use both if you are an expert at cloud hosting. Both are big brand names in the internet market.
But if you're naive and want more resources, safety, performance, uptime and quick support on budget-friendly pricing. We recommend Kamatera.
While both Digital Ocean and Kamatera provide free trials, you can take a test drive on both cloud platforms.
FAQ
What are Kamatera and DigitalOcean?
Both Kamatera and DigitalOcean are cloud hosting providers that provide scalable and flexible cloud hosting solutions for websites, applications, and services.
Can I install WordPress in Kamatera with a single click?
Kamatera offers a one-click WordPress app. You can then launch your WordPress site with a single click.
More:
He is a professional WordPress speed optimizer and web hosting enthusiast with 3 years of experience in optimizing over 100 websites. As a speed optimization expert on Fiverr.com, he has honed his skills in the field and has since shared his strategies with over 1 lakh users annually via his blog, YouTube and social media platforms.