Vultr might not be the best fit for you. Then you should branch out and look for another cloud platform to see which one is best for you.
The host is a cloud hosting company that provides a variety of services, including virtual private servers and block storage. However, if you no longer require their services, you must know how to properly delete your account.
The process of deleting your account at the host is simple, but it is critical to follow the correct steps to ensure that your account is completely deleted and that you are not charged in the future. In this article, I'll walk you through the steps of deleting your account.
Before you begin, you should look into Kamatera, which is more customizable than Vultr. You can select the amount of RAM, SSD storage, and CPUs required for your project and pay only for what you use, rather than unused resources, as Vultr does. It is free to try for 30 days.
How To Delete Vultr Account
1.Sign in to your Vultr account
2.We should delete our properties if anything has been deployed on the platform. Head to the products section and find the instances you have deployed.


3.Click to server destroy to delete it. As well as you should terminate snapshots, ISOs, scripts, DNS, block storage, Objects, Kubernetes and database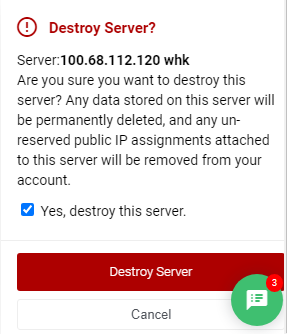 4.Now head to support section and click open ticket


5.Choose last option to generate a ticket


6.Fill the form, choose account cancellation and hit open the ticket.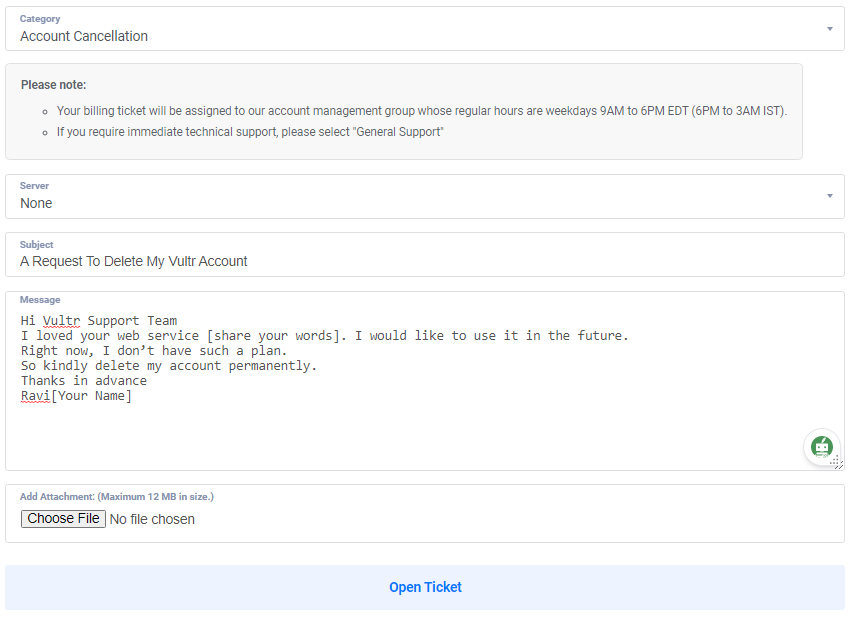 7.Now the Vultr support team will delete your account and respond to you in a few hours.
Quick Method: If you want to be direct, send your account deletion request to support@vultr.com. It will generate a ticket, and the support team will take appropriate action.
Vultr Alternatives
Kamatera
The least expensive Kamatera has a robust cloud infrastructure that includes 18 global data centers. Rather than Vultr's rigid plan, they allow you to choose exactly what resource you require and pay only for it.
Furthermore, they guarantee 99.95% uptime, whereas a test revealed that it can deliver 100% uptime.
Vultr is surpassed by its 24×7 live chat support. 100+ one-click apps make it simple for beginners to deploy and manage their websites in the cloud. You can try them out for free for 30 days.
Linode
Linode has been a pioneer in making cloud computing accessible to newcomers. It is more convenient to manage servers in the cloud rather than Vultr.
They now offer services to SaaS owners, gamers, and developers. You can try it out without a credit card for 30 days.
IONOS
Are you a fan of globally certified infrastructure? Then IONOS is unquestionably superior to Vultr. The European host's data centers are ISO 27001-certified.
A world-class information security management system receives certification. As a result, you will feel more secure here.
Pricing starts at $2 per month, which is ridiculously low. You can, however, test it out with a 30-day money-back guarantee.
How to Get a Vultr Refund
It is easier to cancel your account on Vultr, but there is no refund policy supporting their pay as you go payment model. They forfeite entire balance and account credit. It is best to use their service unless you have exhausted all of your balances.
FAQ
Will deleting my Vultr account delete all of my data?
Yes, deleting your Vultr account will result in the deletion of all of your data, including servers, instances, snapshots, and backups. Before deleting your account, make a backup of any important data.
Can I reactivate my account after deleting it?
No, your account cannot be reactivated once it has been deleted. If you want to use Vultr again in the future, you must create a new account.
Will any unused funds in my account be refunded?
No, they will freeze all funds if you have any unused funds in your account.
How long does it take to delete my Vultr account?
Your account will be deleted immediately after you confirm the deletion. It may, however, take some time for all of your data to be completely removed from Vultr's servers.

He is a professional WordPress speed optimizer and web hosting enthusiast with 3 years of experience in optimizing over 100 websites. As a speed optimization expert on Fiverr.com, he has honed his skills in the field and has since shared his strategies with over 1 lakh users annually via his blog, YouTube and social media platforms.