ClubVPS is a cloud computing platform that provides dedicated cloud resources to enterprises and SMBs.
Their servers are powerpacked with powerful Intel Xeon Platinum chips and 40 GBPS port speeds, which are ideal for AI, video rendering, gaming streaming, scientific tasks, and machine learning.
You can test their server with their 30-day free trial offer. You just need a valid credit card.
How To Claim ClubVPS Free Trial
Sign up now for Club VPS Free Trial and get →
30 Days Free Usage
5 Cloud Servers
Free $100 Hosting Credit
1000 GB Cloud Block Storage
5000 GB Outgoing Internet Traffic
Coupon code: Auto-applied in the button below.
1.Visit activate now link.
2.Click on Get Started for Free.
3.Fill your email address, set your password, and hit Go.
4.Go to your inbox, find ClubVPS mail, and click the confirmation link.
5.Now you will be redirected to the Club VPS dashboard.
6.Complete your billing profile, which is divided into four parts.
In the first part, fill your personal details like your name, address, country, phone number, etc.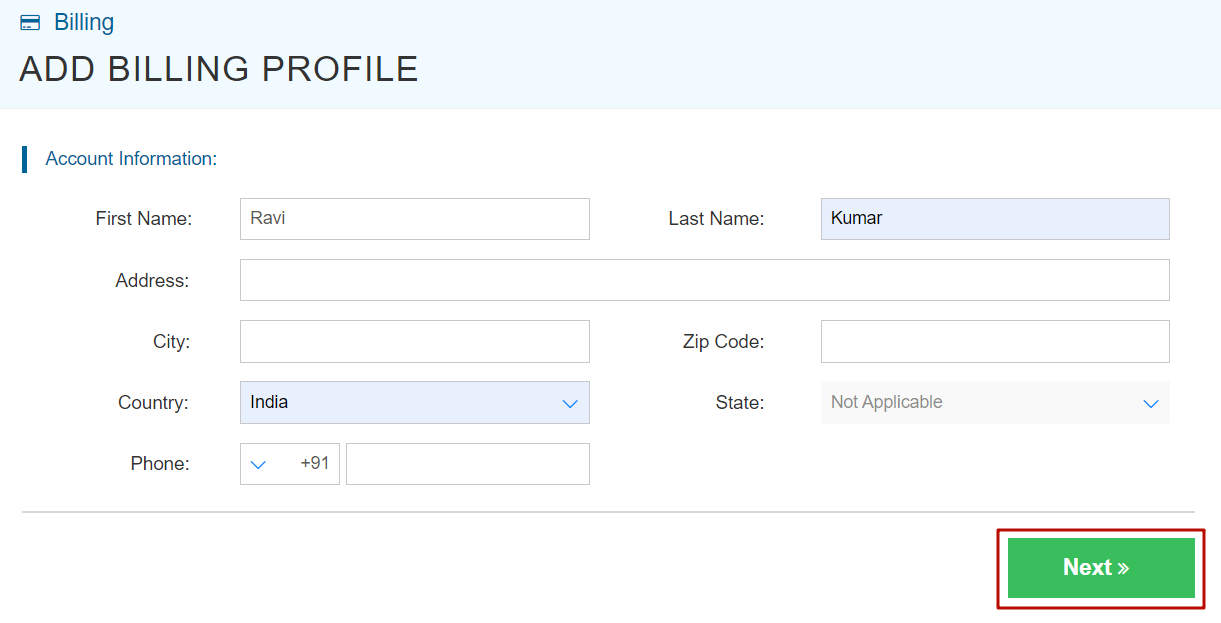 In the second part, enter your phone number and verify it.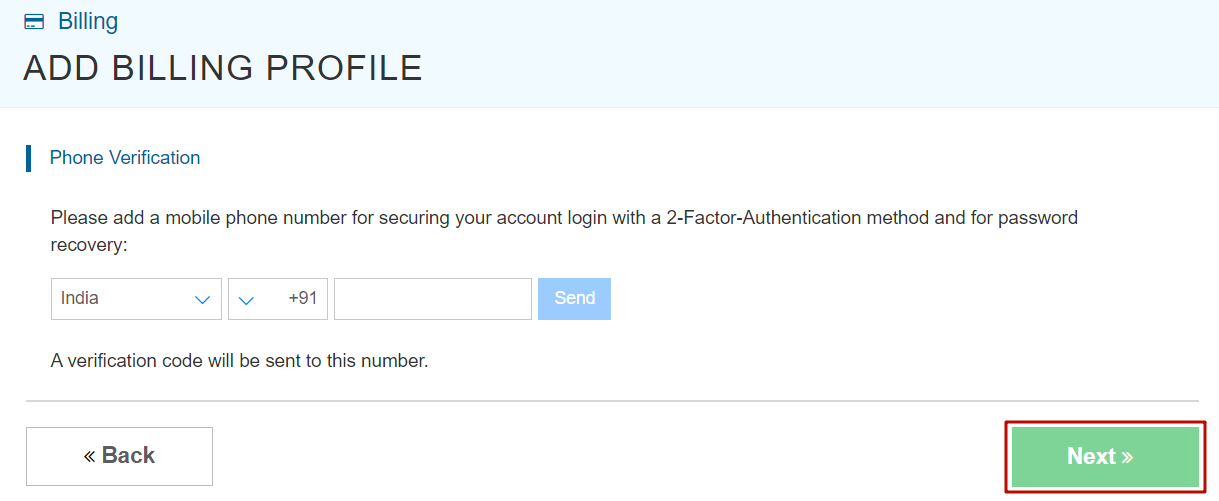 In the third part, fill in the 1MONTH300 promocode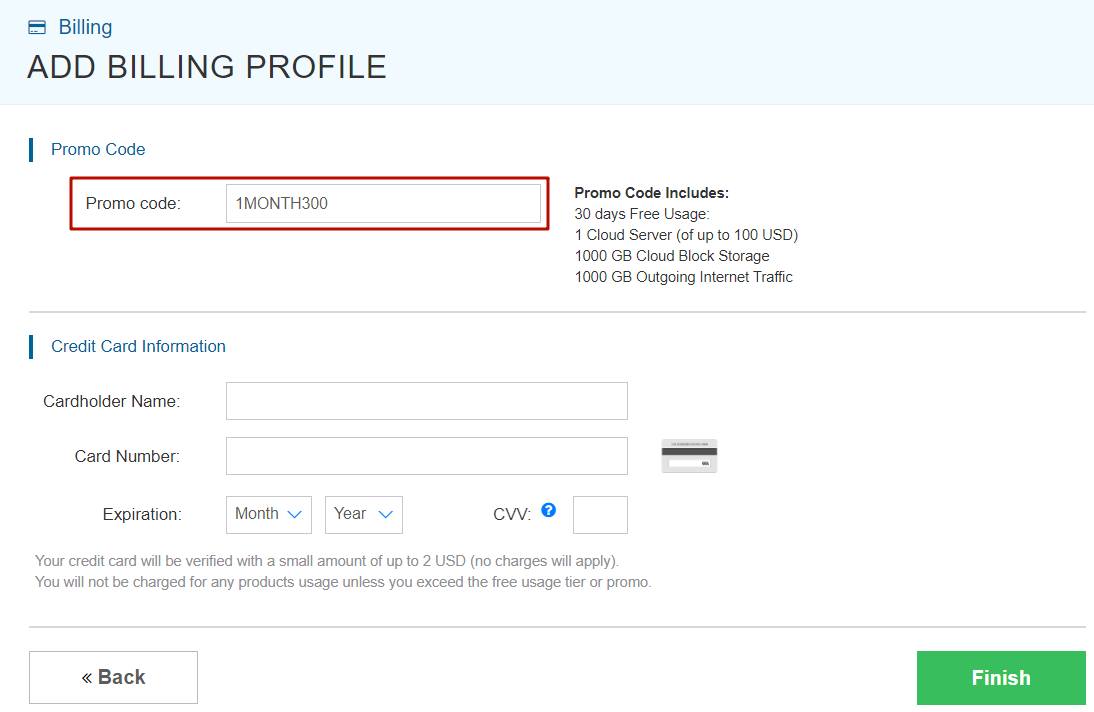 In the fourth and last part, enter your card details and hit finish.
It will charge you $1 for the purpose of identity verification. After a few seconds, they will revert it once the process is done.
Now your ClubVPS account is fully ready, and you can deploy your first enterprise-grade cloud server.
What Resources Will You Get?
5 Cloud Servers
15 Server Create Frequency
15 IPs WAN IP Address Frequency
$100 Free Credit
30 Days Free Usage
1000 GB Cloud SSD Block Storage
5000 GB Bandwidth
100+ 1 Click apps, including popular WordPress, Joomla, Drupal, etc.
User Access Management
API
CLI
Developers Tool: Kamatera Toolbox, Apache Libcloud, Ansible, Terraform and Support from Kamatera developer team
Desktop Clients and Mobile Apps to manage your cloud server upload and sync your files
Flexible Support
What Can You Do?
Create Your Network
Setup Cloud Hard Disk Library
Setup Desktop Image as
RDP
Launch Your Service Like
VPN
Who Should Opt for ClubVPS's Free Credit?
Startup – A startup website needs SMB-grade web hosting, which is costly. In the world, every product is not made for everyone.
SaaS Owner– Running SaaS requires a lot of resources. ClubVPS is a good fit. You can deploy your SaaS to them and run it smoothly.
Ecommerce – Thousands of products, thousands of pages, and transactions in seconds are always great challenges for hosting platforms. Only dedicated cloud infrastructure can handle them effectively.
AI or Scientific Task – Now the time has changed. Every sector looks to lean on AI. But AI needs not only a dedicated processor but also a stable GPU. ClubVPS has the same caliber.
Streaming Games – If you are a gamer, then you must know the importance of latency and robust server infrastructure. ClubVPS has 18 data centers in 17 prominent global locations.
So you can maintain lower latency around the world and ensure a soothing experience for your audience.
Data Centers
Chicago, USA
Santa Clara, USA
New York, USA
Miami, USA
Dallas, USA
Toronto, Canada
Amsterdam, The Netherlands
London, UK
Hong Kong, China
Frankfurt, Germany
Milan, Italy
Stockholm, Sweden
Madrid, Spain
Petak Tikva, Israel
Tel Aviv, Israel
Rosh Haayin, Israel
Rosh Haayin 2, Israel
Haifa, Israel
Conclusion
Powerful Intel processors, high-speed ports, N+1 redundant server configuration, cloud firewalls, and 24/7 support through calls, emails, and tickets make ClubVPS a strong choice for SMBs, scientists, gamers, and SaaS.
FAQ
What is ClubVPS Free Trial?
ClubVPS Free Trial is a limited-time offer that allows you to experience ClubVPS's cloud hosting services for a certain period of time without any cost. It's a great way to test their services before committing to a paid plan.
How long does the free trial last?
The duration of the free trial may vary, but typically it lasts for 30 days. Be sure to check ClubVPS's website for the most up-to-date information on trial durations.
What services are included in the free trial?
ClubVPS Free Trial usually includes access to their cloud hosting services, including virtual machines (VMs) and various configurations. Specific details may vary, so consult their website for the latest offerings.
Is a credit card required to sign up for the free trial?
Yes, a credit card is often required to sign up for the free trial. This is to ensure that users who join are genuine and serious about the offer. However, your card won't be charged during the trial.
Can I cancel the free trial before it ends?
Yes, you can cancel the free trial at any time before it ends to avoid being automatically charged when it converts to a paid plan. Be sure to follow the cancellation instructions provided by ClubVPS.
Are there any limitations during the free trial?
Typically, free trials have certain limitations, such as limited resources or features compared to paid plans. These limitations vary depending on the specific trial offer. Refer to ClubVPS's terms and conditions for details.
Can I upgrade to a paid plan during the free trial?
Yes, you can upgrade to a paid plan at any time during the free trial if you need more resources or features. ClubVPS makes it easy to transition from the trial to a paid plan seamlessly.
Do I need technical expertise to use ClubVPS services during the free trial?
ClubVPS offers a user-friendly control panel, and you don't need advanced technical skills to get started. However, having some familiarity with cloud hosting and virtual machines can be helpful for maximizing your trial experience.
Is customer support available during the free trial?
Yes, ClubVPS typically provides customer support during the free trial period. If you encounter any issues or have questions, you can reach out to their support team for assistance.
How do I sign up for the ClubVPS Free Trial?
To sign up for the ClubVPS Free Trial, visit their website and follow the registration process. You'll need to provide your contact information and payment details to get started.
He is a professional WordPress speed optimizer and web hosting enthusiast with 3 years of experience in optimizing over 100 websites. As a speed optimization expert on Fiverr.com, he has honed his skills in the field and has since shared his strategies with over 1 lakh users annually via his blog, YouTube and social media platforms.
Disclosure:
Our Content is reader-supported. This means if you click on some of our links and make a purchase, we may earn a commission at no extra cost to you. Read
our affiliate disclosure.