Nothing can be cleared unless you decide to face it. Like that web hosting is also among them.
You have to test them.
In the only way, you could get to know the real picture of the web host.
Can they provide sufficient bandwidth?
Are there faster?
Have they sophisticated systems to combat online threats such as DDoS, XSS attacks?
How much are their server strong and robust to handle unprecedented traffic?
Are they scalable, extensible and reliable?
Are they popular CMSs like WordPress, Joomla, Drupal, Laravel etc friendly?
Is shared hosting or VPS required for you?
Generally, you can get the correct answer after buying their hosting plan. But a trial offer can save your money.
It keeps your mind tension-free.
So I have brought up the list of the best 10 cPanel hosting which offers a free trial for you.
Let's get into it.
Best 10 cPanel Web Hosting Free Trial
1.  Interserver Free Trial
Looking for a dedicated cPanel hosting solution? With 24 years of expertise in hosting, Interserver is the right choice for you.
They overdeliver resources with unlimited transfer and storage packages.
It discards quick upgradation requirements and assists in focusing on longer paths.
On the cloud-based cPanel hosting, you will get 450+ one-click apps, such as WordPress, Joomla, Laravel, Drupal etc., to launch your property and manage it comfortably.
With 5 World-class data centers, you can make faster accessibility of your site to your main audience.
Password-protected directories, Cloud firewall, ModSecurity and HotLink protection bring solid defence against online threats such as XSS, brute force, DDoS attacks etc.
Even on being compromised, Leach protection secures your login pages from unauthorized access.
Within a few minutes, you can restore your website from a free daily backup system yourself or with the help of the US support team.
Their fast and friendly team is available 24×7 on phone, chat and ticket.
You can get the fantastic service for $2.5 per month, but using the 'Problogguru' coupon, you can test it for 30 days at the cost of $0.01 only.
Why Choose InterServer?
5 Enterprise-Grade Data Centers
Unlimited Profession Email
Free Site Migration
Unlimited Storage and Transfer
Stunning Security Protection
99.99% Uptime Guarantee
450 Cloud Apps
Free Daily Backup
24×7 Friendly US Support
30 Days Trial for 1 cent
2. Rocket Free Trial
Rocket claims they are the fastest-managed WordPress hosting as they have partnered with Cloudflare Enterprise ($6000/m) to deliver the fastest TTFB under 100ms globally.
They also come with pre-configured speed-optimized settings that instantly speed up WordPress sites 3x than Google Cloud.
These two things play a significant role in SERP, that's why Internet leaders WPbeginner, Mediavine, Adthrive and WPlift love it.
Cloudflare enterprise WAF and Imunify360 make tough fences against online threats.
In the unfortunate case of hacking, they offer to remove malware with real-time scanning.
Their custom dashboard is easy to handle with a few pinpoint features than a cluttered cPanel. It is handy to clone, stage, backup, restore and team up.
You can seek help from their 17+ years experienced support team over live chat, email or call, if you are stuck somewhere.
Now take a test drive as they provide a 1 month's trial for $1.
Why Choose Rocket?
250+ Cloudflare Enterprise Data Centers
Average 100ms TTFB
Daily Backups
Staging
Unlimited Zero Downtime Site Migration
Mighty Security & Performance From True Cloudflare Enterprise
Free Malware Protection & Removal
99.9% Uptime Guarantee
24×7 Expert Support
3. Cloudways Free Trial
Cloudways is an exceptional managed cloud hosting platform where you can host your blog with the top of cloud infrastructures such as Google Cloud, AWS, Digital Ocean, Vulture and Linode.
You can freely enjoy the real taste of the world's best hosting environment.
Cloudways offers popular single-click apps with a next-generation AI-based control panel. The Cloudways Bot will assist you to handle and optimize servers, security, applications and performance to achieve the best outcome.
Although Cloudways team takes care of security-end like regular updates of software, 7G firewalls, DDoS mitigation and spam assassination.
And of course!  Can't forget the auto-healing server and auto-backups. It will back you where something goes wrong.
Furthermore, their pre-configured PHP-FPM stretches the performance of PHP applications like WordPress up to 4 times speedy.
And Cloudfare Enterprise CDN makes it possible to gain faster latency and TTFB globally. It reduces a lot of load on the origin server and makes the blog faster.

Why Choose Cloudways?
Cluster Feature, the best solution to achieve the best uptime
60+ Global Data Centers with
250+ Cloudflare Premium CDN Edges
SSD Storage
Host Unlimited Webs
Dev-Friendly Staging Environment & Github Automation
Free SSL Certificates
In-Built Free Cache Plugin for WordPress & Magento
AI-based Control Panel
PHP 8.0 Available
Free Trial without Credit Card
Pay as you use – Payment Model
4. Templ Free Trial
Templ looks promising with an abundance of performance features, green energy and bedrock ready and cares for all customers with the same preference.
No matter whether you opt an entry or higher plan.
As their all plan comes with the same features, only resources are different.
With 20+ data centers, Google Cloud, Google Cloud CDN and multiple server-level caching systems power their servers. You can expect unmatchable uptime, TTFB, loading time and overall performance.
Besides, they optimize web property for better speed and fix technical issues freely if you opt for their free migration service.
You can install WordPress with a click and easily manage domains, emails, daily backup, file manager and database with the intuitive custom Templ Panel.
They keep 24×7 tight monitoring, regular updates, free SSL, daily backup and support available
around the clock to keep secure.
You can get a 10-day honeymoon test for free without a credit card.
Why Choose Templ?
Industry Leader Google Cloud Platform
Free Google Cloud CDN
Carbon Neutral Host
20+ Global Data Centers
Multiple Cache, Redis Object Cache+Google Cloud Cache
Free Speed Optimization & Debugging worth over $300
Free Unlimited Migration
Daily Backups last 30 days
Staging & Cloning
99.95% uptime Guaranteed with SLA
24×7 Faster Support
10 Days Free Trial
5. Namecheap Free Trial
With over 14 million domains, Namecheap has been a leading domain registrar since 2000.
Thus they had been in the list of fastest growing companies.
Now they have put their expertise of 2 decades in the hosting niche and they like to empower the beginner webmasters by offering a free trial for managed hosting for 30 days.
Their servers are deployed at Namecheap cloud with seamless scalability, top notch security, 3x faster speed, robust reliability, global supersonic CDN and enhanced security protection.
Dashboard is child friendly which comes with 1-click WordPress, SFTP, database access and backups.
Wordpress can be installed in just 90 seconds including important plugins. So fast.
Why Choose Namecheap?
Affordable pricing, just 4.88/m
3x blazing faster hosting than standard hosting
Free global supersonic CDN
Easy to use dashboard
Easy backups and restore
Free DDoS & SQL injection protection
24/7 customer service
Free positive SSL
Support for any domain name provider
30 days free trial
6. Kamatera Free Trial
Kamatera is a rapidly emerging global cloud platform which provides enterprise cloud solutions to bloggers, start-ups, agencies and SMBs.
Servers are power packed with Intel Xeon Platinum Processors of 2.7 GHz, three times faster than the older ones.
10 GBPS network speed and enormous 5000 GB transfer provide colossal power to serve over 1 million visitors at just $4 per month. By the way, you can get it free of cost for 30 days.
Cluster-enabled auto-healing server and cloud load balancer boost to achieve unbeatable uptime.
With the closest data center out of 18 global data centers, you can deploy your web property on your favourite CMS, such as WordPress, Drupal, Joomla etc., in a click.
You can find the guide to install WordPress with a click too.
With their clean dashboard, you can manage the website easily and upgrade RAM, SSD Storage and bandwidth with a click.
Cloud firewall, disaster recovery management and daily backup seem rock-solid security guards against DDoS, brute force, XSS and SQL injection.
During their service, if you have any questions, their response support team is ready to help you over the phone and via email chats.
Now you can claim a 30-days free trial with free $100 credit and take a test on your own way.
Why Choose Kamatera?
18 Enterprise Grade Data Centers
Huge Resource with Diagonal Scaling
Clean Dashboard with Popular 1-click apps
Free Migration Service
99.95% Uptime Guarantee
24×7 Highly Responsive Support Over Phone & Email
' Pay as you go' Payment Model
Free 30 Days Trial with Free $100 Credit
7. HostGator Free Trial
HostGator is a front runner as the first choice among beginners. Being top in ease of use, low pricing, higher reliability and sophisticated infrastructure always entice the webmasters who know what actually Web Hosting is.
It was founded in Florida on October 22, 2002 just before the existence of WordPress.
Today webmasters of over 2 million websites believe in and every day the trust-count is growing rapidly.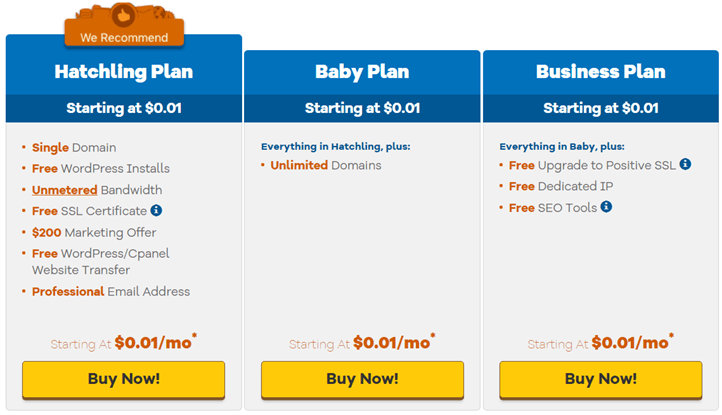 They have prominently emerged as WordPress Optimized Hosting as they started working for WordPress for the first day.
So in 2014, I started with my novice blogging journey with HostGator
I was a newbie and didn't know much but I could install WordPress in cPanel and got succeed to live my life's first WordPress blog.
It was an insane experience!
Now they have improved a lot regarding to web speed, security, uptime and backup.
They have added PHP 7.4, latest cPanel, automated backups, 24/7/365 Hosting Server Monitoring and Joomla & Drupal Hosting in their fleet.
You can test it at the minimal cost of $0.01 for 30 days.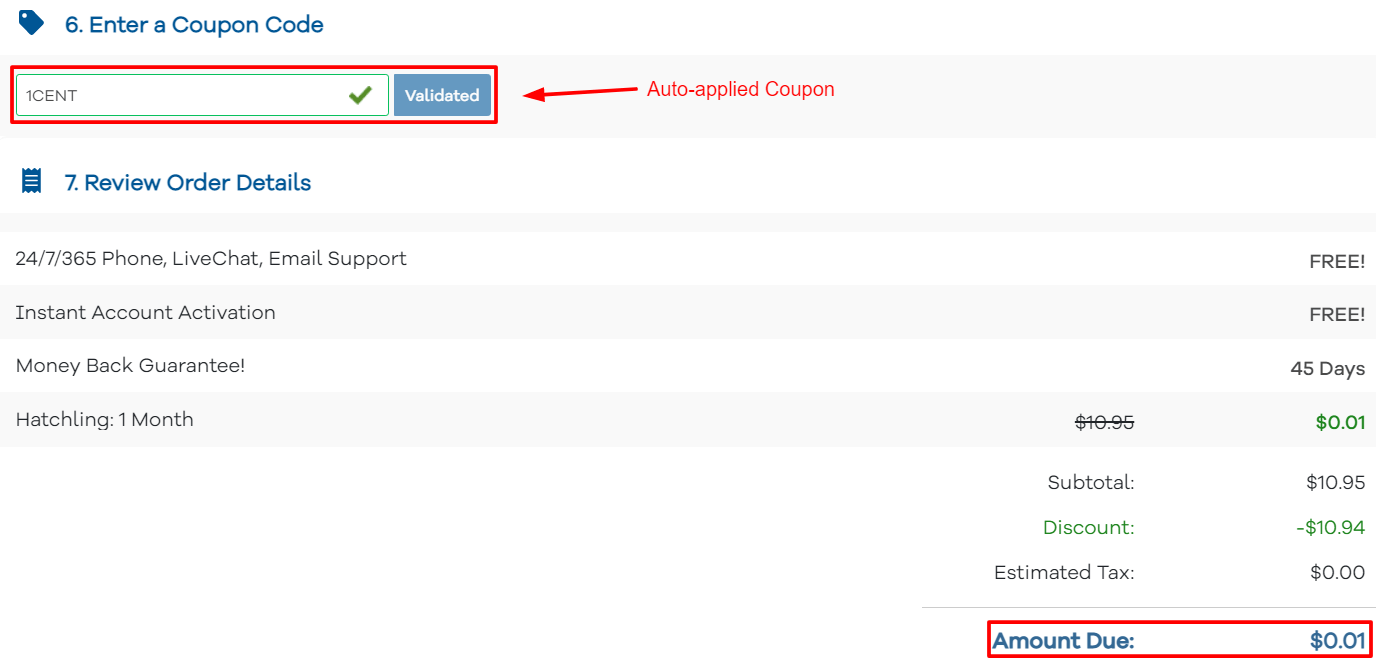 Why Choose HostGator?
Free SSL Certification
Professional Email Address
Free SEO Tools To Get Faster Visibility in SERP and Gain Higher Traffic
30 Days Money Back Guarantee
Unlimited Bandwidth and Storage
Free Dedicated IP
One-click 75 Open Source Scripts i.e. WordPress
Latest cPanel Web Hosting Control Panel
Password Protected Directories
Prevent spam with SpamAssassin
Unlimited Subdomain, FTP Accounts & Parked Domains
Free Site Transfer
$150 Google & $100 Bing Ads Credit
24/7/365 Live Chat & Phone Support
8. HostBuddy Free Trial
HostBuddy has invested over 22 years into web hosting service which reflects in their robust cloud infrastructure which consists of SSD application server cloud, SSD file storage cloud, SSD database server, server rewind backups, green energy support, quadruple redundant network and redundant power.
Apart from it, being a subsidiary of debt-free BusinessICS International Ltd makes them financially strong.
That's why they are able to offer 30 days free trial for all hosting plans without any payment and identity verification. Just sign up and live your blog.
But regardless of offering traditional cPanel, they provide a simple UI-based control panel where you can install WordPress with a click & keep an eye on RAM, bandwidth and storage usage.
On the border of security, they implement modern solutions such as SSL security, server & application firewall, automatic backups, automatic update, free hack scan and turbo server which boost up to 20x faster page loads.
Why Choose HostBuddy?
Host Unlimited Website
Unmetered SSD Bandwidth, SSD Storage & Email
WordPress Optimized Servers
SSD Cloud
1-Click Apps i.e. WordPress, Drupal
Free Site Transfer
24/7/365 Guru Crew Support over Call and Ticket System
WordPress Prodesk Panel
Free Temporary Domain
9. DreamHost Free Trial
Another host, DreamHost was also founded in 1997 but It is quite popular among beginner webmasters as over 1.5 million websites are using their service because of inexpensive pricing, green energy, ease of use, better performance and responsive support.
That's why they dare to offer 97-day money-back guarantee with their all plans. You can take on them for testing and exploring without any fear of losing money.
It's quite a huge period to reach any perfect decision.
Why Choose DreamHost?
Free Domain Name
Auto-Daily Backups
Pre-installed WordPress
Free Site Transfer
Custom-built Control Panel
Server Level Caching
Free Domain Privacy and Cloudflare CDN
10. InMotionHosting Free Trial
InMotionHosting is the next best option in the place of DreamHost. They started their operation in 2001 but now they are proudly serving in more than 175 countries.
They are gaining mass popularity among novice website owners for using UltraStack (custom-built system to boost speed & performance of website), reliable Samsung SSD (for storage) and Max Speed Zone (It maximizes uptime, optimum deliverability, performance around the globe.)
Apart from the techy, they have invested heavily in Green Energy as they are the owner of the first-ever green data center in Los Angeles. It cut carbon output by more than 2,000 tons per year.
It highly deserves to be appreciated!
Why Choose InMotionHosting?
Free Domain for 1 year
Free 2048-bit encrypted Comodo SSL
Free Drag & Drop Builder
Unmetered Bandwidth with Free Premium Malware & Hack Protection
Free Site Transfer
90 Days Money Back Guarantee
New Designed cPanel
Wrap Up
Trying a web hosting trial always brings actual image before you. But testing multiples will take a longer time.
So I recommend you try InterServer, it brings a dedicated cpanel hosting experience with enterprise data centers, rock-solid security, unbeatable 99.99% uptime, flexible US support and unmetered resource.
FAQ
Why need cPanel Web Hosting Free Trial?
cPanel web hosting is the beginning plan of any web host and It is specially designed for newbie bloggers. So they deserve to have a free taste of the actual outcome before a buy.
Anyone Host Offer Free Trial with Domain?
No one, But Dreamhost & Inmotionhosting are offering a free domain name for a year with an annual shared hosting plan which comes with 90 day money-back guarantee.
Who can go for cPanel Web Hosting Free Trial?
Anyone who wanna start their blog, digital marketer, freelancer, writer, an existing blogger who wants to upgrade their current hosting resource and performance.
What is the benefit of cPanel Web Hosting Free Trial?
Refrain yourself from wasting money, time and energy while you couldn't get the actual result of what they made promises.
But on the other end, you can find the best suitable host or unlock unique features that can be revealed on basis of the test only.


He is a professional WordPress speed optimizer and web hosting enthusiast with 3 years of experience in optimizing over 100 websites. As a speed optimization expert on Fiverr.com, he has honed his skills in the field and has since shared his strategies with over 1 lakh users annually via his blog, YouTube and social media platforms.
Disclosure:
Our Content is reader-supported. This means if you click on some of our links and make a purchase, we may earn a commission at no extra cost to you. Read
our affiliate disclosure.