So you want Free VPS Trial? Then you are at the right place. I have brought up a list of popular Linux & Window VPS companies that offer free trial or free credits with or without credit card.
You can use them for web server, gaming server, Minecraft server, VPN network, Forex or RDP.
And it is also a good choice for those who suffer from current hosts and want to upgrade from shared hosting to VPS.
VPS is not expensive as we think. You can rent VPS for $2/month and performance would be far better than old-fashioned host because you would have been allotted a separate & personal slot with guaranteed resources.
No other can impact you at all. It's safer and great performant.
Now it's time to enjoy free trials and find one that is perfect for you.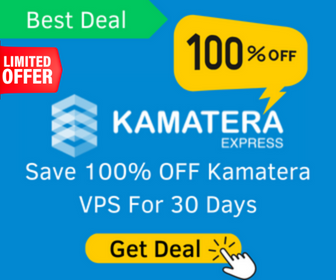 See Also: 6 Best Forex VPS Free Trial Window Linux No Credit Card 2023
What will you learn in the post?
Free VPS Hosting Trial For 30 Days
Free Cloud VPS Hosting Trial without Credit Card
Free Cloud Server Trial
Free Window VPS Trial No Credit Card
Free Linux VPS No Credit Card
Best 10 RDP & Cloud VPS Hosting Free Trials
| Web Hosting | Hosting Type | Duration | CC Required | Link |
| --- | --- | --- | --- | --- |
| Kamatera | Cloud VPS | 30 Days | Yes | |
| Cloudways | Managed Cloud Host | 3 Days | No | |
| Linode | Cloud Host | 30 Days | No | |
| ClubVPS | Cloud VPS | 30 Days | Yes | |
| IONOS | Cloud Host | 30 Days | Paypal | |
| Vultr | Cloud Host | 30 Days | Paypal | |
| Digital Ocean | Cloud VPS | 30 Days | Paypal | |
| Flywheel | Managed Cloud Host | 14 Days | Yes | |
| Nestify | Managed Cloud Host | 7 Days | No | |
| UpCloud | Cloud Host | 3 Days | Paypal | |
See Also: Top 8 WordPress Hosting Free Trial-30 Day-No Credit Card 2023
See Also: Best 6 cPanel Web Hosting Free Trial
What is Free Cloud VPS Hosting Trial?
When a cloud VPS hosting company allows their potential customer to hand on their hosting service for a certain period at zero cost.
In a certain period, webmasters can take test of particular company's server performance, uptime security, extensibility and scalability.
It will clear the initial picture of what you can actually get while you decide to buy their hosting service.
In this way, you can save your money, time and save yourself from sudden headache may be caused by an accident server down.
But some of web host providers offer their hosting trial at a penny amount. The amount helps the companies to combat spamming and ensure that only serious people are testing their servers.
What is Difference between General VPS Hosting and Cloud VPS Hosting?
VPS hosting doesn't refer to a whole server. It is a dedicated slot of many slots at a server.
All the resources are guaranteed to your slot. The dedicated slot managed by a virtual mechanism. It feels like a private space. No intervention, no sneaking.
That's why VPS is more secure and allows to use every bit of resources that have been allotted.
But general VPS has its own limit. If it stucks to handle the sudden load of your blog, it will get down.
On the other hand, Cloud VPSs work in a cluster. It magically helps to achieve the top of reliability.
It means that hosting resources for each website replicated on every server in the cluster. If one cloud server has maximum load already, then it automatically routes the load for the specific site to the idle server in the cluster.
This simultaneous allocation of equal resources on the cloud servers in the cluster provides a great deal of reliability.
This is the main performance difference that defines cloud VPS as top-line hosting.
One other thing favors cloud hosting. That is the payment model.
You don't have to pay annually or semi-annually like general VPS. Pay as you use. No need big budget, you can start using it with few dollars.
See Also: Best 11 Web Hosting Trial For 30 Days
Benefits of Free Trial Cloud Hosting?
1.Google has named speed factor as Core Web Vitals. It consists of TTFB, FCP, LCP and UX.
Web Hosting directly impacts TTFB, FCP and LCP. Here the free trial offer is the best choice as a test before buy.
2.Every web hosting has a unique infrastructure and power. You can get to know the uniqueness after using it.
3.Get free but utmost important opportunity to find out the perfect plan on the basis of required resources and pricing.
4.Get closer to the actual performance of servers. You can revalidate the promises that often done by the host.
See Also: Best 7 Web Hosting Free Trials For 60 Days
Who Should Go For VPS Hosting Free Trials?
1.Blogger – Are you a blogger or want to start a blog? Then the trial period can help to find the best host for your blog.
2.Startup – A start-up needs to run a medium-level website that requires more resources. These are costly. So always taking test before finalizing would be a better option.
3.Existing User – If your current host doesn't satisfy, then must go outside, take a chance to test other host.
4.Explorer – Never stop exploring. Always you can find a better one than the current thing. That simple rule applies on web host also.
5.Upgrade – By time, everything grows. Traffic ups. That needs more power and resources. If your current hosting is not scalable and extensible. You must wonder out for the web hosting which offers ample resources.
1.Kamatera Free Trial – Best For Window, Linux & RDP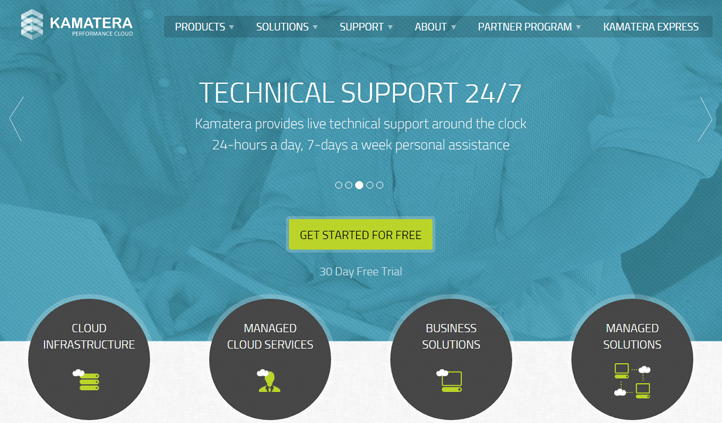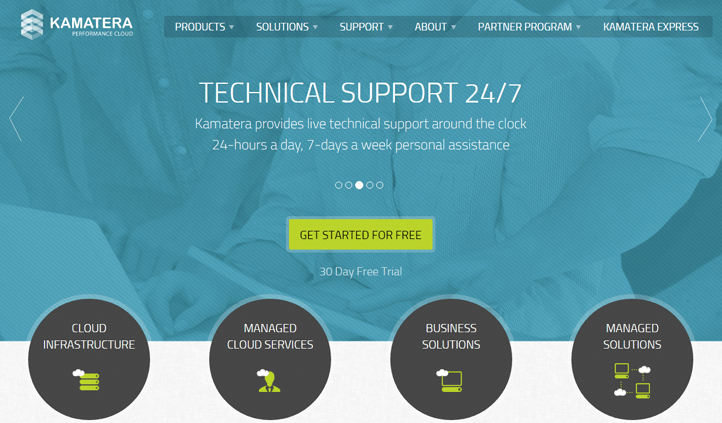 Kamatera is a perfect choice for everyone who wants VPS for web server, VPN or RDP.
As they offer –
Window Server 2008, 2012, 2016, 2019 (Datacenter, Enterprise, Standard version)
Window Desktop 10, 8.1 (32-64 bit)
CentOS Linux 7 Desktop (64 bit)
CentOS Linux 5,6,7,8 (64 bit)
Debian GNU/Linux 8 Desktop (64 bit)
Debian GNU/Linux 7,8,9,10 (32-64 bit)
Ubuntu Desktop 16.04 (64 bit)
Ubuntu Server 12.04,14.04,16.04, 18.04, 20.04 (32-64 bit)
If you're one of those who want to choose everything like type of processor, RAM size, SSD space or data centers on clicks, then you gonna love it.
Although if you don't like to dig into codes, Webhosting panels such cPanel/WHM, WebsitePanel or Parallels Plesk can be installed in a single click to manage Cloud Servers.

Their 13 data centers around the globe are powered by Intel Xeon Platinum with 2.7GHz cloak time which can be increased up to 104 cores.
Other than it, RAM size can be stretch upto 512GB and SSD storage upto 4000GB.
So you can expect super-duper speed, mind blowing performance and absolute freedom.
At the end, for securing data and server, cloud firewall with disaster recovery management makes robust defense and strong data recovery against DDoS, SQL injection, brute force and many other online threats.
And Daily backup is always there. Overall these make it possible to retain higher uptime and data security.
Meanwhile, you seek help to encounter any problem, you can get help over phone call or email chats from their trained support team.
Big Update – Now Cyberpanel, WordPress, Drupal, and Joomla are now available as 1-click apps.
Now you can install LiteSpeed Server, WordPress, Drupal and Joomla with a click and can manage freely with Cyberpanel. No coding is needed.
What Users Think on Twitter & TrustPilot?
Why Choose Kamatera
Hardware-Software Rich Hosting Environment
Authorised Microsoft Partner that makes the faster procedure of MS licensing, installation, registration and software updates.
Free Migration Service
24×7 Highly responsive in-human Support over Phone and Email
Cloud block storage, Cloud Private Network, Cloud Load Balancer, SaaS Provider Infrastructure & Start-up solutions
Diagonal Scaling
Microsoft Cloud Solutions
'Pay as you go' Payment Model, start from $4/m
Free 30 Days with credit card
2.Cloudways Free Trial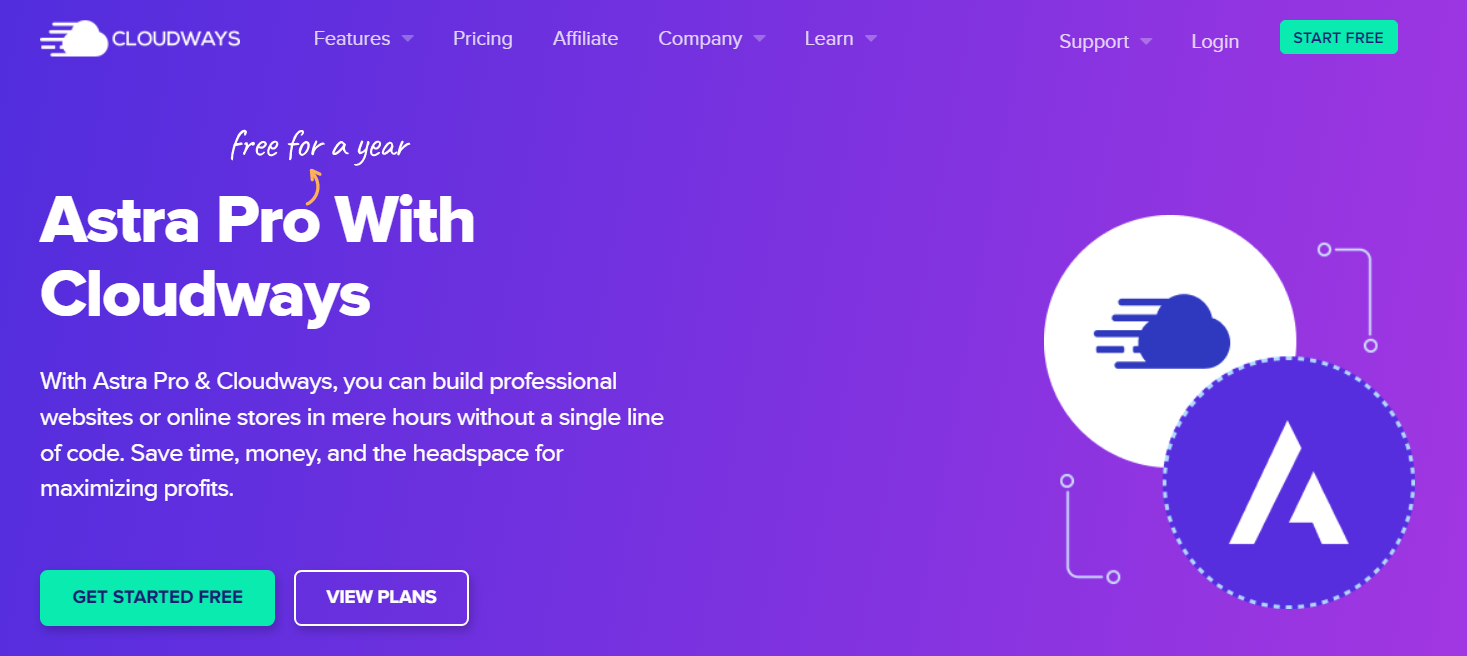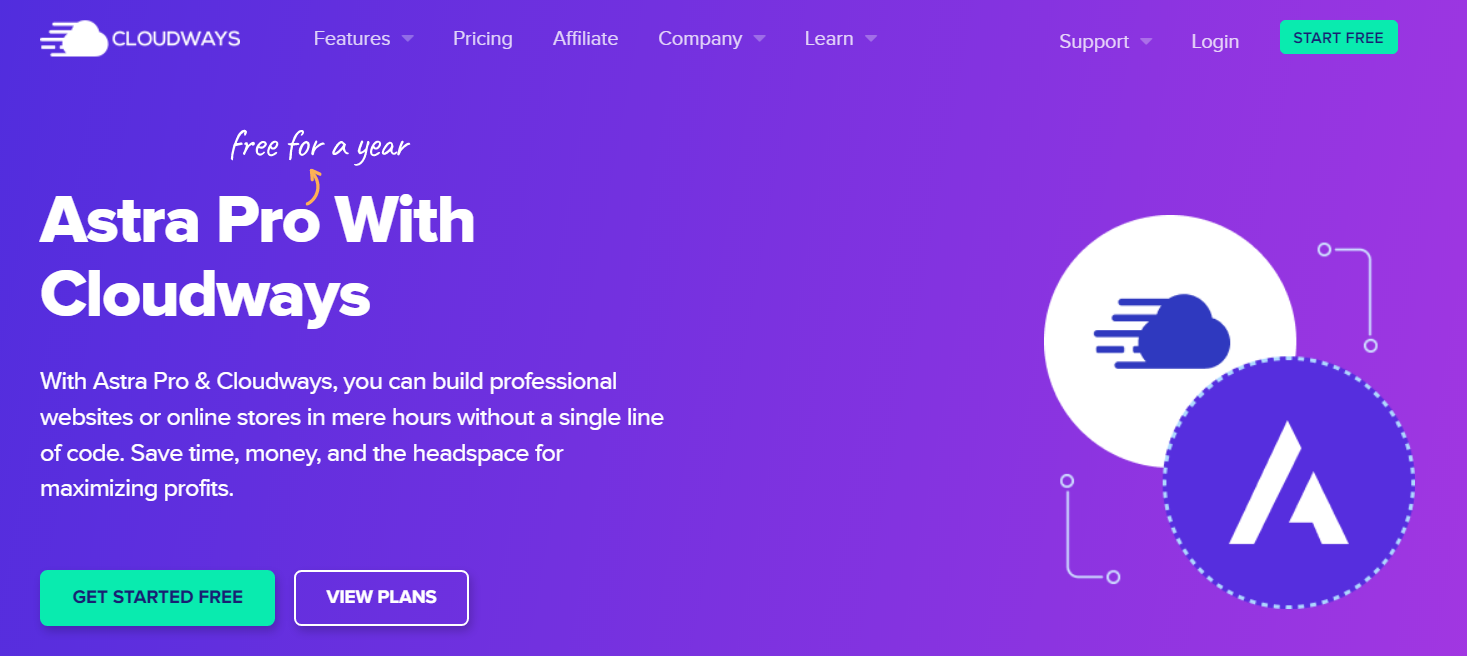 Forbes, PC Magazine and Techradar featured Cloudways is a one-stop solution for Google Cloud, AWS, Digital Ocean, Vultr and Linode.
If you are not a techy guy, you can install the desired application like WordPress, Drupal, Magento in a single click on the desired cloud server.
It's simple as installing WordPress through cPanel. Similarly, you can manage your website like you've done before.
Moreover, Cloudways expert team take eyes on your server 24×7 and make required security (dedicated firewalls) and performance update (regular OS and patch management).
You can interact with their support team, whenever need to seek assistant.
It works like a server control panel that helps you to focus on your blog fearlessly without caring much about server.
Although, auto-healing server and auto-backups will save you, if something goes wrong.
Their pre-configured PHP-FPM improve the response time of PHP based application like WordPress, it directly makes the websites 4X speedy and Cloudways CDN drastically improve TTFB and load of web around the corners of the world.
Nonetheless, whenever you need more resources, you can increase RAM size, storage and bandwidth in a click without affecting your previous customization.
It is also a developer-friendly platform that offers staging environment and Github automation.
What Users Think on Twitter, FB & TrustPilot?
Why Choose Cloudways?
Cluster feature that replicates your web data on a whole data center. Whenever a server goes down due to failure or a sudden surge in traffic. It changes the route of the load to the next available server.
60+ global data centers with SSD storage
Host your web in the world's top-notch 5 cloud providers.
Host unlimited webs per server
Pay as you go pricing (don't need to buy an annual plan like traditional shared host, a tiny amount is sufficient to start) & cheaper pricing than competitors.
Built in Cloudways CDN
Cloudflare Enterprise
Dev-friendly staging environment
Free site transfer
Free SSL certificates
Launch 10+ apps through 1-click
Built in free cache plugins for WordPress and Magento
Easy Github automation
Free trial without credit card
Smart assistant (an AI based bot sends realtime performance insight to help optimize server & apps)
1-click server cloning
You don't need traditional cPanel or plesk, because Cloudways has its own server monitor panel where you can eye on RAM, Bandwidth, Storage usage and CDN details.
Free Astra Theme Bundle License for 1 Year
24/7/365 Live Support Chat & Ticketing
3.Linode Free Trial



Linode makes the competition tough with their marketing leading hardware in the market.
Their servers are powered by AMD EPYC 7000 series CPUs make virtually everything run smoothly in cloud.
Recently they have added AMD EPYC 7002 series processors which have 45% more memory bandwidth and up to 87% more integer performance than Intel Scalable Gen 2 processor in the same class.
The processor passes over Intel in various performance scales.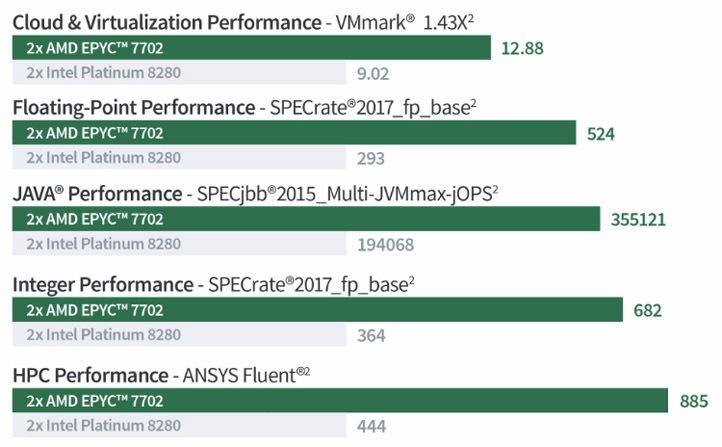 For streaming websites, gaming, video rendering, AI & complex process, they have NVIDIA Quadro RTX 6000 in their fleet.
It has 2x rendering performance than older NVIDIA Tesla T4.
Free DDoS protection and cloud firewall automatically make fencing before any online threat, at the last, backup is there for you.
They offer block storage, bare metal, Kubernetes for industrial need as well as many 1-clicks apps like WordPress, Discourse, Minecraft Game Server etc with just $5 for beginners who want to take the first step into the cloud atmosphere.
And You'll get support from their highly trained team to finding solutions over call 24/7/365. You could find barely support like this from other cloud hosts.
But if you don't want any headache regarding hosting, let allow Linode to manage your whole server operations.
They'll install free cPanel, troubleshoot for downtimes, free two migrations from other host, deploy cloud firewall and backup to mitigate loss from threats & server failures.
So you can get a quick glimpse at the report of server usage and performance without any curve line on the forehead.
You can fully focus on your main productivity work in spite of digging in techy glitches.
Why Choose Linode?
$100 Free Credits for 30 days
Free Migration
CLI, SSH & staging environment
Backup
Support over phone and email 24/7/365
Professional Service for server architecture, migrations and software deployments.
Huge variety of most demanding 1-clicks app like WP, Drupal, Plesk, OpenLiteSpeed WordPress, Rust Game Server and more.
Intuitive Cloud Manager (Install CMSs, get details of RAM, Bandwidth and more)
Free DNS Manager
Free DDoS & Cloud Firewall
Managed Hosting Service
11 Data Centers in major cities over the Globe.
AMD 7000 Series CPUs
NVIDIA Quadro RTX 6000 GPUs
4.Club VPS Free Trial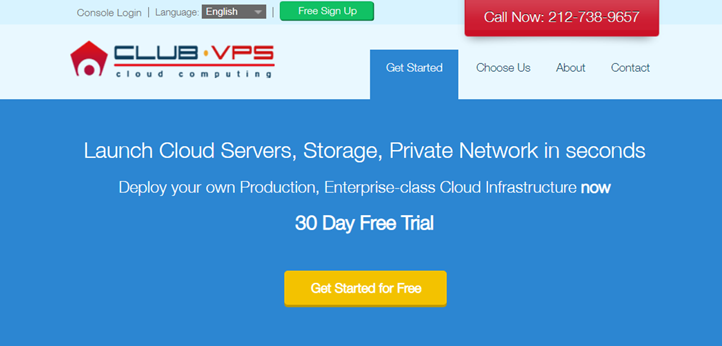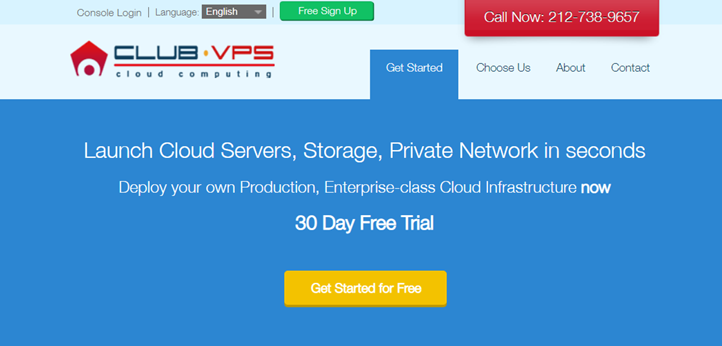 Club VPS is a subsidiary of renowned Kamatera. It's been made for the sole purpose of serving small-medium businesses and enterprises. So you can see pricing is a little bit high.
But cloud infrastructures are made of World's peak technology and enterprise-grade. They regularly update their VM to make it more vigorous and cyber attack-proof.
They have recently added a new high computing Intel Xeon Platinum processor in place of Intel Cascade Lake chips that can clock up to 2.6 GHz and enlarge to 106.667 GHz.
RAM is also available in range of 256MB to 327680MB (327.68GB) and bandwidth is 5000GB with 10GB/s.
You can use their simple management console to deploy your first app in the enormous resourceful and scalable environment. Though you are not tech-savvy, don't worry.
They feature 30 popular preinstalled apps with a click. So you can deploy it with a click.
But if you want to focus on your business solely, you can test their friendly & fully managed service.
They have also deployed redundant configuration for every device used in your server to bottleneck any downtime due to system failures.
You will also get daily backups, disaster recovery management, cloud load balancer and hardware firewall layer for no data loss and maintain top-notch security.
In some cases, if you are stuck, you can seek human help over live chat, phone call and ticket. Now you can try it out for 30 days at zero cost.
Why Choose ClubVPS?
Enterprises Grade Infrastructure
Regular Updates
13 Datacenters cover the whole World
Excellent Reputation and Great Experience in the service
Abundance Resoursefull Servers
God's Guarding Managed Cloud Services
Developer friendly with beginner-friendly
No Obligation to a contract, Pay as you go
24*7 Human Support
30 Day Free Trial
5.IONOS Free Trial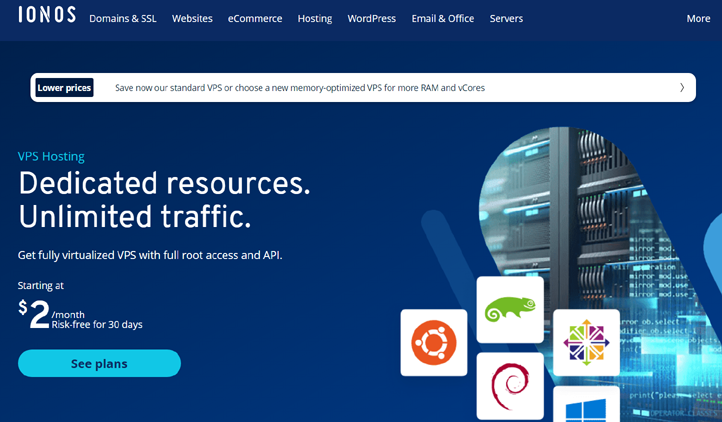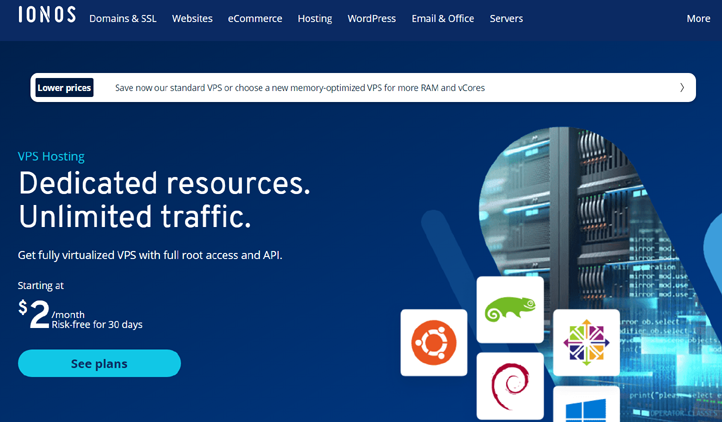 IONOS has been in service since 1988, and it reflects in its usefulness as has a fabulous presence in North America and Europe with 7 ISO 27001 certified data centres, which locate in –
Lag Vegas
New Jersey
London
Berlin
Frankfurt
Karlsruhe
Logrono
It turned out to be a faster web hosting server, and surprisingly their VPS Services are pretty affordable, starting at just $2/m with dedicated resources and unmetered bandwidth.
Their VPS are powered packs with the latest generation Intel Xeon E5 processors and a 100% SSD SAN storage system with full virtualization.
Other than it, Cloud backup, server snapshot, firewall management, and DDoS protection keep secure servers and ensure 99.99% uptime.
On their VM, you can install-
Ubuntu 20.04, 18.04
CentOS 8, 7
Debian 10, 9
OpenSuse Leap 15
Window Server 2016, 2019
And you can manage it via root access, but if you're a novice, don't worry. You can use Plesk to manage servers and websites with any technical obstacles.
Although you'll get many preinstalled apps like WordPress, Drupal, Magento, PrestaShop Shopware and more, you don't even need a plesk to run websites on the apps.
There is the freedom to choose from MS SQL, MariaDB, My SQL, and more for data saving.
You can test it out with a 30-day risk-free trial with responsive support over the phone call and email support.
Why Choose IONOS
Latest and Certified Infrastructures
Unlimited Bandwidth
Beginner Friendly, plesk and 1-click apps like WordPress
24/7 Flexible expert support
Cloud Firewall Protection
Intel Xeon E5 Processors
SSD SAN Storage System
Full Virtualization
Multiple Data Storing Software
Ecommerce and gaming level VPS
Prepaid and Postpaid billing available
Risk-Free 30 Day Trial
6.Vultr Free Trial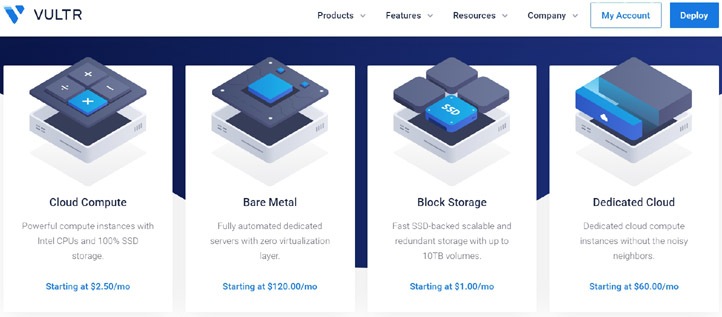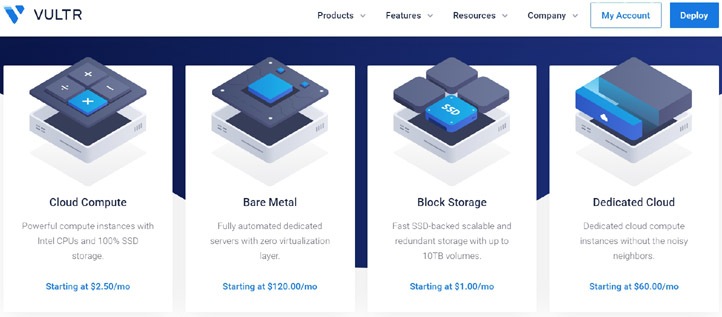 Vultr is an advance and multipurpose cloud host which comes with cloud computing, bare metal, block storage and dedicated cloud.
So they are able to serve industries level hosting need as well as small level blogs' need which costing starts from just $2.5/m.
Vultr uses Intel Skylake processors, NVMe SSD for storage, 17 location worldwide, backup, DDoS and 7G Firewall.
These make Vultr front-racer in cloud host and over 40,000,000 cloud servers launched in Vultr environment.
A techy nerd can find lots of option to choose software like Ubuntu, Debian, Fedora to build high-performance server at own choice and they have full control on bare metal to tweak maximum performance.
Likely, a beginner can install many popular CMSs such as WordPress, Joomla, Magneto and Litespeed & NGINX server in a click. You can live your blog in few seconds and unlock cloud performance.
You never gonna miss your experience with cPanel.  Vultr offers an advance control panel which comes with team management, single sign-on, CPU usage, Disk operations, automatic server health reports and MFA.
By enable MFA (multi-factor authentication), you can take the security level of your account to the next level.
Why Choose Vultr?
$100 Free Credit for 30 Days
'Pay as you use' Payment model with real time billing system and multiple payment options like Bitcoin, Cards, Alipay, Paypal and more.
Multiple preinstalled apps like WordPress, Joomla read to deploy in a click
Higher scalability and redundancy
Native DDoS Mitiagtion & 7G Firewall
17 Server Locations to deploy globally
Intel Skylake CPU with 3+GHz Multi Core
100% NVMe local storage performance
Secured with MFA(Google Authenticate and Yubikey devices)
Real time billing information, keep an close eye on usage charges.
No Credit Card required
7.Digital Ocean Free Trial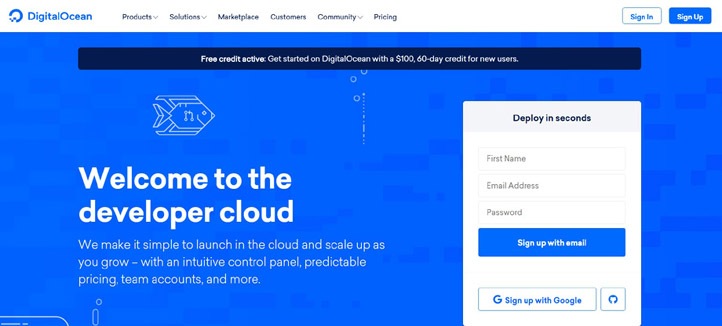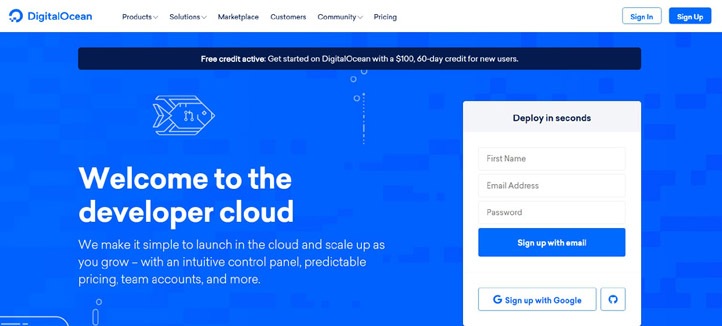 Digital Ocean is self-owned hosting infrastructure company. In recent times, it gains much popularity among beginners.
After Cloudways, a large number of beginner web masters step into cloud hosting with DO.
Because of easiness of use, 100+ one-click apps such as LAMP, Docker, WordPress and cheap pricing. By Cyberpanel, you can install WordPress in a single click.
At DO, if you want to install your own choice of server software. You can choose Apache, NGINX and Litespeed to run over Ubuntu, Fedora, Debian, FreeBSD, CentOS and RancherOS.
Fully flexibility!
The flexibility continues on DO plans. You can choose CPU or Memory or storage wised plan as required for your project.
Not only for beginners, DO offers a complete web hosting solution for high-end project like mobile apps, video streaming, gaming development, cloud VPN and startups.
Why Choose Digital Ocean?
Load Balancer to distribute traffic to other VPSs.
Set up Your own Firewall Rules
14 Data Centers
Easily combine with Cloudfare and serve data through 170+ pop ups
Choose RAM size (up to 256 GB)
Free Floating IP Address that redirect network traffic to any of your VPS in the same datacenter
Faster DNS (World's Third Faster, according to dnsperf.com)
Check Usage of RAM, CPU, Bandwidth, Storage, Disk I/O in details
24/7/365 Support over mail
Get Free $100 Credits on sign up without credit card
8.Flywheel Free Trial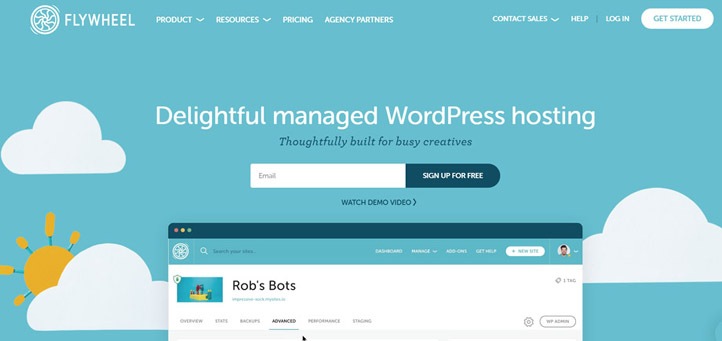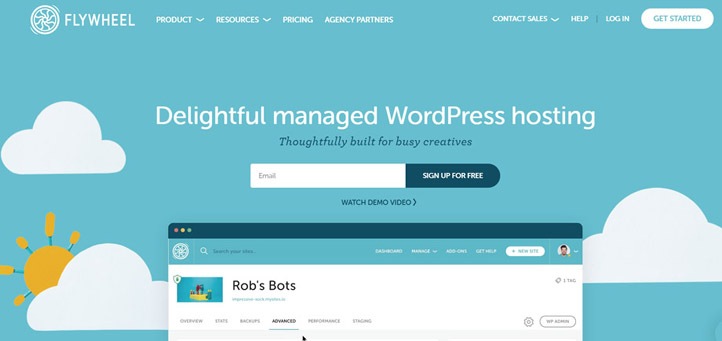 Flywheel is the best choice for a team or handling more than 1 blog. They offer an auto-healing system, custom build plans and a powerful dashboard to manage up to 100 blogs on a single page smoothly.
Do you know?
Flywheel is a specific managed WordPress hosting company powered by Google Cloud. Their entry-level plan has not shared environment, even each plan has its own guaranteed resources.
It is a good thing for your blog in the aspect of security and performance.
And needless to say, How much faster Google Cloud is. Also, their plans avail Fastly CDN and custom FlyCache. These three vital factors make them Captain America to boost the speed of any blog.
So If you like to experience the ultimate performance of Google Cloud with premium support, you can try any one of their four plans(Tiny, Starter, Freelancer & Agency ) with a 14-day free trial period.
Why Choose Flywheel?
PHP 7.4 Ready
Free SSL Certificates
30+ Premium StudioPress Theme
Auto Healing Technology
Billing Transfer
Collaborators
Nightly Backup
SSH Gateway
Free Migration
Site Cloning
24/7 Support
Dedicated Account Manager
Global CDN & FlyCache
9.Nestify Free Trial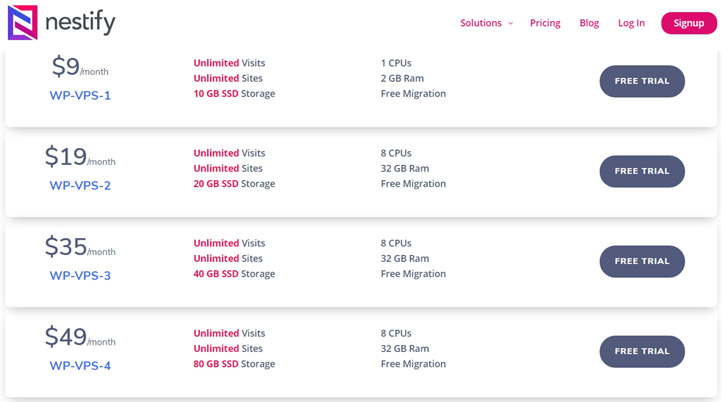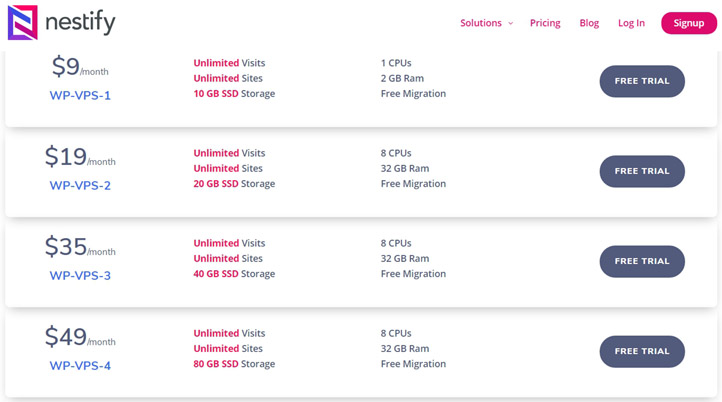 Trusted by multi public companies, private businesses and non-profits such as Walmart, Pet Smart and powered by AWS make Nestify a promising web host among the flood of hosting companies.
Nestify comes with AWS. That means it's highly resourceful and ready for viral traffic. If you have 5 visitors or 5 million visitors. Doesn't matter!
They can seamlessly handle all. Even their premium CDN mitigate the burden of the load on the origin server and load web page faster through closet CDN server.
Their plans are scalable and can serve the hosting need of WooCommerce, agencies, VPS and blog.
Their security scans, automatic daily backups, staging area and Free SSL are providing multi-layer security against online threat and accidental data loss.
Furthermore at Nestfiy, you can update your theme, plugin and WordPress without using browser with WP-CLI.
Quite interesting!
They allow 7-day free trial for all VPS plans.
Why Choose Nestify?
Free Migration
Unlimited visitors & Unlimited Sites from entry level plan
2 GB RAM in entry level plan
SSD storage
Server locations in the major corner of the world i.e. USA, England, Netherland & India
Fully Manage Cache and Premium CDN
Free WordPress Hacked Fixing
Fast and scalable architecture
24/7 Responsive Support
10.UpCloud Free Trial


Upcloud is the best alternative to all above. As they offer MaxIOPS for storage, a next generation storage technology which is faster than standard SSD.
They guarantee 100% uptime SLA otherwise you can get 50x payback for any downtime of over 5 minutes.
You can set the scheduled backup to avoid any loss whenever you are in bed.
Nevertheless, if you love fast processing, you can deploy your server in 45 seconds. It just happens due to the latest AMD Processor and MaxIOPS.
But you have to be a technical nerd as they don't come with 1-clicks apps.
On the contrary, if you're a tech-savvy, you gonna love it. You will get Linux and Window support, server cloning, metadata service and powerful API and native IPv6 Support.
For security level, deploy a highly configurable firewall and two-factor authentication in few clicks and save your web property.
You can give a try to a super-duper hardware-rich server for a 3-day trial. They hold $1 for verification purpose and release it later.
Why Choose Upcloud?
10 Data Centers in Major Places of Globe
Pay as Go Payment Model (starts from $5)
In-house Built Control Panel
Private Networking across the globe to counter any downtime.
InfiniBand Networking, used in supercomputer since 2012, it maximizes throughput and minimizes latency.
Protect your customer data under EU and Finnish Law.
2- Month free migration period
Wrap Up
The nature of all the web hosts varies from each other. They have made for their specific users.
I have listed those which can be used for web server, gaming server, Minecraft server, VPN network or RDP.
All these are high performant and reliable in the manner of speed, uptime and security.
You can try them in a few clicks and decide what would be suitable for you in few days.
If you ask me, I recommend you to try Kamatera, Because
Abundant Seasoned in Web Hosting
Hardware & Software Rich
Powerful Servers with Intel Xeon Platinum
Beginner Friendly, 1-click apps like WordPress
Tremendous Global Presence with 13 data centres
Solid defence with Cloud Firewall & Disaster Recovery Management against Online Threat
Massive RAM & SSD Storage at affordable pricing, starting from $4/m
Free Migration Service
Authorised Microsoft Partner
Pay as you Go Payment Model
24/7 Responsive Phone, Live Chat & Email Support
Free 30 Days Trial
Good Luck for testing.
FAQ
How do I get a free trial of VPS?
It's effortless. Sign up with Kamatera and start a free trial.
How much does it cost to run a VPS?
Just need $4 per month at Kamatera, although it comes with a 30-day free trial.
Can I get a free VPS trial without using a credit card?
Cloudways and more offer free trials with no credit card required.
How do I get a free Linux server?
You can get it at Kamatera, Cloudways and many more.
Can I use VPS as an RDP?
Yes, you can use it.
More:
Disclosure:
Our Content is reader-supported. This means if you click on some of our links and make a purchase, we may earn a commission at no extra cost to you. Read
our affiliate disclosure.