So you'd like a free VPS trial? Then you've come to the right place. I've compiled a list of popular Linux and Windows VPS providers that offer free trials or credits with or without a credit card.
They can be used as a web server, gaming server, Minecraft server, VPN network, Forex server, or RDP server.
It is also a good option for those who are unhappy with their current hosts and want to move from shared hosting to VPS. VPS is not as expensive as we thought.
You can rent a VPS for $2 per month, and the performance will be far superior to that of an old-fashioned host because you will have been assigned a separate and personal slot with guaranteed resources.
Nobody else can have any effect on you. It's safer and more efficient. Now is the time to take advantage of free trials and find one that is ideal for you.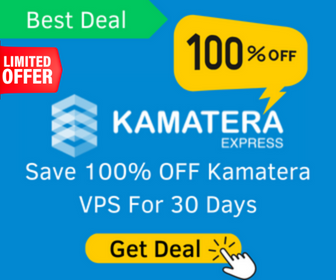 Best 10 Free VPS No Credit Card
1.Kamatera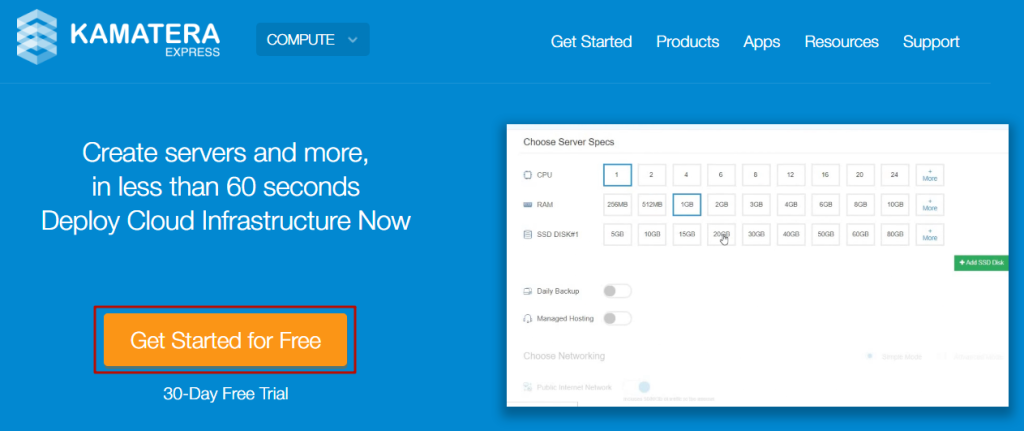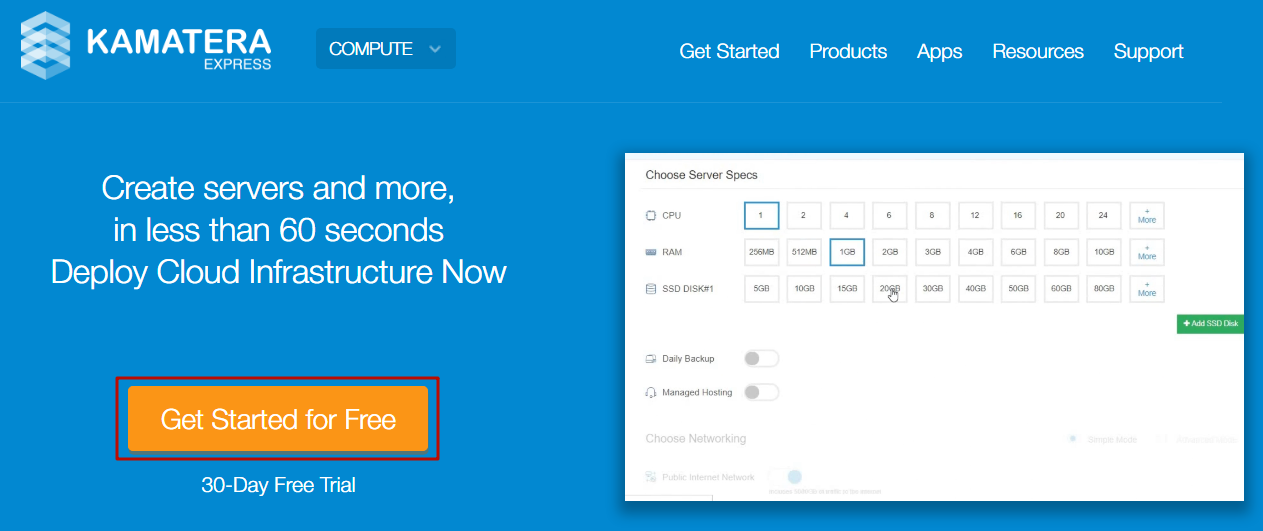 Kamatera is prominent cloud platform which has a range of resourceful cloud products with rock-solid security for bloggers, SaaS, start-ups, and SMBs. They have been providing the most affordable cloud service since 1995.
Big Points
600 Gbps bandwidth speed
2.7 GHz Intel Xeon Platinum and Cascade Lake Processor
Fully managed service
1-Click server cloning and installation
Freedom to use Linux and Windows OS as they are official Microsoft partners.
Diagonal scaling to scale any server component
N+1 redundant server
Free Trial
Under their 30-day trial, you will get a free $100 credit to test their products.
Resource
Under the trial, you will get the perks-
RAM – 1-512 GB
SSD – 20-4000 GB
CPU – 1-104 cores
Transfer – 1000 GB
Server Location
With their 18 global data centers, you can reach your audience no matter where they are in a matter of microseconds. These data centers are located in USA, Israel, Hong Kong, Canada, the Netherlands, Sweden, Germany, the United Kingdom, Italy, and Spain
Uptime
They promise 99.95% uptime. However, in our test, they were able to maintain 100% uptime for 30 days.
Security
Their cloud firewall protects customer properties from intrusion, DDoS, and XSS. Furthermore, disaster recovery management will protect you in the event of data loss.
Backup
Automatic backup is available for $3 per day and lasts for 14 days, and server snapshots cost $0.005/GB/month.
Support
Their expert team is ready to help you around the clock by chat, phone call, and ticket.
Benefits
By utilizing high-speed ports and powerful Intel processors, you can keep your servers running smoothly even during periods of high traffic.
With disaster recovery management, cloud firewalls, and automated backup services, you can rest easy at night knowing that your valuable data is secure.
And if you're a developer, you'll appreciate the flexibility provided by our multiple product ranges and diagonal scaling options.
But even if you're just starting out, they've got you covered with over 100 popular apps that can be launched with just a click.
And thanks to their free Cyberpanel, managing your web property has never been easier. And if you ever need assistance setting up your server or resolving any issues, their responsive support team is always there to help.
2.Cloudways
Forbes, PC Magazine, and Techradar featured Cloudways is the leading managed cloud solution for Google Cloud, AWS, Digital Ocean, Linode, and Vultr.
It is extremely popular among web administrators who are just starting out in the cloud and want to host their properties on the world's top cloud platforms with expert support.
Big Points
60+ Global Data Centers with top-notch auto healing technology
Beginner friendly control panel with AI bot assistant
Free object cache pro is four times faster than the free version.
Email addons
1-click server cloning
Free site transfer and unlimited hosting
Staging and github automation
Mobile speed optimization with polish
'Pay as you go' payment model
Free Trial
You can hook up with a managed cloud solution freely for 3 days with free $100 credit no cc.
Resource
Under the trial, you can launch any plan that costs less than $100 for 3 days. Servers are powered by AMD EPYC and Intel Xeon.
RAM – 1-192GB
CPU – 1-32 Core
Storage – 25-3840GB
Transfer – 1- 12TB
Server Location
You can deploy your app at over 60 data centeres
Uptime
They have a guarantee of 99.99% uptime. Cloudflare's "always online" feature, on the other hand, serves limited copies of archive.org web pages if the origin server is down.
Security
Cloudflare Enterprise protects Cloudways as if it were God. It stops DDoS attacks in less than 3 seconds by using dedicated IP ranges, and WAF smartly finds and blocks attackers by looking at millions of sites and 32 million requests per second.
Moreover Cloudways examines every device that attempts to access your account. In the event that a device is flagged as suspicious, you are notified by email.
You can also schedule server maintenance outside of business hours, when a team of experts will install system packages and security patches.
Backup
Cloudways always keeps the latest version of your server as an off-site backup. On demand backup is also available.
Support
They are available 24/7 to solve your queries via live chat and ticketing.
Benefits
Looking for a user-friendly and highly effective cloud hosting solution? Look no further than Cloudways! The platform offers easy access to top-tier cloud providers like GCP, AWS, Digital Ocean, Vultr, and Linode, enabling users to enjoy peak performance and reliability without any hassle.
The AI-based control panels suggest optimal configurations and provide effective control, giving users peace of mind knowing that their website is always running at its best.
And if a user is new to cloud hosting, there's no need to worry! With the Cloudflare enterprise addon, managing and optimizing website performance is made easy with just a few clicks, improving TTFB and securing the site like a pro.
The object cache pro feature can speed up loading times by up to 4x faster than the free version, and the email addons provide a convenient way to handle email marketing tasks directly from the cloud hosting account.
3.Linode

Linode is a pioneering company that makes cloud computing accessible to beginners. They have marketing leading hardware like AMD EPYC 7002 series processors, NVIDIA Quadro RTX 6000 GPU and simple dashboard.
Big Points
AMD EPYC 7002 series in their fleet, which has 45% more memory transfer and can perform 87% more than Intel scalable Gen 2 chips in the same class.
They have various plans to fulfill various purposes, including: Dedicated CPU instances are good for full-duty workloads where consistent performance is important, while shared CPU instances are pocket-friendly and good for medium-duty workloads. High-memory instances are for memory-hungry uses.
Port out speed @ 12GBPS
100+ 1-click apps, including the Minecraft server, Discourse, WordPress, etc.
Managed service @ $100/ month
Free Trial
Linode comes with 30 days free trial, you can opt it by verifying one of following payment methods-
Google Pay
Paypal
Credit Card
Resource
You can get huge amount of resource at Linode
RAM – 1-300GB
CPU – 1-64 Core
Storage – 25-7200GB
Transfer – 1-12TB
Server Location
11 global data centers in major locations make it possible to reach any corner of the globe with faster latency. Data Centers are Atlanta, Dallas, Fremont, Newark, Toronto, London, Frankfurt, Singapore, Tokyo, Mumbai, and Sydney.
Uptime
They have a 99.99% industry guarantee.
Security
Websites are protected by DDoS protection and a cloud firewall at the host.
Backup
Backup plans start at $2 per month. Three backup slots are executed and rotated automatically: a daily backup, a 2-7 day old backup, and an 8-14 day old backup.
Support
You'll get support from their highly trained team to find solutions over the phone, 24/7/365. You could barely find support like this from other cloud hosts.
Benefits
4. Club VPS
Club VPS is a subsidiary of Kamatera. It's been made for the sole purpose of serving small- to medium-sized businesses and enterprises.
So you can see that the pricing is a little bit high. However, cloud infrastructures are built with cutting-edge technology and are enterprise-grade.
They regularly update their VM to make it more vigorous and attack-proof.
Big Points
Heavy-duty Intel Xeon Platinum processors can clock from 2.6 GHz to 106.667 GHz.
They have also implemented redundant configuration for every device in your server to bottleneck any downtime caused by system failures.
They feature 30 popular preinstalled apps with a click. so you can deploy it with a click.
Enterprises grade infrastructure
Developer with beginner friendly
40 GBPS network speed
There is no contractual obligation; pay as you go.
Free Trial
Test it with a 30 day free trial with a credit card.
Resource
RAM – 1-512 GB
SSD – 20-4000 GB
CPU – 1-104 cores
Transfer – 5000 GB
Server Location
They offer cloud service on 15 global data centers which are Amsterdam, New York, Dallas, Chicago, Miami, Santa Clara, Toronto, Frankfurt, London, Israel(5) and Hong Kong
Uptime
They promise 99.95% uptime.
Security
Their cloud firewall and disaster recovery management take care of all threats and data loss.
Backup
For $2.5, you can take a daily backup on an external storage array.
Support
Customer support is the same as Kamatera. They help via phone calls, email, and live chat 24/7.
Benefits
5.IONOS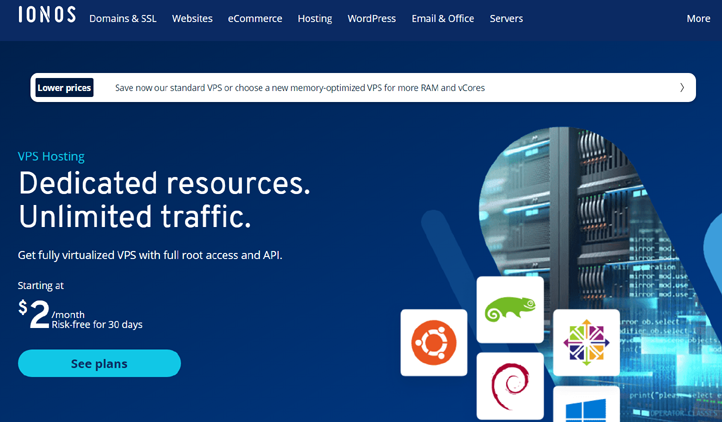 IONOS has been in service since 1988, and that shows in its usefulness, as it has a fabulous presence in North America and Europe with 7 ISO 27001-certified data centers. They are most affordable with unmetered resources.
Big Points
Latest generation Intel Xeon E5 processors
100% SSD SAN storage system with full virtualization
WordPress, Drupal, Magento like many preinstalled apps
Prepaid and postpaid billing is available.
Multiple data storing software
Free Trial
You can test it risk-free for 30 days.
Resource
Under its trial, you can only test their entry level which is consist of-
RAM – 512 MB
CPU – 1 CPU
Storage – 10 GB SSD
Transfer – unlimited @ 400mbps
Server Location
They have established 7 ISO-certified data centers in Las Vegas, New Jersey, London, Berlin, Frankfurt, Karlsruhe, and Logrono.
Uptime
They offer 99.99% uptime.
Security
The server resides under firewall management and DDoS protection.
Backup
Reliable Acronis backup is available at 6.5 cents per GB/month. Moreover, you can take server snapshot and later you can restore it.
Support
They got steadfast support team that can provide solution through phone, chat and email 24/7
Benefits
For users looking to expand their business in Europe, IONOS is a great choice. As a veteran in the industry, IONOS offers access to 7 ISO 27001-certified data centers, all equipped with the latest Intel Xeon E5 chips and 100% SSD storage, ensuring optimal performance and reliability.
With blazing firewall management and DDoS protection, users can rest easy knowing that their data and infrastructure are secure.
And with flexible support options, help is always available when needed, ensuring a smooth and hassle-free experience for users of all levels.
6.Vultr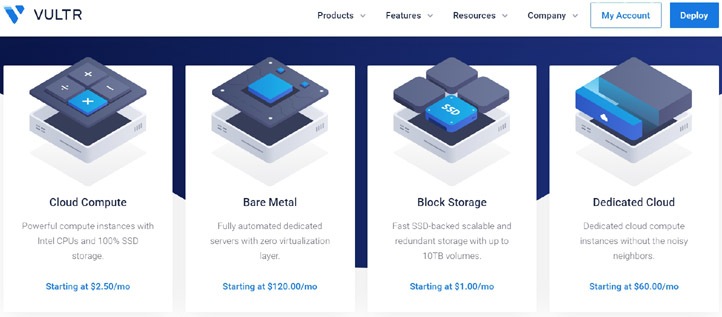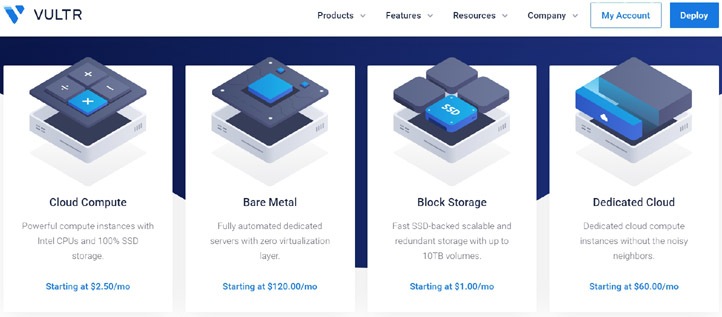 Vultr is a sophisticated and multipurpose cloud host that offers cloud computing, bare metal, block storage, and dedicated cloud services. They are particularly famous for their high-frequency servers.
Big Points
Robust Intel Skylake chips of 3GHz
Higher Scalability and redundancy
Pay as you use' Payment model with real time billing system and multiple payment options like Bitcoin, Cards, Alipay, Paypal and more
Free Trial
They provide a free $100 with 30 days of validation to try out the server without a credit card.
Resource
RAM 1-24 GB
CPU 1-48 cores
Storage – 25-2×480 GB NVMe
Transfer – 2-25 TB @ 25gbps
Server Location
Vultr has 28 global data centers: Tokyo, Bangalore, Delhi, Mumbai, Seoul, Singapore, London, Amsterdam, Frankfurt, Madrid, Paris, Stockholm, Warsaw, Miami, Atlanta, Chicago, Dallas, Los Angeles, Mexico City, New York, Seattle, Silicon Valley, Toronto, Sydney, Melbourne, Johannesburg, and Santiago.
Uptime
They are proudly offering a 100% uptime SLA.
Security
Native DDoS protection and the 7G firewall defend against any intrusion. Customer accounts are secured by multifactor authentication.
Backup
Automatic backup starts at $2 per month. Furthermore, you can obtain a server snapshot for $0.05 per GB per month.
Support
They solve queries via email. You can even explore their tutorials.
Benefits
Vultr is the weapon of choice for users who demand the very best in cloud hosting.
With high-frequency servers and a network of 28 global data centers, Vultr is designed to perform even under the most intense pressure, ensuring that your online business is always up and running at peak performance.
However, it's worth noting that customer support is available only through email in case of mishaps.
Despite this, the platform's advanced features and top-tier infrastructure make it a great choice for users who are comfortable managing their own technical issues.
7.Digital Ocean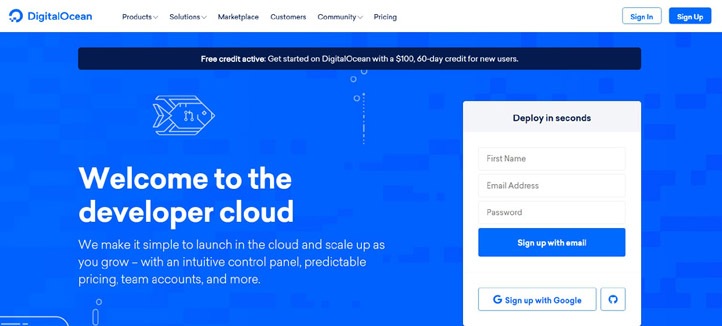 Beginners often choose Digital Ocean to host their SaaS, websites, and eCommerce stores because it is easy to use, cheap, and flexible.
Big Points
You can choose a CPU-optimized, memory-optimized, or storage-optimized plan as you need.
Load Balancer for traffic distribution to other VPSs.
Free Floating IP Address that redirect network traffic to any of your VPS in the same datacenter
Faster DNS (World's Third Faster, according to dnsperf.com)
With premium instances, you can choose between Intel and AMD CPUs.
Free Trial
Get a free $100 credit on signup without a credit card for a period of 30 days.
Resource
RAM 1-256 GB
CPU 1-48 cores
Storage 20GB-4.69TB NvMe
Transfer 1-11 TB
Server Location
They own 9 global data centers across the world: New York, San Francisco, Amsterdam, Singapore, Toronto, London, Frankfurt, Bangalore, and Sydney.
Uptime
They offer a 99.99% uptime SLA for droplets and volumes block storage.
Security
No DDoS protection. You can manually set up a firewall to protect the important ports of your apps.
Backup
You can enable weekly backups for $1.20 per month. However, you take a server snapshot at $0.005/GB/month.
Support
Only email support with pre-programmed responses.
Benefits
8.Flywheel
Flywheel is a managed WordPress hosting company that is powered by Google Cloud.
Their entry-level plan has no shared environment, even each plan has its own guaranteed resources.
Big Points
Fastly CDN and Custom Flycache
SSH Gateway
Auto-healing server
Site cloning
Free migration
Free Trial
Under 14 days trial, you can taste their managed cloud service with a credit card.
Resource
Storage – 5GB
Transfer – 20GB
Server Location
Their cloud servers are powered by Google Cloud. They have 5 data centers, which are in Iowa, Montreal, Belgium, Sydney, and London.
Uptime
They do have a 99.99% uptime guarantee.
Security
They run a regular malware scan, enable two-factor authentication for WordPress login page and deploy the firewall.
Backup
Their plans include nightly backup.
Support
Free support is available via live chat and email. For phone support, you need to pay $250 per month.
Benefits
9.Nestify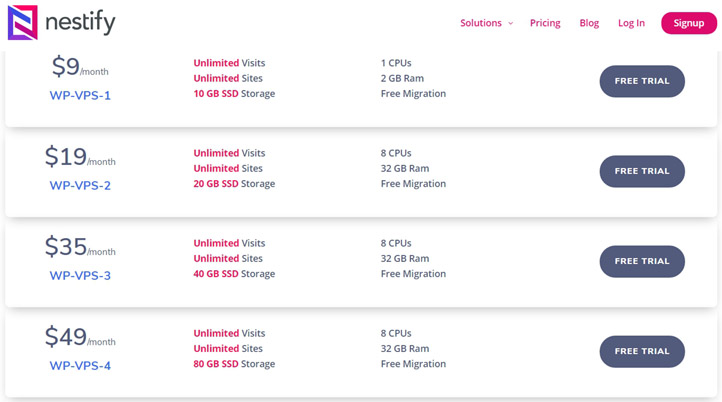 Trusted by multiple public companies, private businesses, and nonprofits such as Walmart and PetSmart and powered by AWS make Nestify a promising web host among the flood of hosting companies.
Nestify comes with AWS. That means it's highly resourceful and ready for viral traffic. If you have 5 visitors or 5 million visitors. No problem!
Big Points
Premium CDN mitigates the burden of the load on the origin server and loads web pages faster through the closet CDN server.
Free migration
Free malware infected WordPress site fixing
Page speed optimization and staging
Free Trial
You can host your property for 7 days freely.
Resource
RAM – 1-6 GB
CPU – 1-3 cores
Transfer – unlimited
Server Location
Data centers are located in the USA, the UK, India, and the Netherlands.
Uptime
They do have a 99.99% uptime policy.
Security
Their team takes care of every aspect of security, like DDoS attacks.
Backup
Their plans come with backups.
Support
You can get help via live chat and email 24/7.
Benefits
10.Upcloud
Upcloud is the best alternative to all of the above, as they offer MaxIOPS for storage, a next-generation storage technology that is faster than standard SSD.
Big Points
Latest AMD processors
Super duper hardware rich server
Protect your customer data under EU and Finnish law.
InfiniBand networking, which has been used in supercomputers since 2012, maximizes throughput while decreasing latency.
Private networking across the globe to counter any downtime.
Pay as Go Payment Model (starts from $5)
2- Month free migration period
Free Trial
A super-hardware-rich server is available for a 3-day trial. They hold $1 for verification purposes and release it later.
Resource
RAM – 1-6 GB
CPU – 1-3 cores
Transfer – unlimited
Server Location
Data centers are in the USA, Spain, the UK, the Netherlands, Germany, Poland, Finland, Singapore, and Australia.
Uptime
They guarantee 100% uptime SLA; otherwise, you can get 50x payback for any downtime of over 5 minutes.
Security
They save your website by setting up a firewall that is easy to change and two-factor authentication in just a few clicks.
Backup
Their backup cost is 20% of instance pricing.
Support
Only email support is for you.
Benefits
Wrap Up
The characteristics of each web host differ. They have created it for their target audience. I've included those that can be used as a web server, gaming server, Minecraft server, VPN network, or RDP.
All of these are extremely fast and dependable in terms of speed, uptime, and security. You can test them out in a few clicks and decide what works best for you in a matter of days.
If you ask me, I would recommend that you try Kamatera.
Abundant Seasoned in Web Hosting
Hardware & Software Rich
Powerful Servers with Intel Xeon Platinum
Beginner Friendly, 1-click apps like WordPress
Tremendous Global Presence with 13 data centres
Solid defence with Cloud Firewall & Disaster Recovery Management against Online Threat
Massive RAM & SSD Storage at affordable pricing, starting from $4/m
Free Migration Service
Authorised Microsoft Partner
Pay as you Go Payment Model
24/7 Responsive Phone, Live Chat & Email Support
Free 30 Days Trial
FAQ
How do I get a free trial of VPS?
Just sign up with Kamatera and start a free trial.
How much does it cost to run a VPS?
Just need $4 per month at Kamatera, although it comes with a 30-day free trial.
Can I get a free VPS trial without using a credit card?
Cloudways and other companies provide free trials with no credit card required.
How do I get a free Linux server?
You can get it at Kamatera, Cloudways and many more.
Can I use VPS as an RDP?
Yes, you can use it. You can more detail about it.