Most popular cloud hosting providers offer special discounts or special plans for students. Kamatera is one of them.
Being enterprise-grade cloud platform, Kamatera knows the need of students to acquaint with upper level cloud infrastructure. So that, a mediocre student can be a cloud expert after digging his hands in top-notch cloud resources.
Therefore, Kamatera got a gift for a student. They offer their cloud service for free with $100 hosting credit and 24×7 live human support. You won't find such an offer anywhere.
The best of the plan is that it doesn't require any student identity verification.
How To Grab Kamatera Student Free Tier
As I mentioned above, any student identity card is not required. But a serious user identity, you need a valid card. They charge you $1-2, once the sign up process is complete, they instantly refund it. The rules apply for all kinds of users.

1.Go to
Kamatera Free Tier Page
2.Hit Start Your Free Trial button

3.Fill email address and set a strong password in the opened form.


4.Verify your email address, check your email box and click the verification link.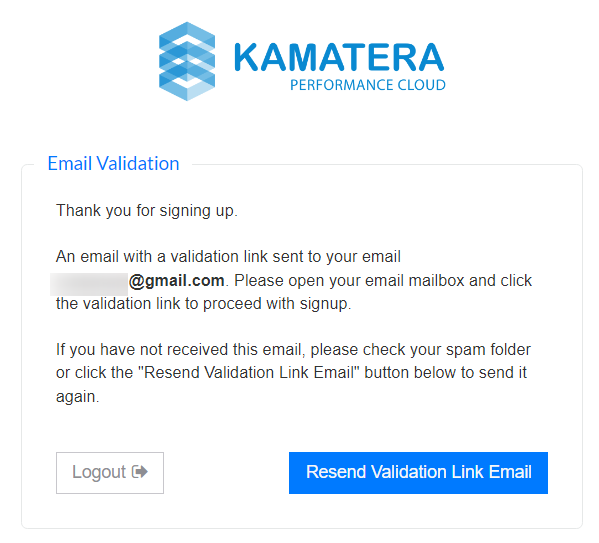 5.Once your email id is verified, you will be redirected to Kamatera Management Console.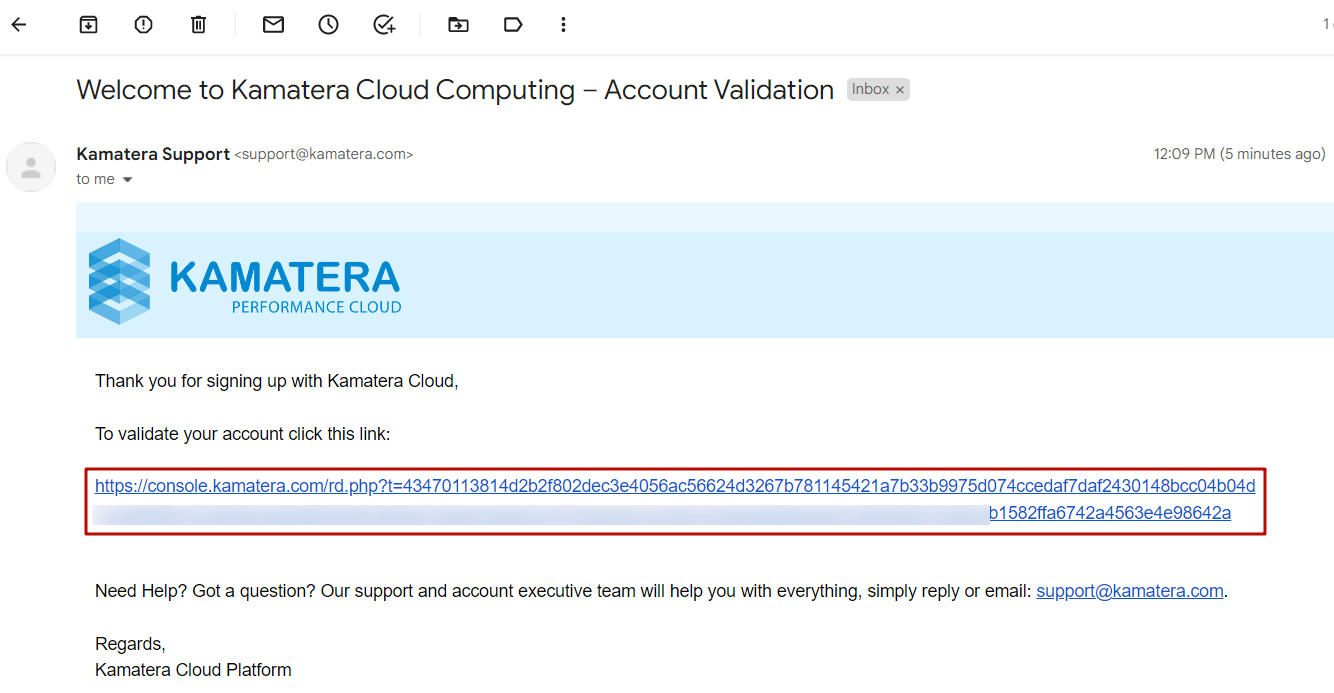 6.Click add billing profile and fill its all four sections.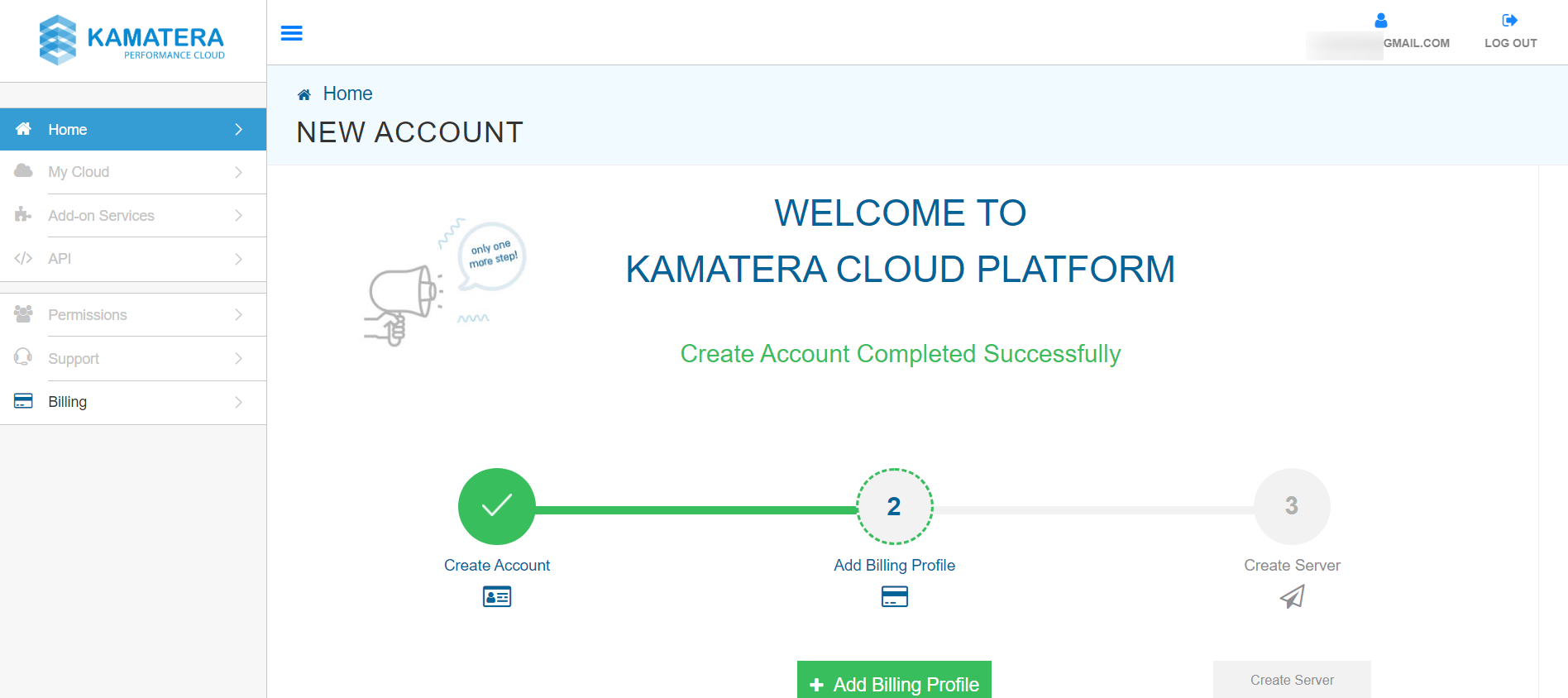 In the first section, put down personal information like name, address, phone number, zip code and country.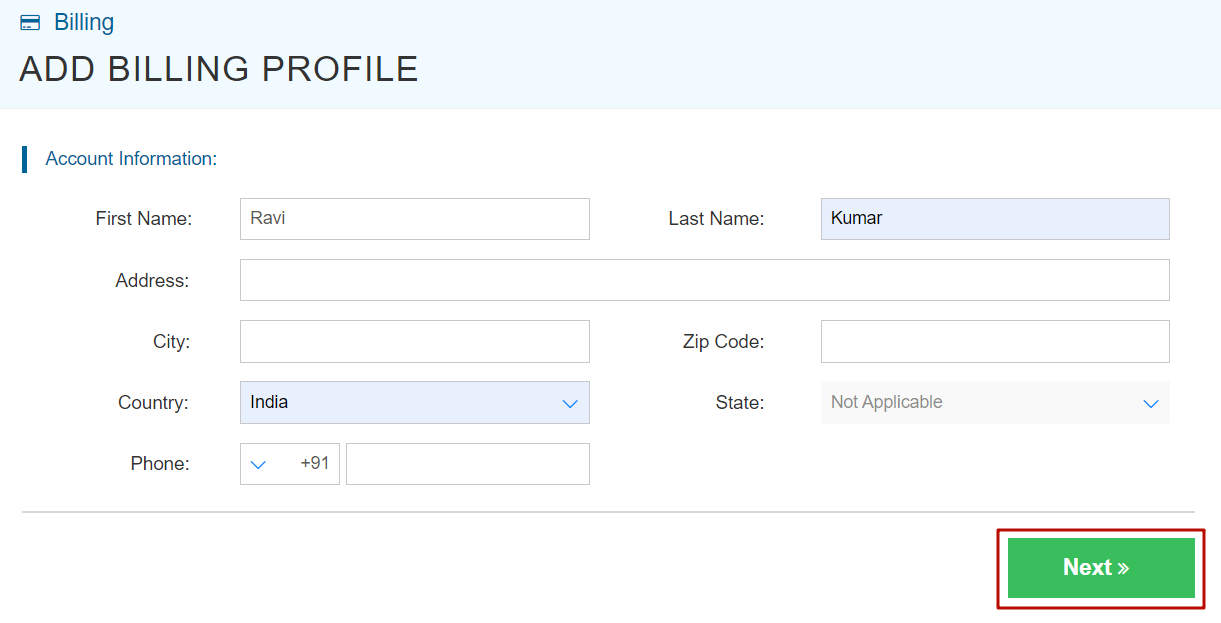 In the second section, verify your phone number. Later you will be able to enable 2-factor authentication for better account login security.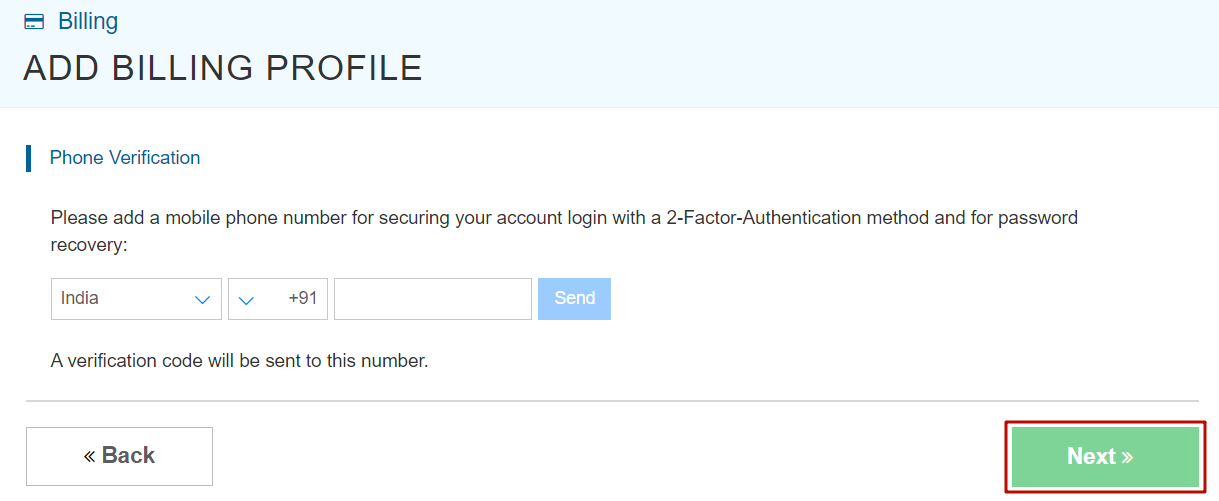 In the third section, no action is needed. Promo code 1MONTH300 is already applied.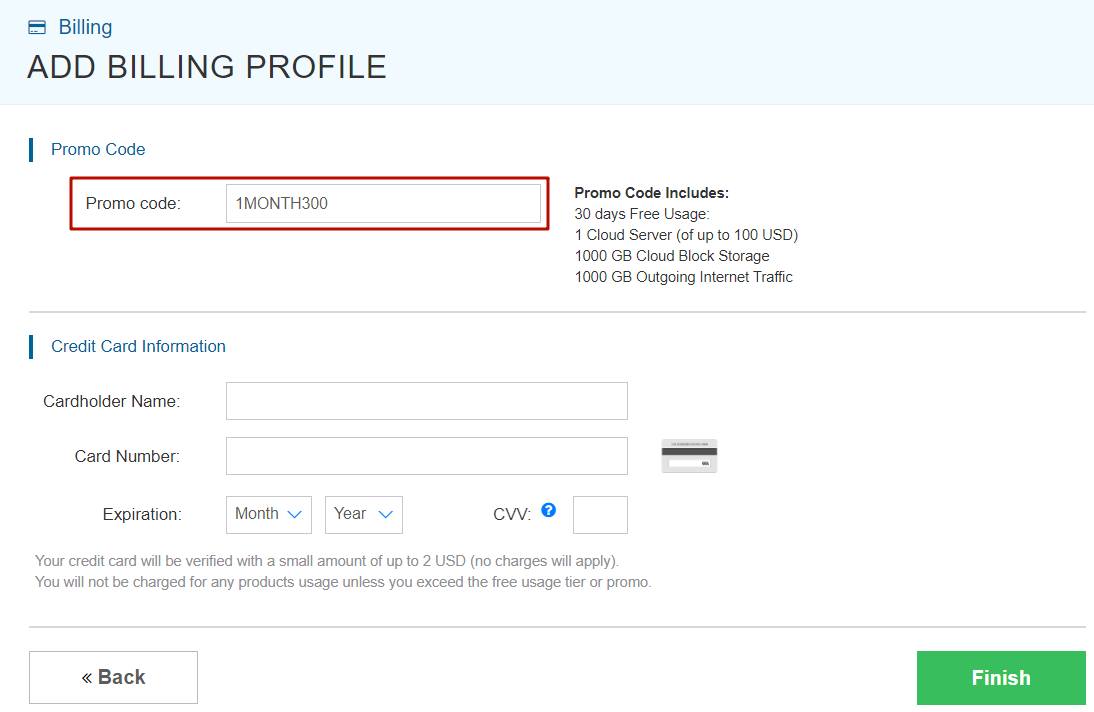 In the fourth and last section, fill your credit or debit card details and hit finish.
Kamatera will start processing, during it, they will charge a penny, once it is finished, revert it.
Now, your free Kamatera account is ready to launch your first VPS.
Kamatera Student Promo Code
Kamatera doesn't stop here, they have some particular discounts for various products. As a student, you can grab it and learn about the product for free.
What resources will you get under the offer
You will get the following things –
1 Cloud Server
15 Server Create Frequency
15 IPs WAN IP Address Frequency
$100 Free Credit
30 Days Free Usage
1000 GB Cloud SSD Block Storage
1000 GB Bandwidth
User Access Management
API
CLI
Developers Tool – Kamatera Toolbox, Apache Libcloud, Ansible, Terraform and Support from Kamatera developer team
Desktop Clients and Mobile Apps to manage your cloud server upload and sync your files
24/7 Flexible Support
What things can you learn?
There are a huge list of products, you can learn and firm your cloud management skill.
Docker
Kubernetes
WordPress, Joomla, Drupal, Cyberpanel, Laravel
Ubuntu, CentOS, Debian, Windows VPS
Node.js, Nginx, Litespeed, Tomcat, LAMP, LEMP
Minecraft
MongoDB, PHPMYADMIN, NFS, PostgreSQL
HAProxy, FreeNAS
FAQ
Here are some FAQs with answers.
What is a VPS?
A VPS (Virtual Private Server) is a virtual machine that functions like a dedicated server, but shares resources with other VPSes on a physical server. A VPS has its own operating system, storage, RAM, CPU cores etc. Students can use a VPS to host websites, apps, databases, and more.
What are the benefits of using a Kamatera VPS for students?
Some key benefits of using a Kamatera VPS for students include:
1.Cost-effective – Kamatera offers affordable VPS plans that fit student budgets. Plans start at just $4/month.
2.Flexibility – Students can choose the specs (RAM, storage, CPU cores etc.) and OS that fit their needs. Plans are customizable.
3.Performance – VPSes provide more resources and better performance compared to shared hosting. Great for hosting websites or apps.
4.Control – Students have full root access and control over a VPS, just like a dedicated server.
5.Scalability – It's easy to upgrade a Kamatera VPS plan as your needs grow. Useful as student projects become more complex.
6.24/7 Support – Regardless, many popular cloud platform, Kamatera has 24×7 human support on live chat, email and phone call.
What are some use cases for students?
Some examples of how students can use a Kamatera VPS include:
1.Hosting websites or web apps for class projects.
2.Running databases, analytics tools, CI/CD pipelines.
3.Hosting game servers or modding communities.
4.Setting up development, testing, staging environments.
5.Experimenting and learning server management, Linux, system admin skills.
6.Hosting private git repositories for coding projects.
What are the main features of Kamatera VPS?
Key features of Kamatera VPS include:
1.Global private cloud infrastructure.
2.Developer-friendly control panel.
3.Fast SSD storage options.
4.Choice of Linux or Windows Server OS.
5.DDoS protection and free SSL certificate.
6. Per-hours billing model.
7.IPv4 and IPv6 support.
8.Instant provisioning, no wait time to deploy.
How can students get started with Kamatera?
It's easy to get started with a Kamatera VPS:
1. Go to Kamatera and sign up for an account.
2. Browse and select a VPS plan that fits your budget and needs.
3. Deploy your VPS with one click – it's instantly provisioned.
4. Access through SSH or RDP and start building!
5. Kamatera offers 24/7 support if you need any help.
Check out their VPS plans and start leveraging cloud hosting for your student projects
!
He is a professional WordPress speed optimizer and web hosting enthusiast with 3 years of experience in optimizing over 100 websites. As a speed optimization expert on Fiverr.com, he has honed his skills in the field and has since shared his strategies with over 1 lakh users annually via his blog, YouTube and social media platforms.
Disclosure:
Our Content is reader-supported. This means if you click on some of our links and make a purchase, we may earn a commission at no extra cost to you. Read
our affiliate disclosure.