Looking for VPS that can transfer data at 10gbit or 10Gbps?
So we have brought up the most experienced VPSs, which are highly stable, powerful and innovative technology intensive.
These VPS can provide stable performance for your web apps.
Some of them are very affordable, but some are a little bit expensive. You can find out the best one.
Cheap 10 GBPS VPS Server
1.Kamatera
Kamatera is a renowned name in cloud VPS hosting. With the 20 years of experience, they know the exact nuisance of modern webmaster demand.
That's why they have set up 18 data centers in strategic places to cover the whole globe and maintain the lowest server response time.
With 2.7GHz Intel Xeon Platinum processors, they allow users to achieve top performance. As they delivered TTFB under ~20 ms and maintained 100% uptime in our independent test.
Their in-built disaster recovery management with a robust cloud firewall will protect you from DDos, XSS SQL injection & other threats like Thor saves Ironman.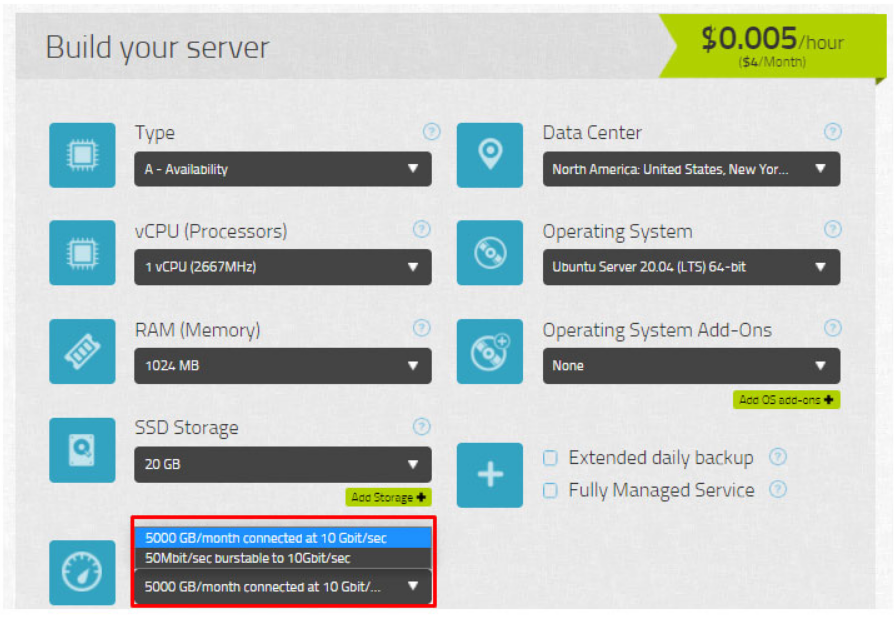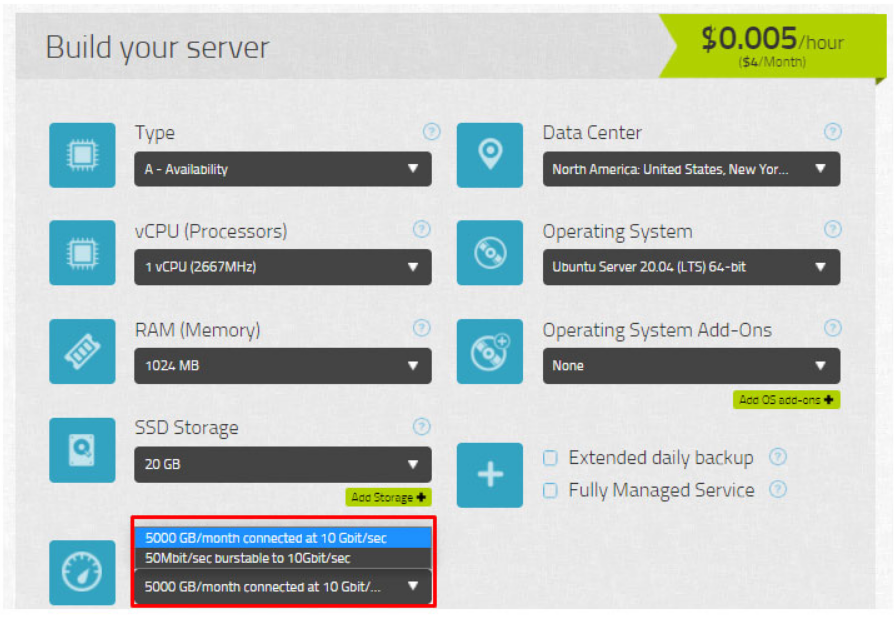 After a growth, you can scale your plan diagonally with a click. Whether it is RAM or CPU or Bandwidth.
Besides, if you are not a developer, you can deploy your popular apps as a 1-click app.
But want to focus on your core business, you can hire their seasoned managed service.
So during the journey of hosting, seeks any help, their expert support team is ready to shoot out your problems 24×7.
Before opting their plan, you can take a free drive with free $100 credit.
Why Choose Kamatera
High-Performance Infrastructure
99.95% Uptime
Friendly for Beginners as well as Developers
10 Gbit/Sec Bandwidth
Most Affordable Plan starts just from $4/m
Daily Backups
"Pay as you go" Payment Model
Dedicated Account Manager
30 Days Free Trial with No Obligation
Cons
-Limited Bandwidth: They do not provide an adaptive bandwidth amount as part of the plan. No matter which plan you choose, you get 5000 GB of transfer. As a result, if your site exceeds the limit, you will be charged a flat rate of $0.01 per GB. By the way 5 TB transfer is more than enough for the beginning plans.
What Users Think on Twitter & TrustPilot?
2.DigitalOcean
With premium droplets from DigitalOcean, you can smoothly transfer data at 10 Gbps for your gaming streaming or video rendering site.
We tested their standard droplets that responded under ~150 ms, and server uptime scored 99.96%.
With premium droplets that are built of 3.2 GHz chips and NVMe SSD, you can see a 58% increase in performance
14 global data centers in 9 major locations allow you to set up your super performance server nearest to your main audience to ensure the lowest latency.
The best thing is its top-notch ease of use. As we have experienced since 2019. That time, we didn't know much about cloud computing, but with the help of their clean dashboard, 100+ one clicks apps, and extensive documentation, we started our cloud journey.
Why Choose Digital Ocean
Best in Ease of Use
Powerful 3.2GHz processor
NVMe SSD, 5x faster than normal SSD
Reasonable Pricing starts from $4
One of the fastest DNS
Monthly billings
24/7 Ticket support
Cons
-Manual firewall configuration – Users need to manually set up their own firewall under the DO dashboard. However, the setup is quite easy.
-No DDoS protection – Absence of protection is a big vulnerability. By the way,Cloudflare + Ninja Firewall fill the gap and care as a God at no cost.
3.ClubVPS
Club VPS is a sister of Kamatera. It's been brought up to serve SMBS.
So their infrastructures consist of enterprise-grade materials with Intel Xeon Platinum processors.
They always update their VM to make it more robust and online threat-proof.
30 popular preinstalled apps are available. You can deploy it with a click and manage it with their simple managed console dashboard.
Like Kamatera, they also offer managed service, daily backups, disaster recovery management, cloud load balancer and multiple firewall layer to avoid data loss and make a solid defence.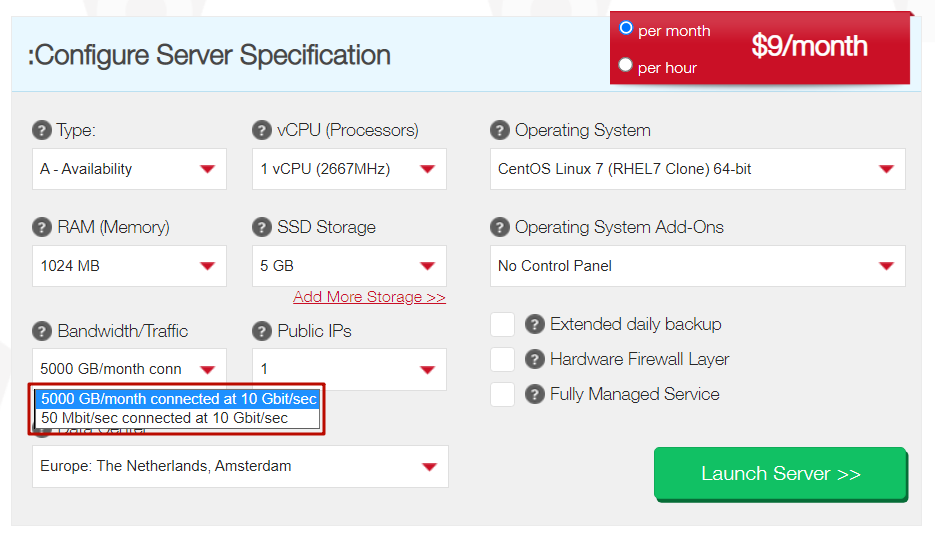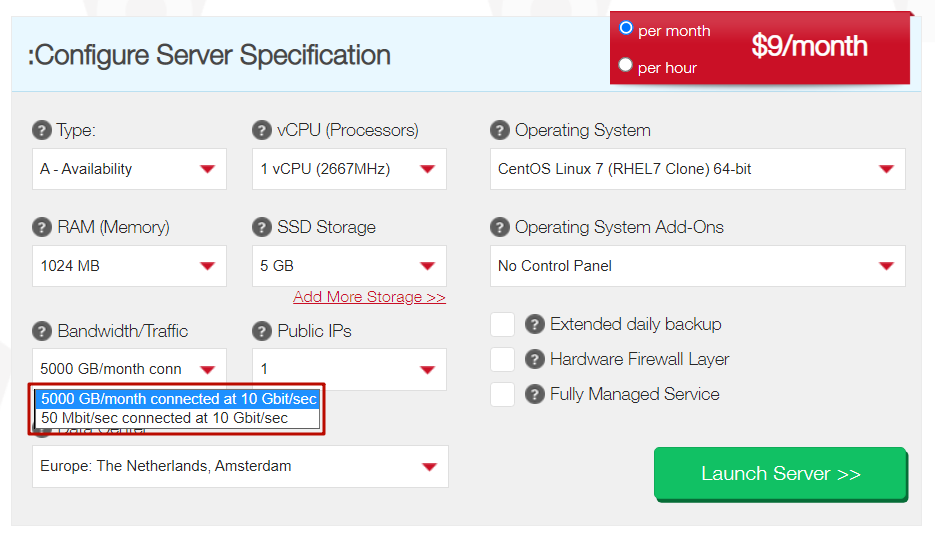 You also seek answers from their responsive support team for your queries and issues.
Why Choose ClubVPS
Enterprises Grade Infrastructure
5000 GB Data Transfer at 10 GBPS
1-click Scaling
24×7 Human Support
30 Years Experience
$9 Plan
Monthly Billing and Hourly Billing
30-Day Free Trial at No Cost
Cons
-Higher Cost: It is more expensive than some other cloud hosting solutions, which may be an issue for users looking for a less expensive hosting solution.
-No Bandwidth as per Plan: As it is a part of Kamatera, there is no bandwidth as per the plan. So, they apply the same bandwidth rule to the host. By the way, if you go over the limit, the same charges will apply.
4.Linode
Linode is the most prolific cloud provider with rich infrastructure in the last 19 years.
With powerful server specs like AMD EPYC 7002 series and NVIDIA Quadro RTX 6000, they are applicable to serve for machine learning, streaming website, gaming and video rendering.
Recently in the edge computing business, as a pioneer player Akamai has acquired Linode. So Now, they are more powerful, including compute, storage, reliability, security and delivery from core to edge.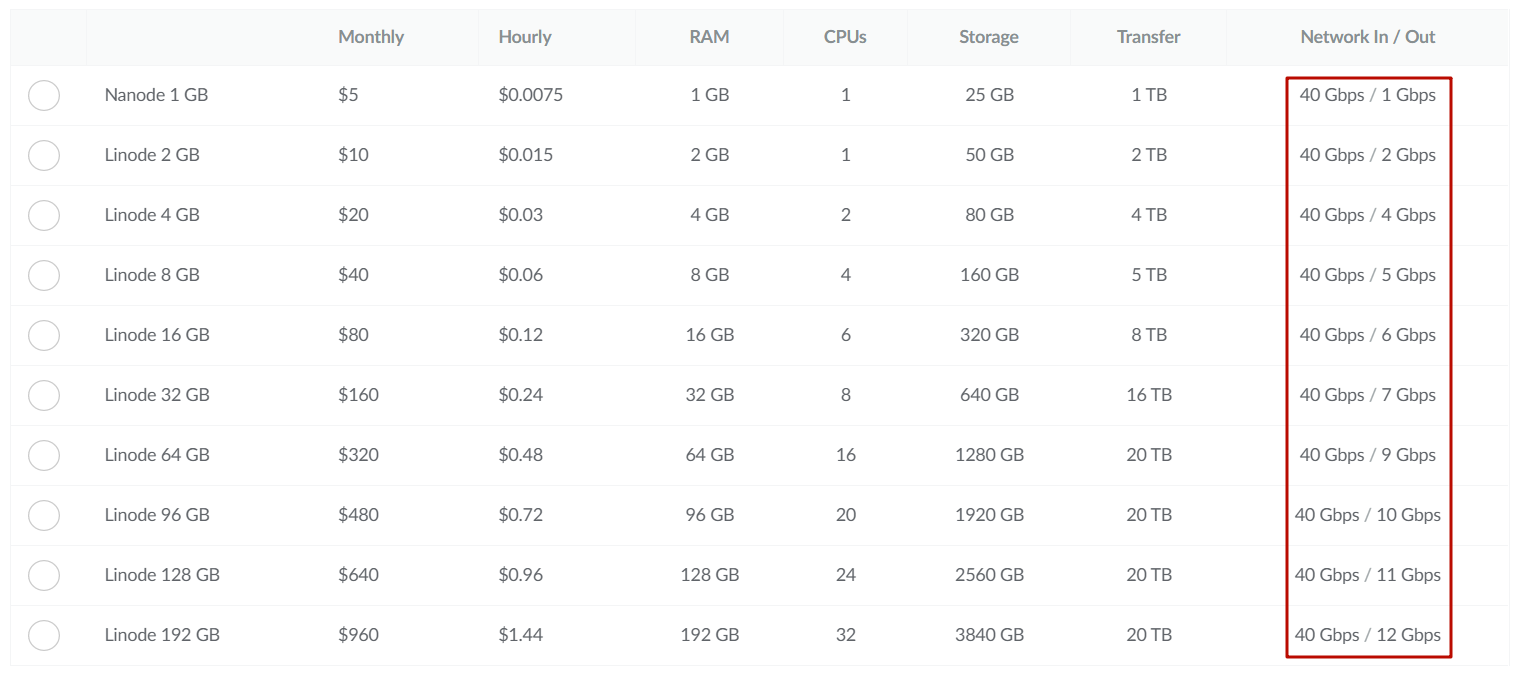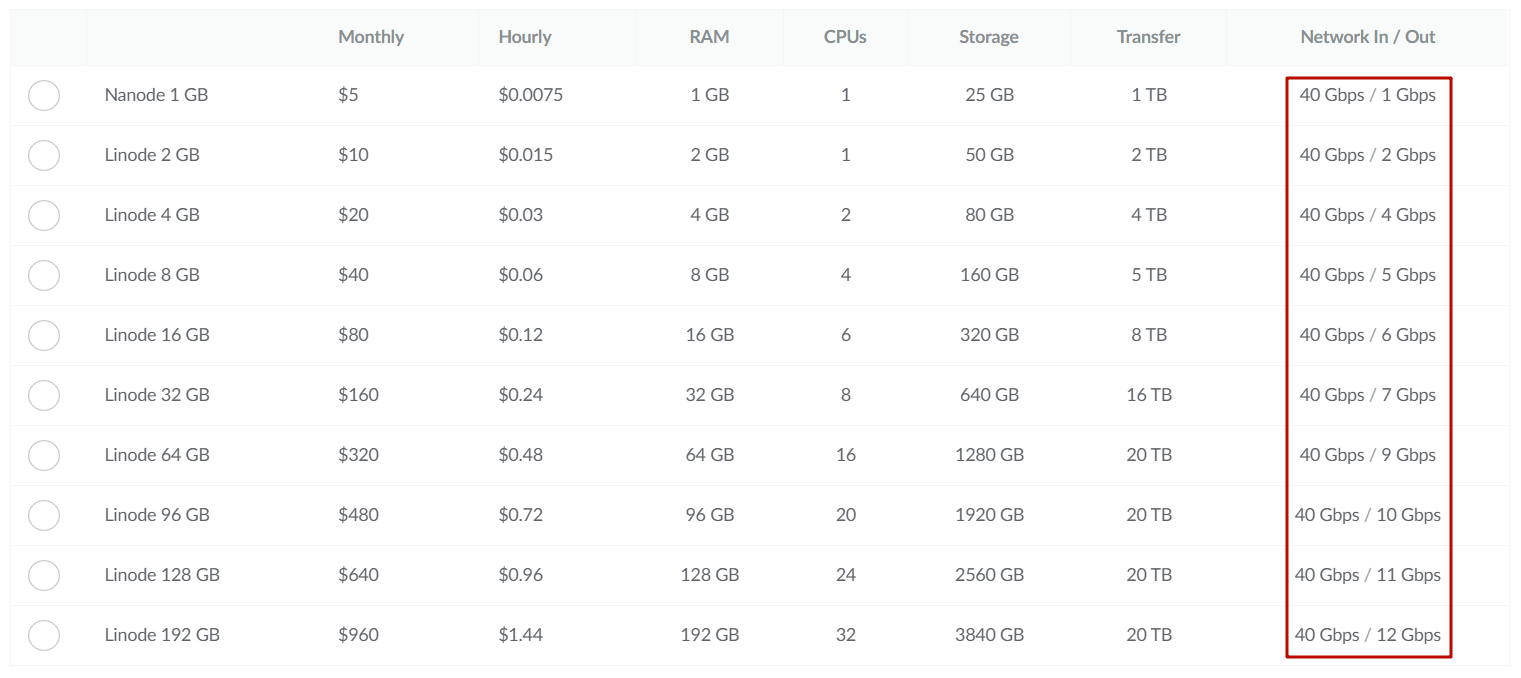 Like other cloud VPSs, they also come with popular 100+ 1-click apps. So if you are naive, you can try it with free $100 credit.
Why Choose Linode
Tremendous Server Specs
10 Data Centers
Effortless Scalability
Free Migration
24×7 Responsive support
Pay with Google Pay & Paypal
7-Day Money Back Policy
$5 Plan
60-Day Free Trial with Free $100 credit
Cons
-Limited backup options: They offer backup services, but the frequency with which you can back up your data is limited. If you require more frequent backups, you must create your own backup solution.
5.InterServer [10 gbps Dedicated Server]
InterServer provides a 10GBPS dedicated server with unmetered bandwidth.
The dedicated servers are powered by Intel Xeon E3, Intel Xeon Gold, AMD Ryzen and AMD EPYC.
The server comes with IPv4 options as well as IPv6 network solutions with fully DDos monitoring.
This server can be upgraded flexibly and get a custom quotation for your requirements.
Not to pay over.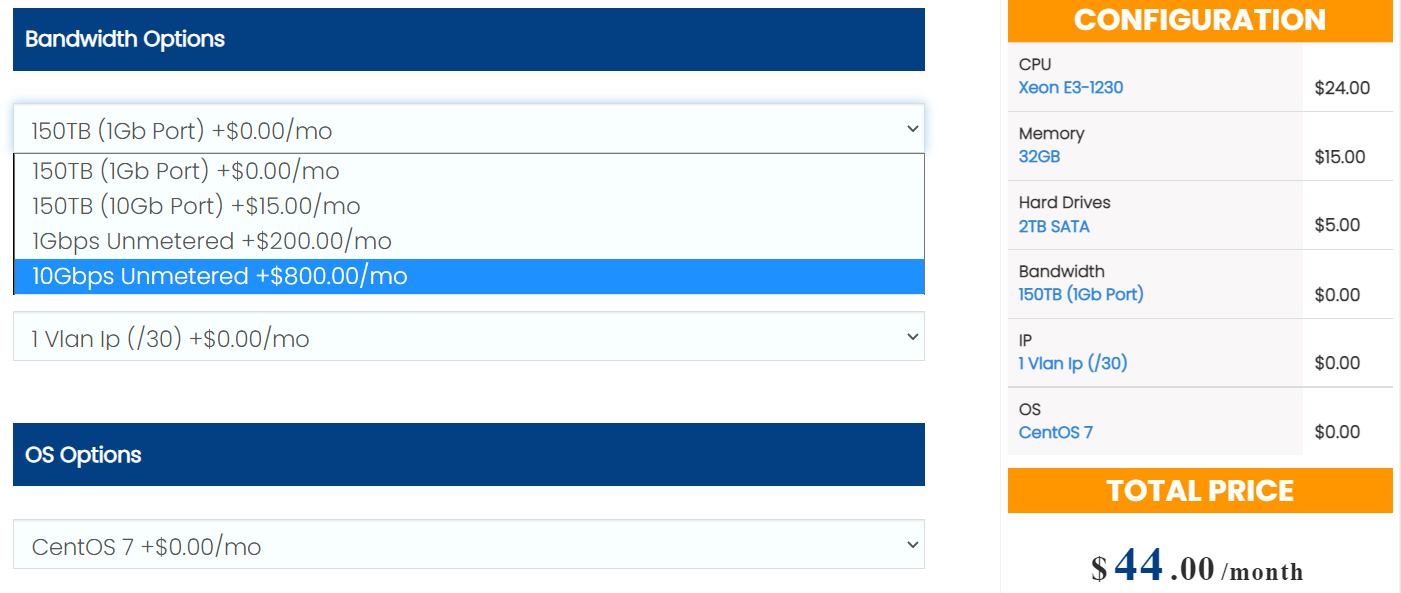 With managed support service, you can feel confident about troubleshooting your problems.
Why Choose Interserver
Premium Processor
Premium Network
Flexible Managed Support
Unlimited Data Transfer
NVMe Storage
Great Uptime
10GBPS Unmetered
Custom Pricing
$44 Plan
Cons
-Limited Scalability: The scalability of dedicated servers is limited. If your website or application sees an unexpected spike in traffic, you may need to upgrade your server to handle the load.
-Limited Redundancy: InterServer does not provide automatic server failover, which limits redundancy. This means that if your server fails, you must manually switch to a backup server.
6.Coin.Host
Love to deal in bitcoin and want more privacy? Then go for swish VPS provider Coin.
Their servers are made of bare metal, which is considered a better hosting platform than virtual servers.
Their server nodes are powered by VMware solutions that combine the controllability and security of dedicated hosting with the efficiency and high availability of virtual server platforms.
Therefore these VPS deliver user experience very closer to that of a dedicated server.
Servers are ultra secured under Interxion data center and DDos protection.
The best thing is that VPS will be instantly deployed according to ordered specs immediately after the payment.
You can pay it with bitcoin.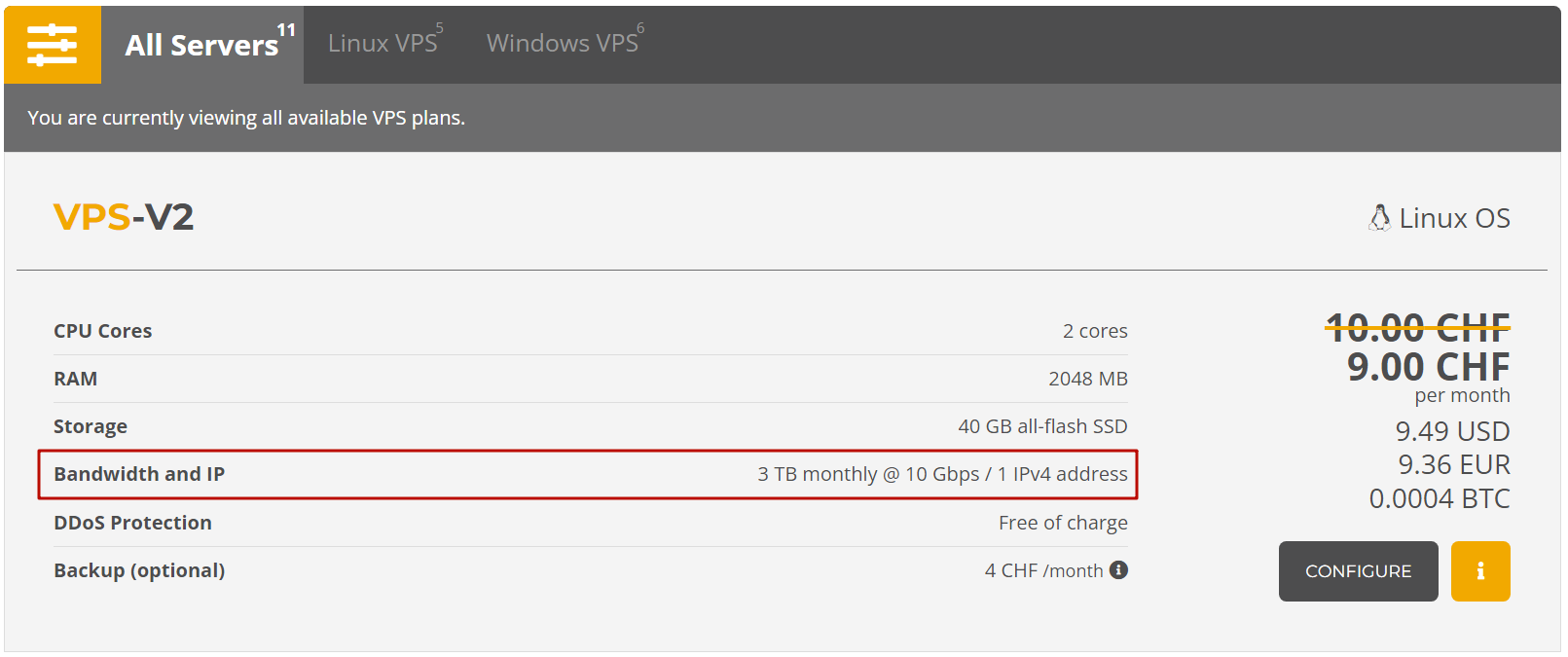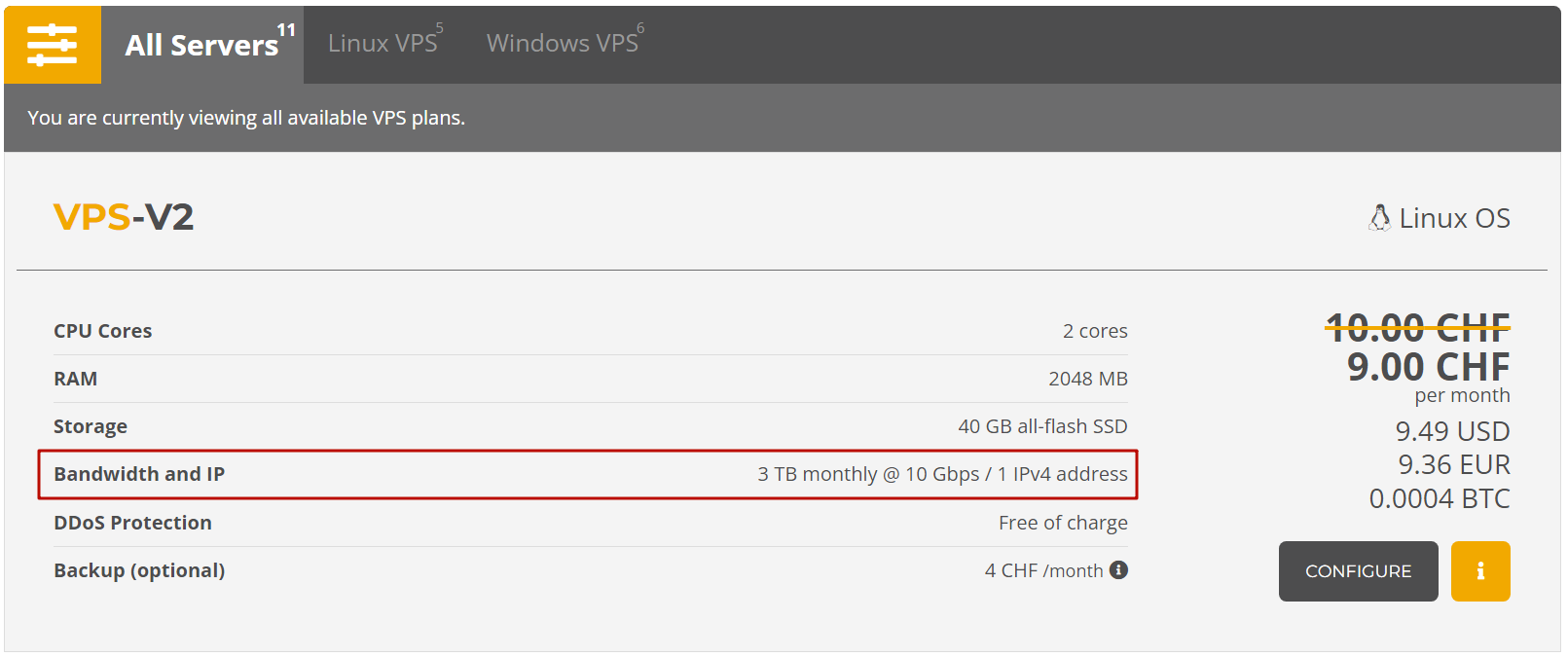 Apart from it, their 24/7 live multilingual support desk is ready to answer all of the questions.
Why Choose Coin
Affordable 10 GBPS VPS at 9.52 USD/m
Renowned Interxion Data Center with Global Presence
Flash SSD Storage
DDoS Protection
Responsive Multilingual Support Team
Linux & Window VPS
Cards, Paypal with Cryptocurrencies Payment Options
Cons
-Limited Data Centers: They have a limited number of data center locations, which may limit your options for hosting your website or application in a specific location.
7.JavaPipe
JavaPipe offers KVM-based VPS with DDoS protection up to 750 Gbps. These VPSs are supported by Linux, BSD and Windows OS, available at a shared 10 Gbps transfer speed.
As it is KVM based, you can seamlessly upgrade and keep complete control over your VPS.
With 10Gbps premium bandwidth, you can achieve guaranteed consistent availability, lightning-fast download speeds and low latency.
Moreover, SSD drives, DDR3 RAma and the latest Intel Xeon chips ensure top-notch performance.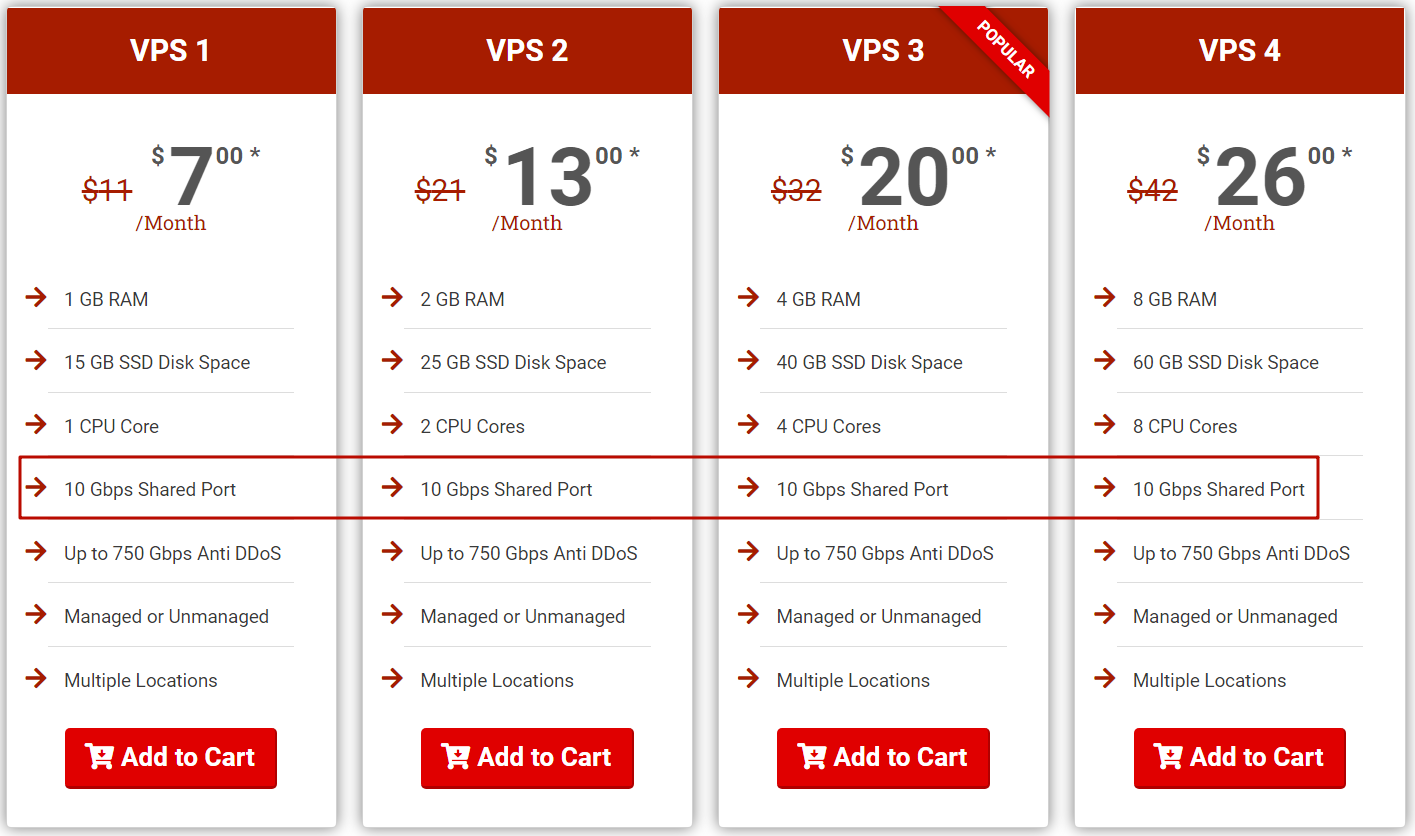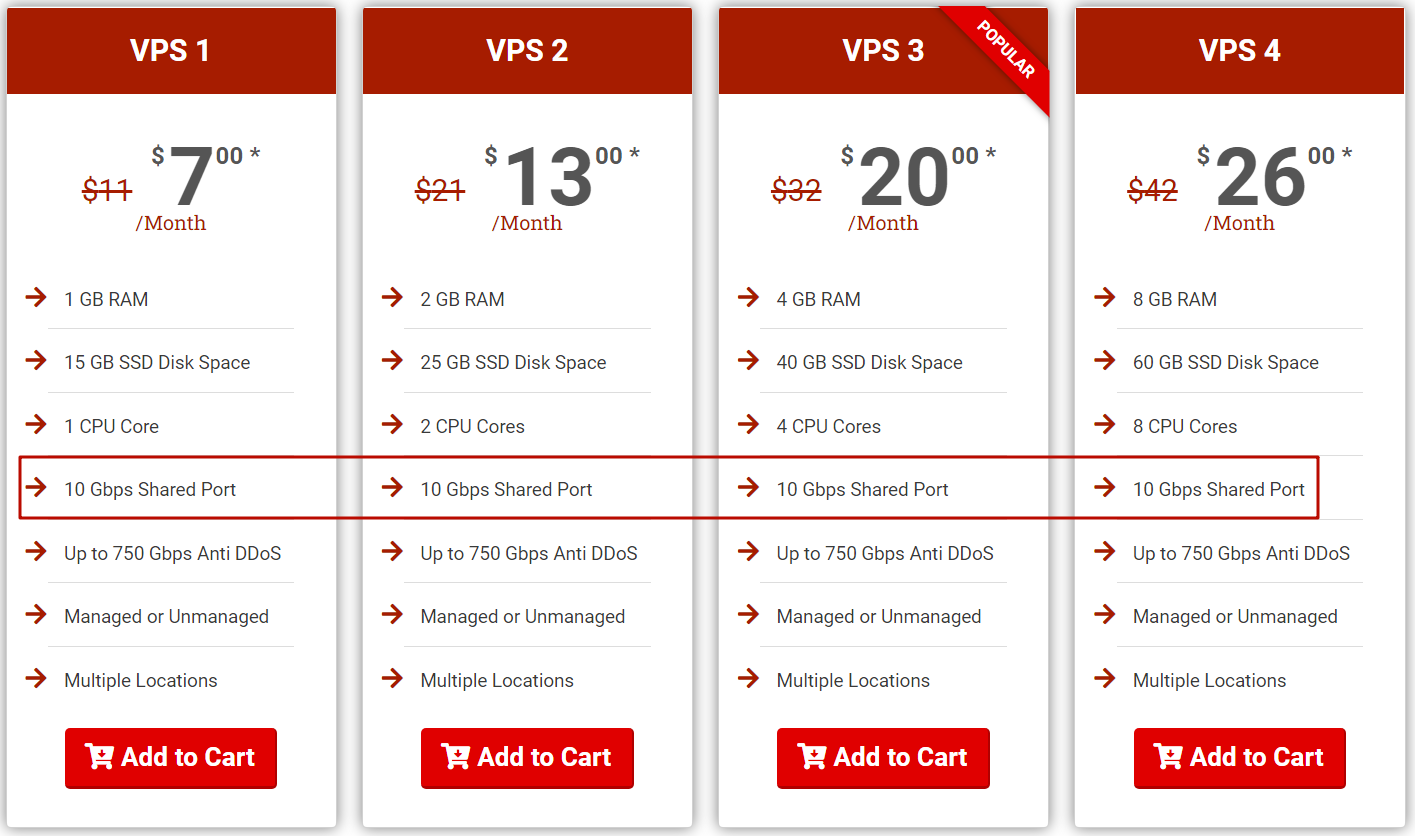 This robust VPS service is available at an affordable monthly plan. You can get even cheaper pricing if you opt for a triannual plan.
Why Choose JavaPipe
KVM Based VPS
Window VPS Available
Up to 750 Gbps Anti DDoS
Managed Service
EU and USA Data centers
24/7 Knowledgeable Support
Cheap VPS at $7/m
Cons
-Higher Renewal Fee – If you purchase a 3-year Javapipe plan, the pricing appears to be reasonable. When it comes time to renew your subscription, you will be charged twice.
8.Vultr
Vultr's bare metal servers are one of the most powerful servers in the World.
These are consists of 4Ghz processors, NVIDIA GPU and 22 data center locations to provide a tremendous global presence, which ensures the lowest latency, higher availability and potent uptime around the main audience.
NVMe with RAID 1 system and 10Gbps network system just fuel up the powerful performance and unbeatable reliability.
Apart from it, you can love their ease of use. You can install many popular apps like Minecraft and cPanel with a click.


So you can get a dedicated server with guaranteed performance for your SMBs, gaming server and more.
Why Choose Vultr
Power Pack Dedicated Server
Higher Scalability
100% NVMe Storage
Secured With MFA
Pay-as-you-go Payment Model
Real-Time Billings
30-Day Free Trial With $100 Credit
Pricing starts from $120/m for a dedicated server
Cons
-Support Options: Their support options are limited, and they do not provide phone support. They do, however, offer 24-hour support via email and a ticket system.
-No Window Support: They do not provide Windows-based hosting, which may be an issue if you require Windows-specific software or applications.
Conclusion
Undoubtedly we are going to recommend Kamatera as it is so affordable, hardware & software rich, globally available, solid defensive against online threats with a dedicated account manager and availability of managed service. As they performed so well in our independent test. 
FAQ
What is 10Gbit VPS?
The VPS, which provides data transfer at 10GB per second, called 10Gbit or 10GBps VPS.
Which Hosts Provide Best 10 GBPs VPS?
Kamatera, Linode, DigitalOcean, ClubVPS
Read Also:

He is a professional WordPress speed optimizer and web hosting enthusiast with 3 years of experience in optimizing over 100 websites. As a speed optimization expert on Fiverr.com, he has honed his skills in the field and has since shared his strategies with over 1 lakh users annually via his blog, YouTube and social media platforms.
Disclosure:
Our Content is reader-supported. This means if you click on some of our links and make a purchase, we may earn a commission at no extra cost to you. Read
our affiliate disclosure.