Need to perform multiple complex operations at the same time? Then choose heavily utilized web servers that can do heavy processing effectively.
16 Core CPU-powered web servers can help you. So we have brought up the list of the best 16 Core VPSs and dedicated servers. You can opt for it.
Cheap 16 Core VPS Dedicated Server
What do 16 Core VPS and Dedicated Server mean?
A CPU core is a processing unit that reads instructions to perform specific actions.
When a hosting adds such 16 processing units to a VPS or Dedicated Server, it is called 16 core VPS or Dedicated Server.
Generally, Dedicated servers and VPS have dedicated CPUs. But some hostings offer shared CPU on their VPS plans which are cheaper.
1. Kamatera
Kamatera is a rapidly emerging global cloud platform which provides enterprise cloud solutions to bloggers, start-ups, agencies and SMBs.
With 20 years of journey, they know the exact nuisance webmasters demand.
Therefore, they have established 18 adaptive data centres in major locations across the World.
They have deployed 2.7GHz Intel Xeon Platinum processors and 10 GBPS network connectivity to power their servers.
These allow users to maintain the lowest latency and achieve optimum performance around the globe.
Kamatera also provides full flexibility when it comes to choosing resources. You can choose 1-104 core CPU, 1-512GB RAM and 20-4000GB SSD storage.
Additionally, you can select your favourite os from the following immense list-
RockyLinux
AlmaLinux
CentOS
CloudLinux
Debian
FreeBSD
TrueNAS
FreeNAS
openSUSE
Ubuntu
Windows Server 2022
Windows Server 2019
Windows Server 2016
Windows Server 2012
Windows 10 Desktop
Window 8.1 Desktop
With an availability plan, you can deploy a 16-core CPU server for under $100 per month. You can pay hourly, too and run multiple complex operations simultaneously.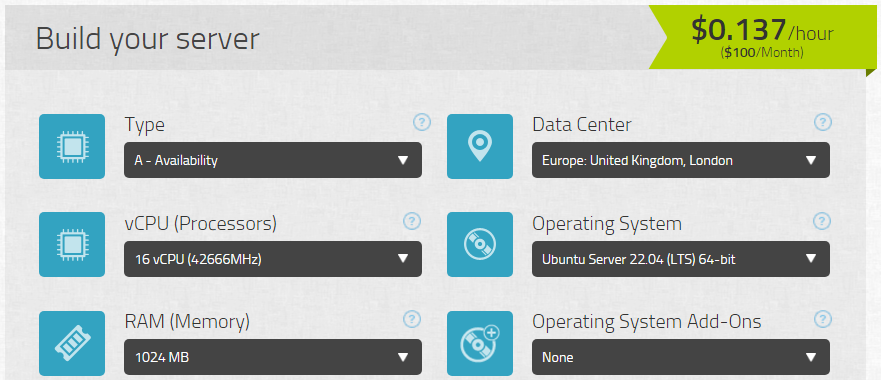 Along with their intuitive dashboard, you can perform the actions, manage and install 100+ 1-click apps like Cyberpanel, WordPress, Drupal, Laravel etc.
Moreover, Their in-built disaster recovery management with a robust cloud firewall protects them from DDoS, XSS, brute force and other online threats.
And their in-human support team will be at your disposal 24×7. For your confidence, they also come with a 30 Day free trial with $100 credit.
Key Points
Affordable Pricing, Pay in Hours
start from $100 per month
18 Industry Level Data Centers in the USA, Israel, HongKong, Canada, Netherlands, Sweden, Germany, Uk, Italy, Spain
Faster 2.7GHz Intel Xeon Platinum Processor
Humongous OS Options
1-Click Server Cloning
10 GBPS Network Speed
99.95% Guarantee Uptime
Cloud Firewall & DDoS Protection
Managed Service Option
Flexible 24×7 Human Support on Live Chat, Phone calls & Email
2. InterServer
Interserver is one of the most affordable & resourceful VPS hosting in the market on which you can step up your growth journey.
They offer a dedicated resource and self-healing server. It means if there is some failure on their server, then their AI system will detect it and automatically redirect it to the next available node.
That's how they keep the server alive and provide 99.9% guaranteed uptime.
They got 450+ 1-click apps, which you can install on 16 core Linux or Windows VPS and get various hefty projects done swiftly.

Powerful Intel Xeon E3 and AMP EPYC chips ramp up these VPS performance and 5 world-class data centres fasten the reach to the end-users.
Their VPSs are secured in a Jail environment and use the KVM, Openvz, Virtuozzo and Hyper-v virtualization platforms, which are highly regarded and established for best security practices.
You can also enable a remote backup service to deny any unfortunate incident. If anything goes wrong, you can seek help from their fast US support team, which is available 24×7 by phone, chat and ticket.
Key Points
Affordable Plan Start from $96 per month
5 World Class Data Centers – Los Angeles, California, and Secaucus, New Jersey
cPanel, Direct Admin Panel & Plesk
Linux and Windows
450+ 1-Click Apps
99.9% Uptime Guarantee
3. Linode
Linode is one of the leading cloud platforms that has recorded rapid growth in the number of customers lately.
Their rich infrastructure and stringent reliability are the major key points.
Servers are built of AMD EPYC 7002 series, which has 45% more memory bandwidth and can perform 87% more than Intel scalable Gen 2 processors in the same class.
That enables robust capabilities for machine learning, streaming websites, gaming and video rendering with a dedicated 16-core CPU.
In addition, 11 global data centres simultaneously allow the same performance across the globe.
At the security level, they got free DDoS protection, cloud firewall and site off backup.
And you can get support from their highly trained team over call & ticket 24×7. They also offer a 30-day free trial with free $100 credit.
Key Points
Start-Up Level Infrastructure
The plan starts from $ 240 with a dedicated CPU
40 GBPS Network Speed
11 Global Data Centers
Effortless Scalability with 100+ 1-click apps
Free Migration
7-Day Money Back Guarantee
24×7 Responsive Support
4. Cloudways
It will be the best if you're looking for fully managed 16 core VPS hosting with World's top 5 cloud platforms like Google Cloud, Digital Ocean, Linode, Vultr and AWS that can provide bombshell performance.

At Cloudways, you can enhance performance more by enabling Object Cache Pro and Cloudflare Enterprise, which will not only blaze up the web application speed but also protect your property like Thor in a gruesome case.
The Group of 5 cloud platforms owns 60+ data centres. You virtually keep your data near your audience as much as possible.
Besides, you will get a control panel with an AI-based assistant to manage, upgrade and install 1-click apps.
You can get help from their flexible support team if you are stuck somewhere.
Key Points
60+ Leading Cloud Data Centers
Cloudflare Enterprises
Object Cache Pro
Full Managed Service
Threat-Proof Security
3-Day Free Trial
24×7 Responsive Support
5. Time4VPS
VPS specialized Time4VPS ramps up their high-performance HP ProLiant DL360 Gen10 Servers with Intel Xeon Gold 6132 processors of 2.6GHz, DDR4-2666 ECC REG RAM and RAID-10 SSD with a dedicated 4 GBPS network connection.
The RAID-enabled storage array is loss-proof. While one array fails, others are there to back it up and keep your server running.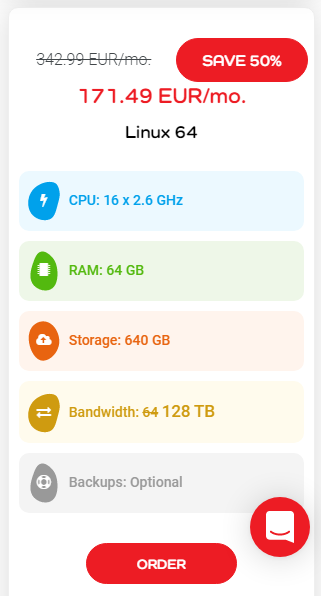 Additionally, daily and weekly backups complement the rest data security.
You will have full root access to install applications & add ons and optimize the server stack for energy efficiency and higher performance with Windows & various Linux OS options.
They also offer extensive help tutorials, you roam there to answer your queries. However, you can do live chat 24×7 with their support team.
KeyPoints
Plan Starts from 171 EUR/m
HP Branded Server Hardware
KVM Based VPS
World Class Lithuania Server
RAID-10 SSD
99.98% Uptime
24×7 Live Chat Support
16 Core Dedicated Server
1. Mochahost
Mochahost offers 100% uptime at their N+1 redundant & auto-healing dedicated cloud powered by 16-core Intel Xeon E5-2680 of 38.4 GHz.
They have made up their dedicated cloud WordPress optimized with super memory cache and RAID-10 SSD.
You can instantly upgrade disk space, memory, and CPU, reboot your server and experience bullet speed at a 1000 Mbps network port with unlimited bandwidth.
Their servers come with JSP, Tomcat, Oracle XE, MariaDB, MongoDB, PostgreSQL, HTTP2, Node.js and Laravel support.
So it adds a lot of variety.
You will also get a free lifetime domain, 300 + website apps, 8 free IPs, RoundCube, Horde and Squirrel.
So you can host hundreds of websites with unlimited email accounts, FTP, Database, addon domains & Sub-domains.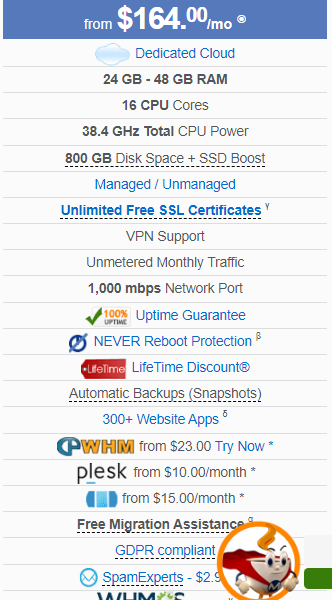 Though, they provide managed service with cPanel and free migration from a shared account, VPS, or cPanel.
At the security phase, weekly disaster recovery backup, network monitoring and DDoS protection keep calmness against online threats.
Key Points
Auto Healing Data Centers in Chicago and Illinois USA
Plan with Lifetime Renewal Discount Start from $164/month
A Free Lifetime Domain
RAID-10 & Intel Xeon
GDPR, PCI & VPN Support
Managed Service
180-Day Risk-Free Guarantee
100% Uptime SLA
24×7 Live Chat Support
2. Impreza
Decentralized Impreza provides a Swiss & Ukrainian dedicated server with 16 Core Intel Xeon E5 of 2.4GHz, DDR4 RAM, SSD and optional HDD.
The package also consists of unlimited bandwidth at 1Gbit uplink. The best part is that the plan is offshore.
You can avoid any fabricated content infringement. It could be a huge burden if you manage clients.

You can deploy the server on CentOS, Ubuntu, Alma Linux, Debian & Windows with Cyberpanenl, cPanel, aaPanel & Plesk and DDoS protection.
Key Points
Decentralized & Offshore Dedicated Server
Prices start from $140 per month
Intel Xeon E5 of 2.4GHz
DDR4 RAM
1GBPS Dedicated Uplink
24×7 Email Support
Wrap Up
Choosing a perfect hosting has been hectic work. We have made it easy for you by bringing up the list of renowned hosting.
If you ask, what would you recommend? Kamatera is a special one with enterprise cloud infrastructure, 18 global data centres, potent server equipment, DDoS protection, disaster recovery management, an intuitive dashboard and 24×7 human support.
FAQ
How many cores are good for a server?
It depends on the purpose. Using multiple cores to run highly intensive processes simultaneously would be best.
How many cores do I need for Windows server?
A 2-core CPU is enough for a general windows server. As you add a burden on the server, you can deploy extra cores.
What is CPU in VPS?
The CPU is responsible for reading instructions and operates every component of the VPS server. That's how VPS servers run continuously and host websites.


He is a professional WordPress speed optimizer and web hosting enthusiast with 3 years of experience in optimizing over 100 websites. As a speed optimization expert on Fiverr.com, he has honed his skills in the field and has since shared his strategies with over 1 lakh users annually via his blog, YouTube and social media platforms.