60 Days is a long period to testify about anything, especially in web hosting. On your demand, we have especially combined a list of such VPS hostings (worth $400 aggregately) that provide their VPS free for 60 days.
You will see some companies that have a 30 days free trial. We have included them because of their quality service. Now let's plunge into the article.
VPS Free Trial 60 Days
1.Linode
With a 60 days trial offer without a credit card, Linode (now renamed as Akamai) is a stunner as they invite you to use NVIDIA Quadro RTX and AMD EPYC 7002 series chips for scientific calculations, AI processing, Video rendering, and live gaming streaming.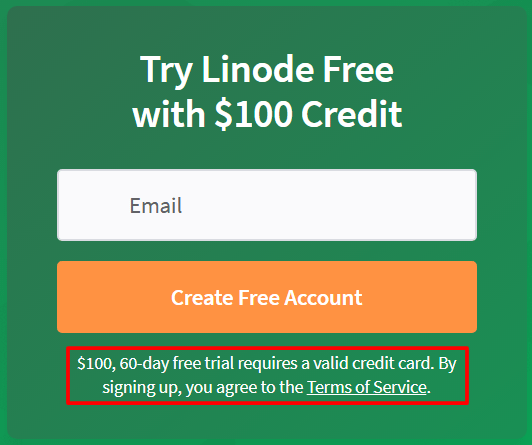 They also got beginner's favorite 100+ one click apps like Cyberpanel, WordPress, Minecraft, Litespeed, etc. under their intuitive dashboard.
So a newbie can launch a VPS with a click and host his websites with a few clicks for free under the offer.
On the security front, their engineers deploy DDoS protection and cloud firewalls to build multi-layer security layers against any online threats.
Meanwhile, if you face any hurdles, you can contact their 24/7 support team via ticket and phone call.
| Pro | Con |
| --- | --- |
| G2's Top Cloud Platform | No Windows OS |
| Extremely Powerful Server Equipment | No Paypal as payment method while it is widely used in most popular hosts. |
| 99.99% Industry Uptime Guarantee | — |
| 15 Data centers | — |
| Free DDoS Protection | — |
| Free Cloud Firewall | — |
| Affordable plans start from $5 | — |
| Multiple payment methods, like Google Pay and Paypal | — |
| 'Use first, pay later' generous payment mode | — |
| 24/7 Reliable Support on tickets & calls | — |
2.Digital Ocean
When it comes to ease of use, you will find Digital Ocean at the top. Because of their elegant dashboard with popular one-click apps and extensive help documents. You can test them for 60 days with a free $100 hosting credit.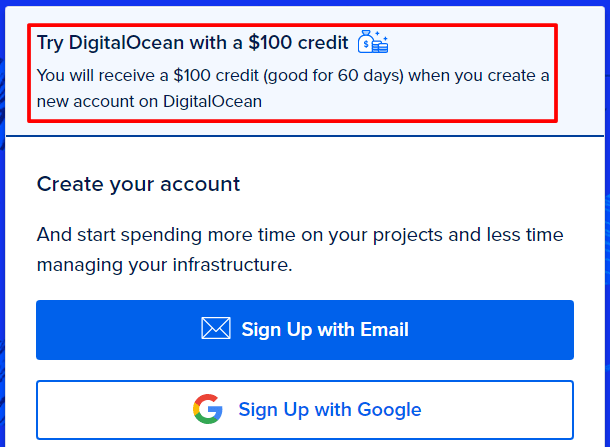 Their server is powerful, as it took only 131 ms to respond and retained 99.96% uptime in an independent test.
The test was performed on their basic plan, which costs $5 per month. You can enhance the performance by 2x by opting for a premium instance that contains NVMe and 3.2 GHz processors.
To tighten security, they provide a firewall, which you can implement and set your own rules for.
| Pro | Con |
| --- | --- |
| Robust server resource with latest technology | Poor support |
| Beginner's favorite dashboard and 100+ one click apps | No Windows OS |
| 14 Data centers | No DDoS protection |
| One of the fastest DNS | — |
| Affordable plan price | — |
| Monthly payment mode | — |
3.Kamatera
In recent times, it has emerged as the most popular cloud platform among cloud administrators and pro-bloggers because of its flexible features, reasonable pricing, enterprise servers, and steadfast support.
You can customize your server plan better than both Linode and DigitalOcean. You can choose exactly how many resources you need for your project. In this way, you can save money while opting for a paid plan. As of now, they offer a 30 days free trial with a $100 hosting credit. You can check them out with more than 100 one click apps.
Their server performance was mind blowing as their TTFB was merely 22 ms and they retained 100% uptime regardless of various stress tests. During the test, the server, which was built on the basic plan ($4/m) handled 10k con-current users in real time with zero errors.
Moreover, N+1 redundancy, disaster recovery management, and firewalls take care of everything on the security side.
If you have a credit card, you can try it at no cost. They just charge $1 for identity verification and revert it once the sign up process is done.
As the host is an official Microsoft partner, you can deploy Windows servers, Windows RDP servers, and Forex servers for free.
| Pro | Con |
| --- | --- |
| Enterprise Grade Infrastructure | Costly managed service |
| Microsoft's Official Partner that enables fast licencing and quick software updates | No Paypal as it is used widely. |
| 18 data centers | — |
| Diagonal Scaling | — |
| Reasonal Pricing | — |
| "Use First, Pay Later" payment mode | — |
| 24/7 Flexible Support on Call & Email | — |
4.Club VPS
Club VPS is a subsidiary of Kamatera, which provides the same trial offer. But the cloud platform is ideal for SMBs and enterprises that need dedicated servers.
Their servers are powered by heavy duty Intel Xeon Platinum chips and have 40 GBPS port speeds, with redundant configuration for every piece of installed equipment to cope with any downtime and fulfill enterprise grade needs smoothly.
So, if you got a resource intensive application or website, you can go for it.
| Pro | Con |
| --- | --- |
| Enterprise Grade Infrastructure | Costly managed service |
| Microsoft's Official Partner that enables fast licencing and quick software updates | No Paypal as it is used widely. |
| 18 data centers | — |
| Diagonal Scaling | — |
| Reasonal Pricing | — |
| "Use First, Pay Later" payment mode | — |
| 24/7 Flexible Support on Call & Email | — |
5.IONOS
With fewer data centers in Europe and North America but being ISO 27001 certified, IONOS is a prominent European cloud host.
Their servers consist of the latest generation Intel Xeon E5 chips and a 100% SSD SAN storage system with full virtualization and unlimited transfer.
You give it a try for 30 days at a cost of $2. You pay with PayPal.
| Pro | Con |
| --- | --- |
| ISO 27001 Certified Data Centers | Not data center in Asia region |
| Latest Intel Chips | No Windows OS |
| Unlimited Transfer | — |
| 99.99% uptime guarantee | — |
| 1-click apps | — |
| 24/7 Responsive Support via Call & Ticket | — |
6.Rocket
Rocket is only for those who want to experience a premium managed VPS for WordPress. As their plan provides true Cloudflare Enterprise's CDN & security for free.
The almighty CDN company ensures data delivery under ~100ms through their premium 285 pop ups and deploys multi-layered security.
Moreover, the host's dashboard comes with pre-configured speed optimization settings; just by hosting your web property there, loading speed can be skyrocketed by 3x.
Their support is so quick. Reply in record time on chat, ticket and call.
You can experience the premium VPS for 30 days for $1.
| Pro | Con |
| --- | --- |
| Superfast Server Specs | No Subdomain support |
| 10 Data center locations | – |
| Free True Cloudflare Enterprise | — |
| Real time malware scanning | — |
| Unlimited transfer | — |
| Speed booster dashboard | — |
| Free daily backup | — |
| 24/7 Expert Support | — |
Wrap Up
Linode is an ideal choice for those who need extensive resources, while DigitalOcean is the best for UX. Both hosts are the prestigue cloud platform on which you can rely.
Over the top, Rocket provides exclusive managed VPS for the business-minded guy who can focus all his energy on website growth, not on hassling server issues.
FAQ
How does the 60-day free trial work?
The 60-day free VPS trial allows you to sample the benefits of VPS hosting services for the first two months at no cost. You can select a plan, join up, and use the VPS services for 60 days. Following the trial period, you can choose to continue with a paid plan or terminate the service.
What features are included in the free trial?
You will receive access to a fully functional virtual private server with allocated resources such as CPU, RAM, and storage throughout the 60-day trial. You can install software, host websites, create databases, and do other things just like with a commercial service.
Is there a limit on the resources during the trial?
While the trial resources are enough for most small to medium-sized tasks, they may be limited in comparison to premium plans. They are, nevertheless, significant enough to give you a good understanding of the performance and capabilities of our VPS hosting.
What happens after the 60-day trial period?
Unless you cancel before the conclusion of the trial period, your account will be automatically billed for the selected plan. You will continue to enjoy uninterruptible access to the VPS and its resources.
Can I cancel the trial before the 60 days are up?
Yes, you are free to cancel the trial at any moment within the 60-day period. Simply log in to your account and discontinue your subscription. Please keep in mind that if you cancel your trial, your VPS will be deleted.
Are there any hidden charges?
Absolutely not. 60-day free trial is genuinely free, with no hidden fees or charges. You'll only be billed if you choose to continue with a paid plan after the trial period.
Can I upgrade or downgrade my plan during the trial?
During the trial period, you won't be able to upgrade or downgrade your plan. If you wish to do so, you can make these changes once the trial has ended and you've selected a paid plan.
Is technical support included during the trial?
Yes, technical support team is available to assist you throughout the trial period. If you encounter any issues or have questions, feel free to reach out for guidance and support.
He is a professional WordPress speed optimizer and web hosting enthusiast with 3 years of experience in optimizing over 100 websites. As a speed optimization expert on Fiverr.com, he has honed his skills in the field and has since shared his strategies with over 1 lakh users annually via his blog, YouTube and social media platforms.
Disclosure:
Our Content is reader-supported. This means if you click on some of our links and make a purchase, we may earn a commission at no extra cost to you. Read
our affiliate disclosure.