Kamatera is a renowned name in IAAS businesses that provide hosting services to streaming websites, SAAS, e-commerce, SMBs, startups, enterprise apps, and entry-level blogs.
Their n+1 redundant infrastructure, faster Intel Xeon Gold processors, 40GB/s network speed, and 13 global data centers enable unbeatable uptime, powerful performance, and blazing speed.
Moreover, their disaster recovery management, daily backup, and cloud firewall provide a solid defense against online threats.
Their dedicated support manager, managed service, and 24×7 expert support are at your disposal.
So undoubtedly, you can get top performance with robust security.
Even if you are a beginner, you can enjoy 1-click apps like WordPress, Drupal, Laravel, Cyberpanel, and other CMSs to launch your website.
The best thing is that they offer a 30-day free trial with a free $100 credit. So let's jump on it.
How To Claim Kamatera Cloud Free Trial
Does Kamatera Offers Free Tier?
Yes, you can sign up for the Kamatera free tier which is available in the form of a free trial. Unlike other hosts, they don't put any limits on the resources they offer. You can use them at no cost as a paid user.
How To Get Kamatera Free VPS? Step by Step
Sign up now for Kamatera Free Trial and get →
30 Days Free Usage
15 Cloud Servers
Free $100 Hosting Credit
1000 GB Cloud Block Storage
5000 GB Outgoing Internet Traffic @10GBPS Or Unlimited Transfer @50MBPS
Coupon code : Auto-applied in the button below.
For Forex VPS, activate free trial here.
Helpful Kamatera Tutorials
Signing up for the Kamatera Free Trial is so smooth. Just make sure you have a credit card for payment verification, and it filters out serious users.
Now follow the simple steps.
1.First of all, Visit above active now link
2.Click on the Get Started for Free button.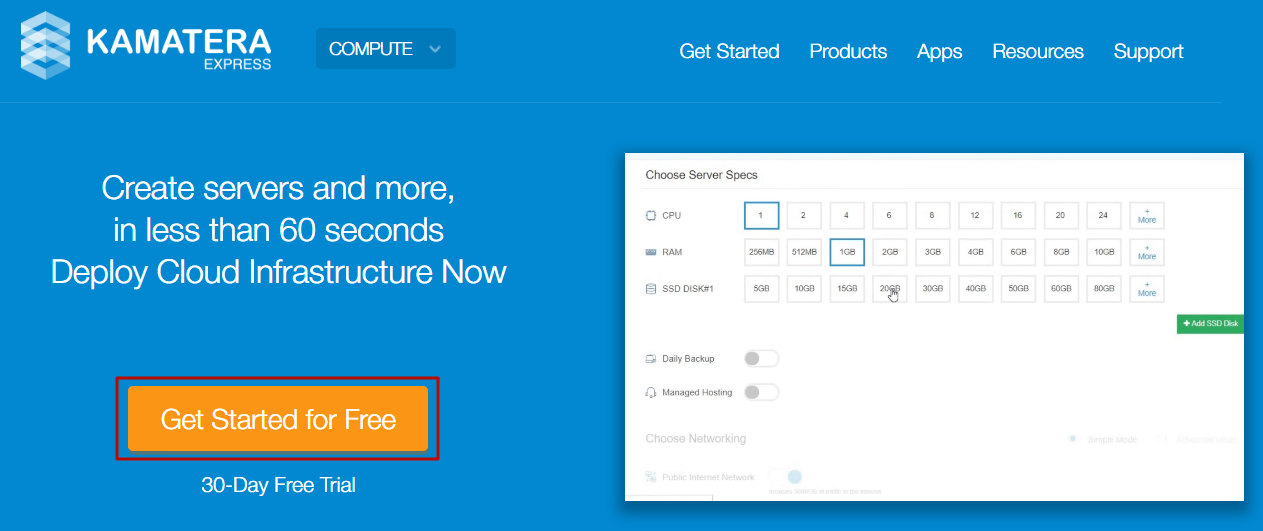 3.Fill your email address, set a new password, and click Go.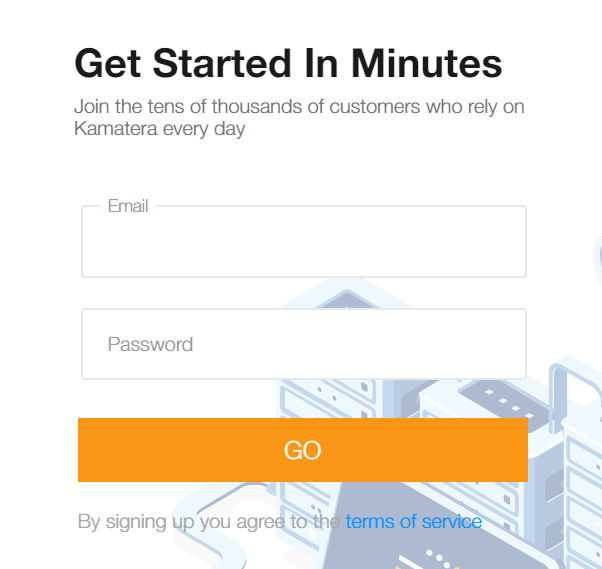 4.You need to verify your email address.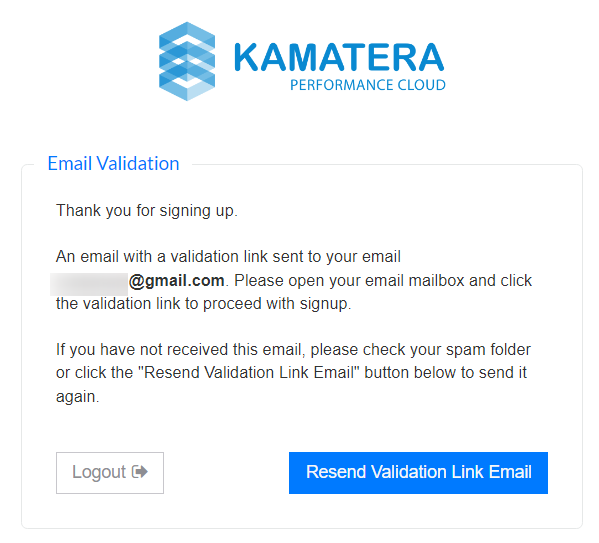 Check your mail and click on the verification link.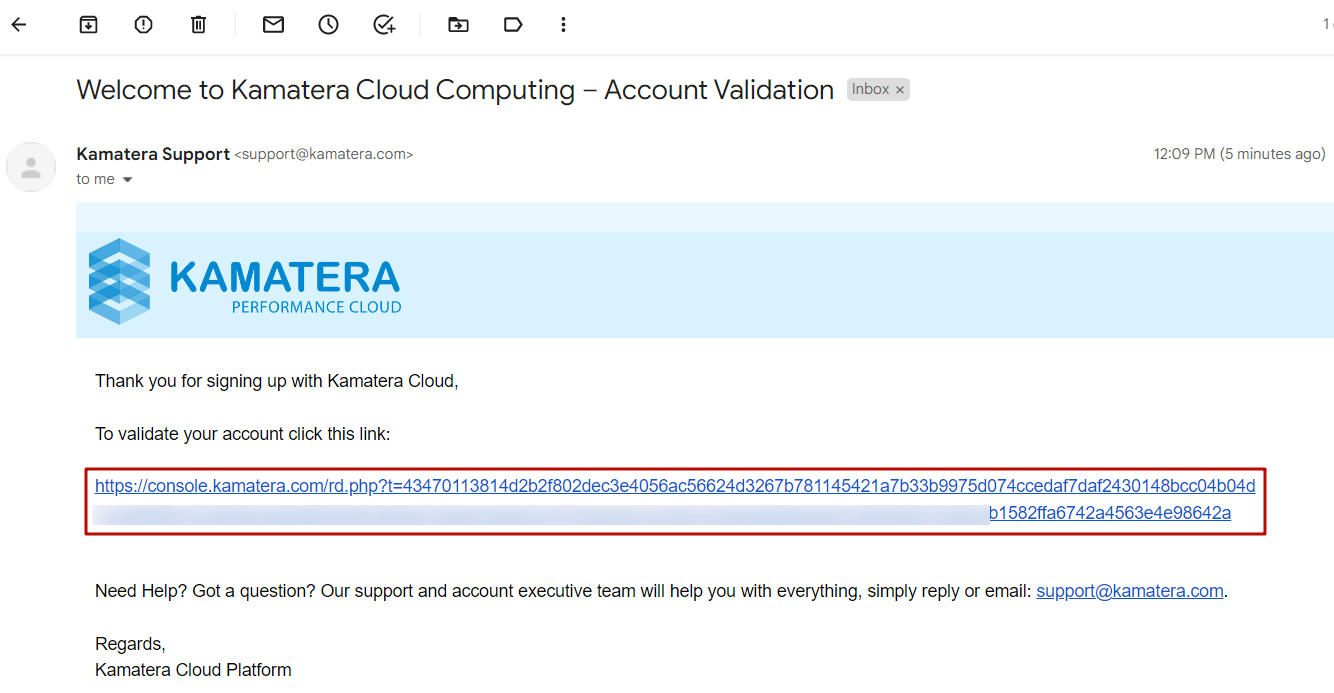 5.Your email address will be verified, and you will be redirected to the Kamatera Management Console.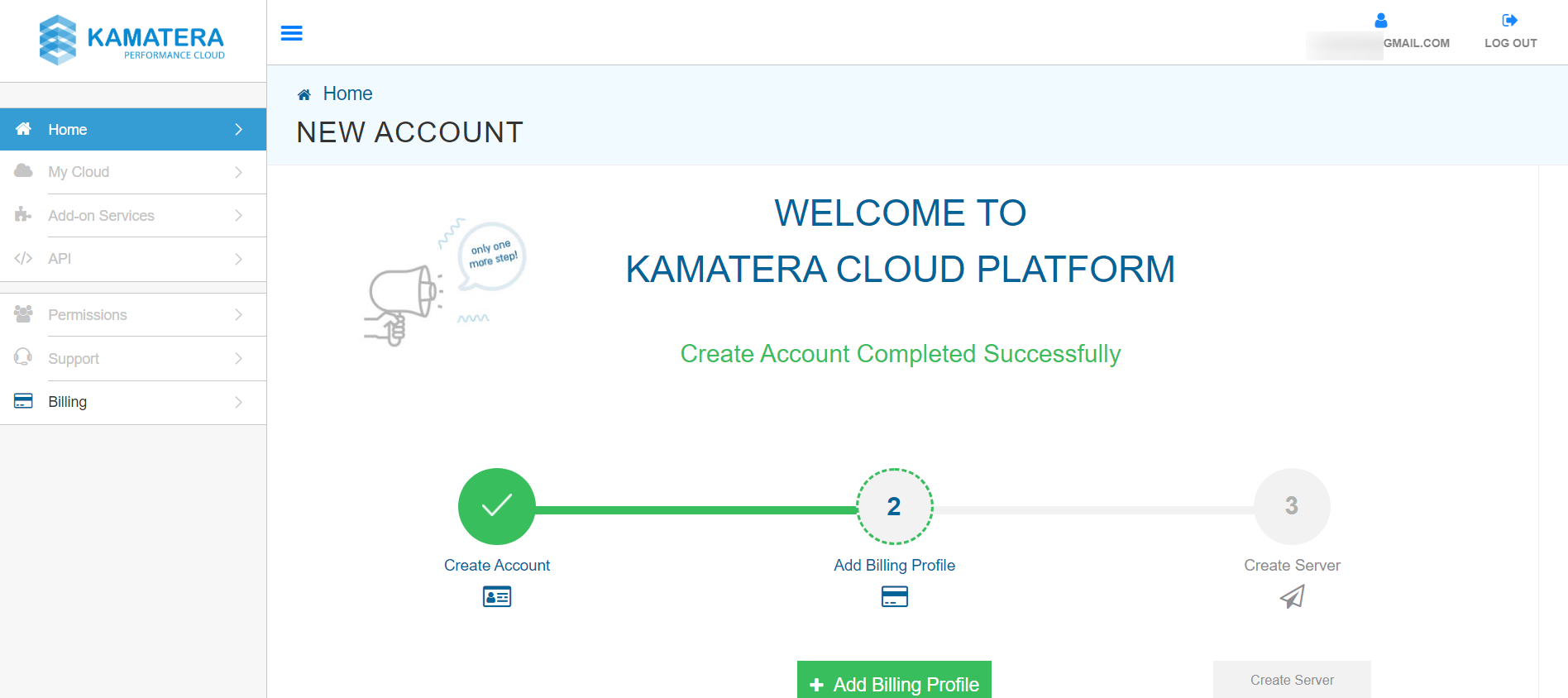 6.Now complete the billing profile. It is divided into four sections.
Account Information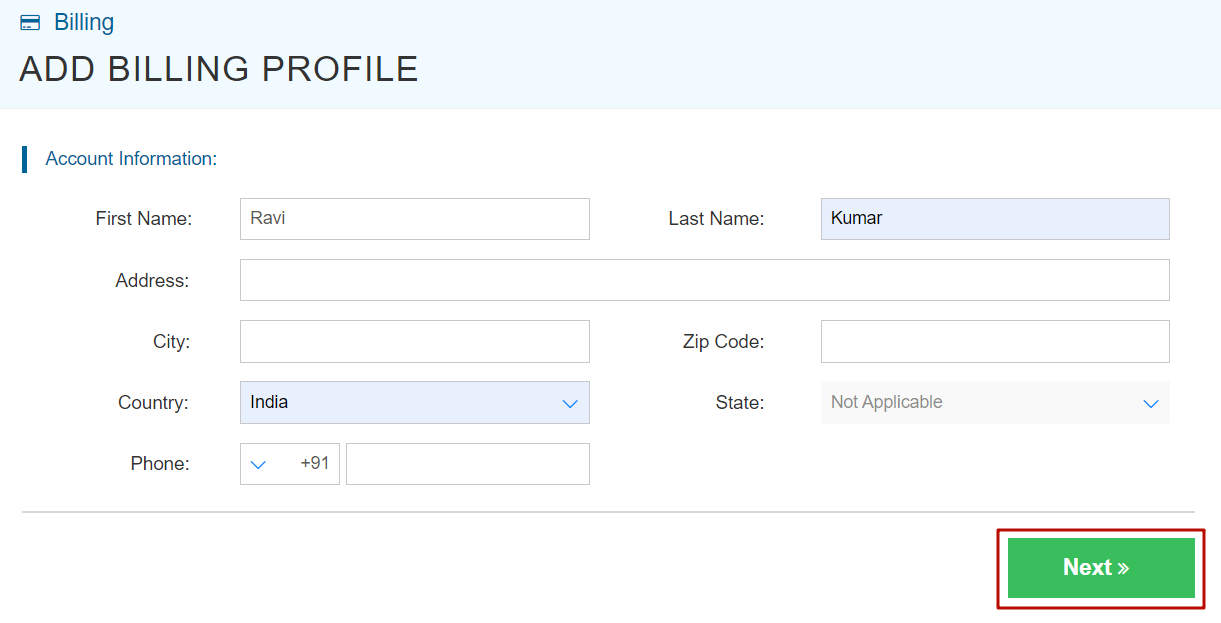 In the section, fill in your name, address, zip code, and phone number.
Phone Verification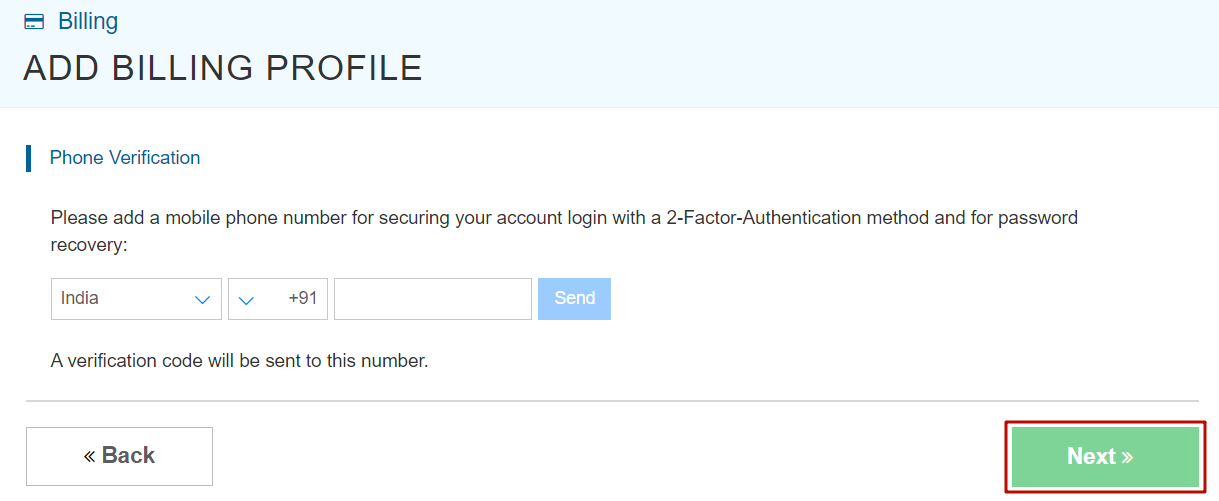 Enter your phone number and verify it. It will enhance the security of your account.
You can log in with 2-factor authentication securely.
Promo code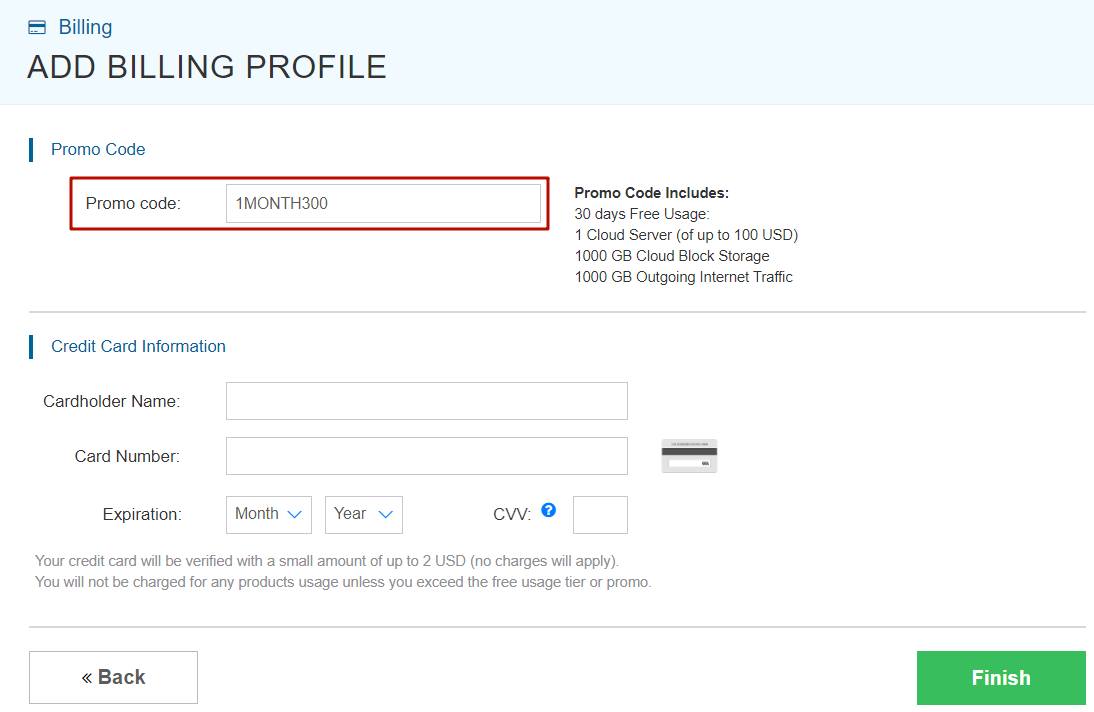 No action is needed from you, 1MONTH300 promo code will be applied automatically.
Credit Card Information
Provide your card information, including the cardholder name, card number, expiration date, and CVV.
After filling in all the details, click Finish.
Kamatera will cut up to $2 from your credit card for payment method verification, and they will reverse the amount in the next few seconds.
Now your Kamatera account is fully ready, and you can launch your first cloud server.
What Do You Get in Kamatera Free Trial?
You will get the following things:
5 Cloud Servers
15 Server Create Frequency
15 IPs WAN IP Address Frequency
$100 Free Credit
30 Days Free Usage
1000 GB Cloud SSD Block Storage
5000 GB Bandwidth
100+ 1 Click apps, including popular WordPress, Joomla, Drupal, etc.
User Access Management
API
CLI
Developers Tool: Kamatera Toolbox, Apache Libcloud, Ansible, Terraform and Support from Kamatera developer team
Desktop Clients and Mobile Apps to manage your cloud server upload and sync your files
Flexible Support
What Can You Do Under Kamatera Free Trial?
There are various things you can do under the offer.
Setup Webserver
Create Your Network
Setup Cloud Hard Disk Library
Setup Desktop Image as RDP
Launch Your Service Like VPN
Who Should Opt for Kamatera Free Credit?
It is believed that managing the cloud is the work of a developer. But Kamatera has made it beginner-friendly.
At Kamatera, you can launch your first web server with enormous 1-click apps in a few clicks. So anyone who has a different object can use it.
Blogger: Most bloggers start with shared hosting in their beginning stages, but after a certain level of growth, they migrate to cloud hosting for top-notch performance, better reliability, and innovative infrastructure.
Startup: A startup website needs SMB-grade web hosting, which is costly. In the world, every product is not made for everyone.
So to find the best thing, you have to test it. A free trial brings a no-charging opportunity.
Explorer: Explorer loves new technologies and tests their performance, hardware capabilities, policies, and cybersecurity defense.
Go for it. Believe me, the hobby brings the best one to you.
Switcher: Not satisfied with the current host? Then test it and migrate your web property smoothly.
Upgrade: Upgrade shows that you're growing. If your web traffic touches the neck of your current host, you need to switch to a cloud host.
On-Tight Budget: A tight budget can slow you but can't stop you. But in the market, many hosts offer free trials with uncapped calibers, and you can enjoy top-notch performance without paying a penny.
However, Kamatera's plan starts at just $4/m. It's so affordable.
Data Centers
Chicago, USA
Santa Clara, USA
New York, USA
Miami, USA
Dallas, USA
Toronto, Canada
Amsterdam, The Netherlands
London, UK
Hong Kong, China
Frankfurt, Germany
Milan, Italy
Stockholm, Sweden
Madrid, Spain
Petak Tikva, Israel
Tel Aviv, Israel
Rosh Haayin, Israel
Rosh Haayin 2, Israel
Haifa, Israel
How To Create A Web Server Under Kamatera Free Trial?
1.After signing up, log in to
Console.kamatera.com
2.Go to the left sidebar, click on My Cloud>Create New Server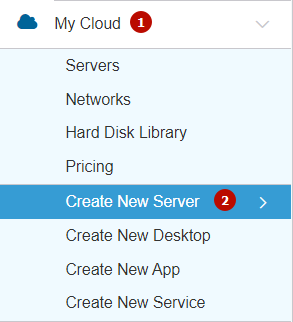 3.Select the closest server location to your main audience.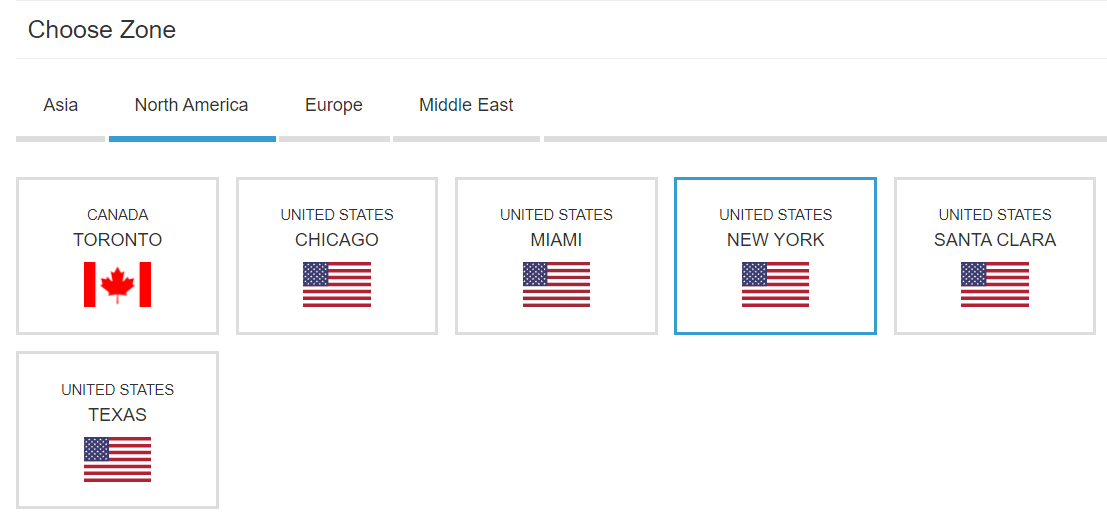 4.Choose an image. If you want a fully customized server, choose your preferred server OS.
You can select Windows or Ubuntu from the desktop OS images tab for RDP.

In the apps images tab, you can find cPanel, WordPress, Cyberpanel, and Drupal, like popular 1-click apps, to install them quickly.
Moreover, if you wish to launch a VPN-like service, you can get various service apps to install with a click.
Whatever you choose, you will also have to choose its version on the right side.
5.Choose A-Availability as the server type. It is the most affordable and best for beginners. You can scale as you grow.

6.Choose CPU Core
7.Choose RAM Size
8.Choose SSD DISK#1, select 20GB as its pricing is similar to 15GB and 10GB.
9.You can enable the daily backup and management service. These are chargeable.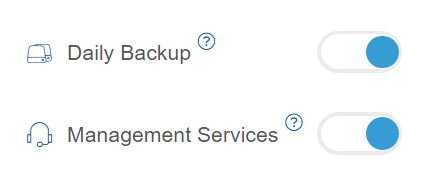 10.Keep public internet network on. It is needed to connect with the rest of the world.

Private local network works for multiple servers. If you don't need to, switch it off.
11.Set your password and unique server name

12.Choose the monthly billing cycle and create a server.

After a few minutes, your server will be ready.
Kamatera VPS Pricing
Kamatera is clear-cut about pricing. Their initial plan starts at just $4 per month.
In which you will get:
1GB RAM
5000GB Bandwidth
20 GB SSD Storage
1 Type-A vCPU
Server OS/ 1-clicks Apps
1-Public IP
You can choose a monthly or hourly pricing plan as you like. They will charge $4/m or $0.005 hours.
Additional bandwidth is available for just $0.01 per GB; for extra storage, you will need to pay $0.05 per GB.
As your web property grows, you can add extra CPU cores, bandwidth, and storage with a few clicks. The pricing will be computed based on your final configuration.
You can enable their managed service for time-saving and stress-free configurations.
Conclusion
With rich hardware, solid software, 100+ 1-click apps, dedicated support, and reasonable pricing, Kamatera is a better choice for both developers and beginners.
You can try their managed service with a 30-day free trial.
Install Forex VPS
FAQ
Is there a free tier at Kamatera?
No, but they do offer a free VPS for 30 days.
Is a Kamatera voucher required for a free VPS?
No, the voucher code is automatically applied. You only need a special link.
Can I use the free trial of Kamatera for VPN and RDP?
Yes, they have VPN and RDP apps that you can use with the offer.
Is Kamatera a IAAS, PAAS or SAAS?
Like AWS & GCP, Kamatera is an IAAS company that provides the infrastructure on demand and charges for usage.
What is Kamatera used for?
Kamatera is an enterprise-grade cloud provider which allows the creation of Web Server, RDP, Forex Server, Minecraft Server and Streaming Server on their cloud platform.
Who owns Kamatera?
OMC Computers is the parent company of Kamatera. Yohay and Asaf Azulay founded it in 1995. In 1996, Yohay Azulay launched the company's first hosting brand, which he named Kamatera.
What is Kamatera's refund policy?
Kamatera allows refunds if they fail to make availability and operation of their service and products for at least 99.9% of the time.
They can consider a lower one to pay back-
(a) US $5000
(b)An amount equal to one month of billing
You need to write the whole incident in detail and submit it within 14 days of the incident.
Is Kamatera secure?
Yes, it is secure. For securing data and servers, They have a cloud firewall with disaster recovery management that makes robust defense and strong data recovery against DDoS, SQL injection, brute force and many other online threats.
How do I cancel my Kamatera account?
You need to send a cancellation request to Kamatera support through console.
Read Also:
He is a professional WordPress speed optimizer and web hosting enthusiast with 3 years of experience in optimizing over 100 websites. As a speed optimization expert on Fiverr.com, he has honed his skills in the field and has since shared his strategies with over 1 lakh users annually via his blog, YouTube and social media platforms.
Disclosure:
Our Content is reader-supported. This means if you click on some of our links and make a purchase, we may earn a commission at no extra cost to you. Read
our affiliate disclosure.